Galápagos Cargo Ship Still on Rocks - Salvage Efforts Underway
Twelve days after the cargo ship Galapaface I ran aground on the rocks off Puerto Baquerizo Moreno on San Cristóbal Island in the Galápagos, the ship remains stranded and authorities estimate that it will take up to a month's time to move it safely at an estimated cost of between $5 and $6 million.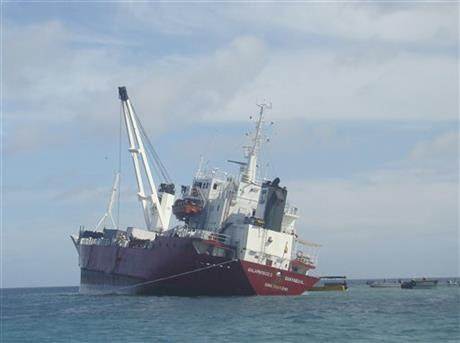 The freighter Galapaface I stranded off San Cristóbal island.
Photo: Galápagos National Park
On Monday, as a team of 15 salvage workers began unloading 46 tanks of lubricating oil stored on board, they found, according to a government news release, that all of the containers were in good condition and that they were not leaking. The Ecuadorian Ministry of the Environment and the Galápagos National Park said they are monitoring the salvage operation closely and doing everything possible to prevent contamination of the waters off San Cristóbal. Earlier, crews pumped 19,000 gallons of fuel off the stranded ship with no reported leakage into the ocean.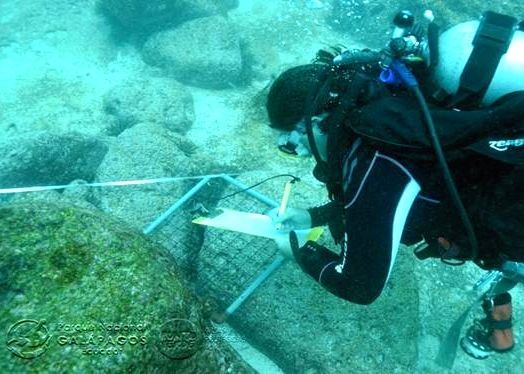 Divers check ocean bottom near where Galapaface I ran aground.
Photo: Galápagos National Park
Technicians from the Ecuadorian Environment Ministry, the Galápagos National Park and the Darwin Research Station are monitoring water samples to make sure that no toxic substances are leaking from the Galapaface I. Three divers from those agencies have been examining the ocean floor around the spot where the ship ran aground to gauge the effect on marine life.
A state of emergency declared by the Ecuadorian government on May 15 remains in effect, enabling the release of money necessary to remove the ship from the rocks without causing environmental damage.
As a further precaution, authorities closed two popular tourist spots at Punta Carola beach and Cerro Tijeretas. The Galapaface I is grounded about 500 feet (150 meters) off Punta Carola. A government press release said the areas would remain closed as long as the state of emergency remains in effect.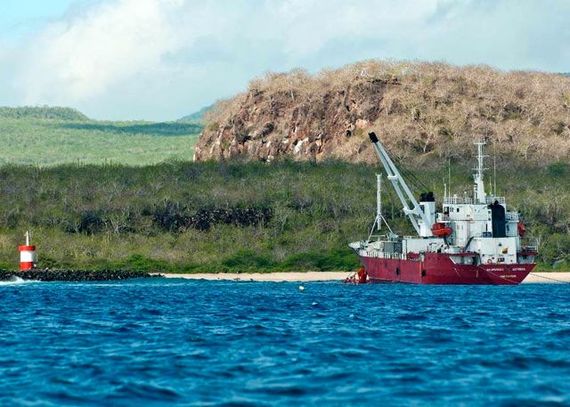 Galapaface I off Punta Carola in San Cristóbal island.
Photo: John Garate
Punta Carola is renowned as the place Charles Darwin first stepped ashore on the Galápagos Islands in 1835, beginning the research that would later inspire his theory of evolution by natural selection.
When the ship ran aground, it had already unloaded cargo destined for San Cristóbal and was headed to Santa Cruz, about 60 miles to the west. In an attempt to reclaim their property, some merchants from Santa Cruz journeyed to San Cristóbal only to find that many of the goods had been damaged by sea water that leaked into the ship's hold.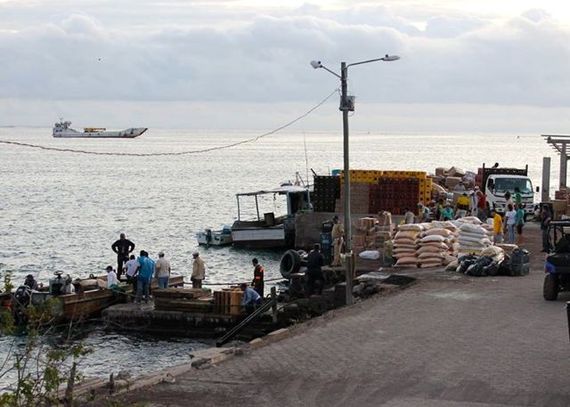 Cargo from the Galapaface I unloaded at the Puerto Baquerizo Moreno pier in San Cristóbal Island
Photo: Gina Andrade
This prompted some Galapagueños to air their complaints on social media:
"I wonder if anybody will be held responsible because so much has been lost," one woman posted on Facebook, raising questions about who will reimburse those who had cargo aboard ship. "Did it sink or did thieves take it?" she wondered.
Another Facebook user who criticized the efforts as "impotent" raised the question: "Given the frequency of freighters arriving to Galápagos on a monthly basis should we have pilots to guide them in and out of harbors?"
A third person wrote: "In Galápagos, we don't have a contingency plan or the appropriate means. The problem is not having the equipment such as pumps, tugboats, floats, etc."
The President of the Galápagos Provincial Governing Council, Maria Isabel Salvador, has sought to reassure citizens that "everything is under control in relation to environmental risks." Speaking in an interview on GAMA-TV, she said that "all efforts are being made" to dislodge the Galapaface I. "The most important decision," she said, "was to pump out 19,000 gallons of fuel" that the ship was carrying.
For many on San Cristóbal, the incident revives unhappy memories of the Jessica, an oil tanker that ran aground in 2001 in about the same location, appropriately dubbed "Wreck Bay" or "Shipwreck Bay." The Jessica spilled 175,000 gallons of diesel and fuel oil. It was ranked as one of the worst environmental disasters in Galápagos history.
(This was condensed from recent articles the author co-wrote with George Lewis for the blog www.galapagosdigital.com)
Follow Cecilia Alvear on Twitter: www.twitter.com/galapa_gal