Reaching the Hispanic market has always been a moving target. Our country's Latin American community is dynamic; comprised of a changing mix of people from dozens of Hispanic countries, with a wide variety of cultures, acculturation levels, media habits and spending behaviors.
But it's also a moving target because it's quite literally on the move, as Hispanic buyers are more active smartphone users, compared to other American ethnicities.
Consider the facts, outlined in the graphic below. Not only are Hispanics more likely to own smartphones instead of landlines, but they're more likely to browse and stream on their phones as well. It represents a new generation of the U.S. Hispanic market, who embraces technology and use it frequently.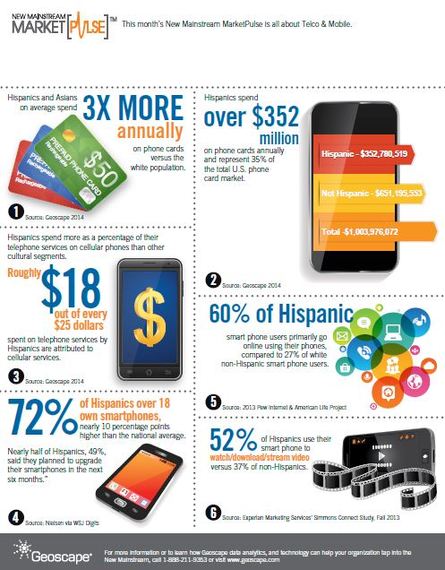 So what does this tell us about how brands are reaching the Hispanic market? It's not only about placing Spanish television commercials anymore. The approach requires omnichannel, personalized and contextualized to fit the right Hispanic consumer at exactly the right time. The call has been to be "mobile first" for a long time, with any ethnicity - but while Hispanic marketing spend has traditionally lagged behind other population groups, this is one area where it should be especially leading the charge.
If mobile is not a central part of your Hispanic marketing strategy, you maybe missing the leading trend in today's marketplace. And if you think that Hispanics are not a tech-savvy group, then you're missing an opportunity that can pay heavily to your company's top and bottom line - and an even bigger trend about the changing dynamics of America.