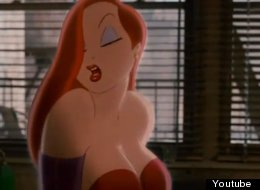 Hollywood didn't create the femme fatale, though it certainly made her known to millions, starting with the original "vamp," Theda Bara, back in the silent-movie days, and progressing right through the film noir era to deadly modern seductresses like Sharon Stone in Basic Instinct or pretty much every character Christina Ricci has ever played, from Wednesday Addams on.
But the irresistibly magnetic female who tempts men to their doom dates back further than the invention of film. It reached its apotheosis in the unforgettable crime novels of James M. Cain - author of Double Indemnity, The Postman Always Rings Twice, and Mildred Pierce - who, though dead these past 35 years, has a brand new book, The Cocktail Waitress, hitting bookstores on September 18. In honor of Cain and his latest lethal lady, here's a primer on femme fatales through the ages...
We could go back to the Greeks (Medea) or the Bible (Jezebel, Salome), but why not start with Shakespeare? His Lady Macbeth may be the finest early example of the aphorism, "Behind every great man is a great woman…with a bloody dagger." Pushing her husband to murder his king in order to fulfill a prophecy, Mrs. M becomes Queen of Scotland…until her bloody deeds weigh too heavily on her ("Out damned spot!"), leading to a bad case of sleepwalking and a bad end offstage. If only they'd had Sominex back then…

Dashiell Hammett penned what many consider the greatest hardboiled detective novel of all time in 1930, and in it he introduced what some consider the ultimate femme fatale, Brigid O'Shaughnessy, who under a fake name hires Sam Spade to follow a man who then turns up dead. Many twists and turns later, Spade learns that her name was the least of what she was lying about, and then faces one of the most famous decisions in all crime fiction: turn the deadly dame over to the cops or give in to temptation and let her go? In the 1941 movie, Spade was played by Humphrey Bogart, Brigid by Mary Astor. And it's not just the black bird that's "the stuff that dreams are made of."

Cornell Woolrich became famous as the author of "Rear Window," the short story that inspired the classic Alfred Hitchcock film. But his novel The Bride Wore Black – the first of his so-called "Black" series, which also included The Black Curtain, Black Alibi, The Black Angel, and The Black Path of Fear – gave us one of the most famous femme fatales ever: Julie Killeen, a young woman whose new husband is killed before her eyes the day of her wedding. She doesn't know which of five men was responsible for his death, so she sets off on a mission to kill them all one by one, integrating herself into their lives and extracting revenge for her beloved's unjust demise.

Charles Williams is not as well-known these days as Hammett or Woolrich or Cain, but he wrote several great noir novels starring some of the most fatal femmes ever put to paper. His crowning creation is Madelon Butler in A Touch of Death. We first meet her sitting drunk on the floor of a dark house, listening obsessively to records – but before long, she's in the driver's seat again, manipulating a former football star into committing crimes for her, and finally subjecting him to a fate so cruel your heart will freeze up in your chest when you read it. If you've ever seen the brilliant 1994 neo-noir classic The Last Seduction (which isn't officially an adaptation of A Touch of Death but might as well be), you've gotten a taste of what Madelon Butler is like. (Linda Fiorentino plays the movie's unstoppable, ruthless female lead.) And if you haven't seen it? Go rent it now. But read the book first. It's a masterpiece of the woman-on-top school of crime fiction.

In 1946, Rita Hayworth drew off a pair of elbow-length gloves and a legend was born. The posters for the movie said, "There NEVER was a woman like Gilda," and even if we've seen that that's an exaggeration, Gilda is certainly an exemplar of the form. Married to a crooked casino owner, Gilda loses no time rekindling an affair with a gambler on his payroll, and then marrying him once hubby is out of the picture. But when her new husband tries to control her, she performs a sultry striptease for a room full of men in front of him, making him want to tear his heart out and showing him and us who's really in control.

It was Hayworth's striptease in Gilda that inspired perhaps the best-known femme fatale of modern cinema: the pneumatic and "not bad, just drawn that way" Jessica Rabbit from Who Framed Roger Rabbit? Is the movie a parody, a spoof? Yes. But J.R.'s sex appeal is no joke. (No accident that Playboy made a human version of her their cover girl for 1988's "Sex In Cinema" issue.) She's got Hayworth's gloves, even sultrier moves, and questionable motives, at least when we first meet her. Her husband, the titular rabbit (no smirking, now), has been framed for murder, and maybe she's the one responsible…

James M. Cain burst upon the scene in 1934 when he published his slender and enigmatically titled crime classic, The Postman Always Rings Twice, about a beautiful young woman married to a vulgar older man and about the young drifter she seduces into bumping her husband off. Cain followed in 1936 with another classic, Double Indemnity, which moves the same basic story from working-class to middle-class settings, as an unhappy housewife teams with a lust-blinded insurance salesman to get her husband to take out a life insurance policy and then fall victim to "accidental" death. But Cora in Postman and Phyllis in Double Indemnity (both of which became classic movies, by the way) meet their match in Joan Medford, the 21-year-old narrator of Cain's new novel, The Cocktail Waitress. Written just before the author's death in 1977, The Cocktail Waitress was found among his papers after a decade-long search and has never been published…until now. After burying her abusive husband on page 1 of the book, Joan takes a job waitressing to make ends meet, and winds up meeting two new men: a wealthy but repulsive older man and a handsome young schemer who makes her blood boil. Can you have any doubt that things will end badly for one or both of them? No, that's not a spoiler – it's a simple statement of fact when you're talking about a Cain femme fatale, the deadliest species there is.