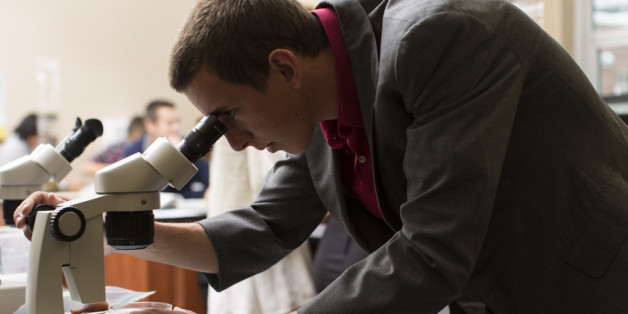 Forget the recession of 2008. It's time we start planning for the economy of 2031.
In 2031, many of the kindergartners who started school this month will enter the workforce as newly-minted college graduates. Right now, the next (or perhaps next-next) generation of marine biologists, civil engineers, and tech startup founders are learning to finger paint.
Their classrooms aren't anything like the classrooms we experienced. Earlier this year, a Pew study found that 73 percent of the Advanced Placement and National Writing Project teachers surveyed use cell phones in the classroom or for assignments; 45 percent use e-readers. Seventy-six percent of these teachers accept student assignments online.
We're training our students to use technology to enhance their learning and their lives, but are we preparing them to compete for the technology-driven economy they'll face in 2031?
Many experts see an expanding digital divide - first graders at top schools may learn to add and subtract on a tablet, while seniors at the nation's poorest schools face shortages of pencils, paper and books. Even the proliferation of smartphones won't bridge the gap for students who don't have Internet access at home.
At DonorsChoose.org, we've seen what technology can do for a classroom. We make it easy for teachers to request the materials they need most for their classrooms, and for donors to make a meaningful contribution to education. Since 2000, we've fulfilled 100,000 classroom project requests for technology. These materials can work miracles for the most inspired teachers.
A few months ago, a $5 million Google Global Impact Award helped us bring technology, science, engineering and math education to the students who need it most. DonorsChoose.org, Google, and College Board launched the AP STEM Access program to ensure more female and minority students could benefit from AP courses in science, technology, engineering, and math. The AP STEM Access program schools will increase the availability of and diversity in AP STEM classrooms so that these classes reflect the diversity of the school.
As part of this program, teachers receive grants for professional development in these subjects, classroom materials, lab equipment, college-level textbooks, and other resources imperative for a high-quality AP course.
When we launched the program, the College Board shared sobering statistics. In 2011:
There were a disproportionate number of males taking AP Exams in Computer Science A (81 percent male), Physics B (65 percent male), Physics C: Electricity and Magnetism (77 percent male) and Physics C: Mechanics (73 percent male).
Only three in 10 black/African American and Hispanic/Latino students, and two in 10 American Indian/Alaska Native students participated in AP mathematics courses for which they had high potential to be successful.
To ensure that the most effective courses continue, AP STEM teachers at participating schools who increase the diversity of their classroom receive an additional $100 in DonorsChoose.org classroom funding credits for every student who scores a 3, 4, or 5 on the 2014 AP Exam.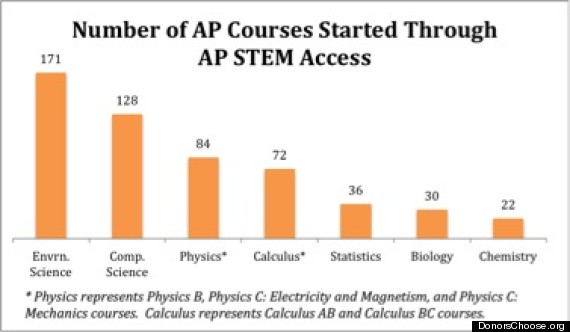 In the first 11 months of the program, we've given nearly 500 public school teachers $1,200 to $9,000 each in grants to start new AP courses. They used the funds to buy materials such as books, lab equipment and calculators.
"The combination of the summer workshop, webinars, the [DonorsChoose.org funding credits], and curriculum support has been exemplary and is allowing our school to offer a high quality program to all of our students, many of whom are of minority status," said Anthony Arico, a high school biology teacher in Florida. "It is so rare and refreshing to have the concerted efforts of three major organizations articulate so well together in providing a stellar opportunity to over 300 schools nationwide."
More than anything else, teachers need technology to bring these courses to life. Technology items account for 37 percent of the AP STEM Access requests we've fulfilled to date. Motion sensors. Laptops and tablets. Digital microscopes. USB cables. Graphing calculators. Scales. Testing kits. Cameras. Probes. Magnets. Soldering irons. EBooks. Meters. These are just a handful of the items teachers have requested.
Teachers see it firsthand: we can't delay in preparing our students for the career opportunities they'll face - whether in 2013 or in 2031. As one teacher noted in his project request, "Our nation is constantly in need of new talent in science and engineering fields, and offering high-level science coursework is the best way I can inspire my top students to pursue careers in science and technology. Without the right opportunities, a student with boundless potential would never know it."