BMI Icon Stevie Nicks Leads Star Studded Pop Awards (VIDEO)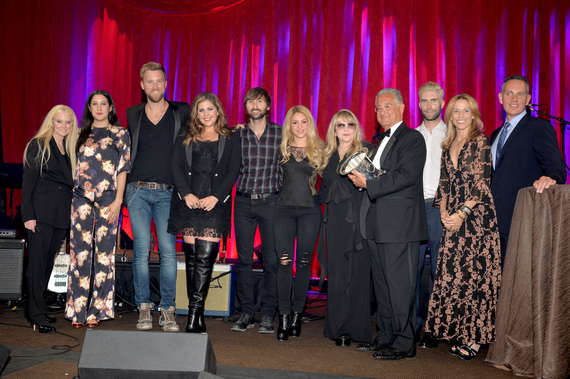 (L-R) Barbara Cane, BMI VP & General Manager, Writer/Publisher Relations; singer-songwriters Vanessa Carlton, Charles Kelley, Hillary Scott and Dave Haywood of Lady Antebellum, Shakira; Del Bryant, BMI President; singer-songwriters Adam Levine of Maroon 5, Sheryl Crow and Michael O'Neill, BMI CEO present the BMI Icon Award to singer-songwriter Stevie Nicks (5th from right) at the 2014 BMI Pop Awards at the Beverly Wilshire Four Seasons Hotel on May 13, 2014 in Beverly Hills, California. (Photo by Lester Cohen/WireImage)
One of the top performance right's agencies in the country BMI Music has added a name to the prestigious list of icons at the 62nd Annual BMI Pop Awards hosted at the Beverly Wilshire Hotel May 13th, 2014. Last year's icon, the very blonde Adam Levine, was on hand, as was BMI Icon David Foster. But the spotlight of the evening was on not just a songwriting dynamo, but a person who defines legend.
"Of all the awards, I have to say, tonight is the night of my life. Because it means you noticed, you get it, that behind all of the madness and the music is a songwriter. So many times no one bothers to notice, and tonight, you have."
How could they not? The person making the statement truly is an icon of modern day rock music, as defined by Webster's Dictionary --icon: a person or thing representative of something.
She is Stevie Nicks, who is not just an icon, but a survivor -- quite literally -- of rock music's heyday. And she is a songwriter, make no mistake about that. Hits that she penned for herself and her band, Fleetwood Mac, not only sold millions of copies worldwide, but as a woman, she helped blaze a trail for female singer/songwriters.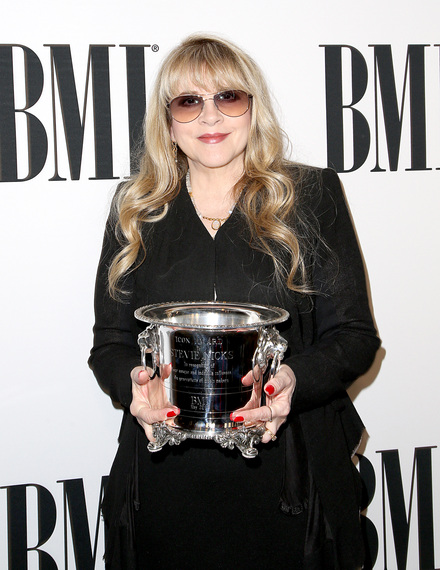 Singer-songwriter Stevie Nicks, recipient of the BMI Icon Award, attends the 2014 BMI Pop Awards at the Beverly Wilshire Four Seasons Hotel on May 13, 2014 in Beverly Hills, California. (Photo by Chelsea Lauren/WireImage)
She gave an almost 30 minute acceptance speech, which was more like a crash course in how to be a rockstar AND hit songwriter and live; she recalled how she would shut the press down during interviews.
"If anyone would come in and start asking what it feels like to be a sexy Pop star or a sex symbol I would say 'This interview is over, because you obviously don't know who I am,'" she recalled. "I'm a songwriter first and foremost, yes, I'm kinda cute and can dance a little and maybe can hold an arena full of people every now and again for a few hours, but I'm a songwriter first."
And she recounted the hits, and the motivations, it became a riveting life-lesson through song.
...Message of that one, don't break up someone's marriage. Nothing good will ever come of it...and then there's 'Landslide,' That was the song that was so important to me. Was I to stay writing and performing with Lindsey (Buckingham), go solo, go home? I was ready, it was time for something to change, to happen and 'Landslide' is what happened. We joined Fleetwood Mac, which was a good thing, and began a new journey.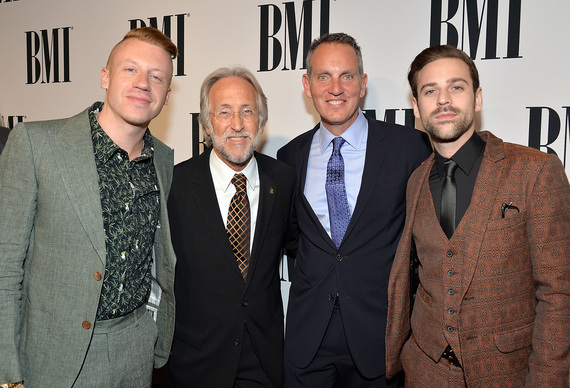 (L-R) Rapper Macklemore, NARAS President Neil Portnow, BMI CEO Michael O'Neill, and rapper Ryan Lewis attend the 2014 BMI Pop Awards at the Beverly Wilshire Four Seasons Hotel on May 13, 2014 in Beverly Hills, California. (Photo by Lester Cohen/WireImage)
The room sat rapt while she spoke, because it was filled with songwriters old and new. The older ones related to Nicks when she said, "The music industry is a mess right now, radio is a mess right now, but it's us, it's our mess. We can fix it and make it fun. Look, I'll be 66 years old this year, you can write songs for your entire life so if you're going to do this for another 30 yeas or so, shouldn't it be fun? We must make changes to take back music and our industry and bring the joy back to it."
And the younger ones, like Macklemore and Ryan Lewis, Adam Levine, Sheryl Crow or the over 50 recognized songwriters and hundreds of publishers in attendance to receive recognition for writing the hits of the year published and administered through BMI Music all sat knowing something special was going on on stage.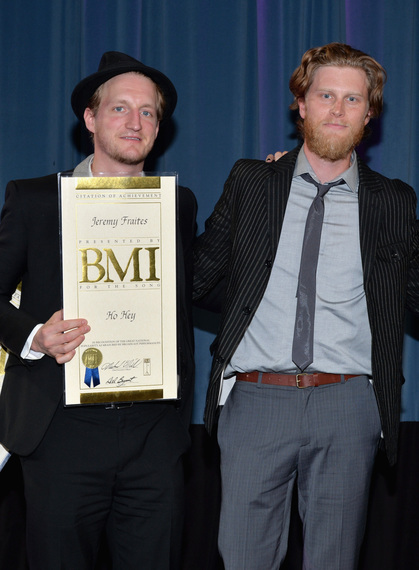 Musicians Wesley Schultz (R) and Jeremiah Fraites of the Lumineers attend the 2014 BMI Pop Awards at the Beverly Wilshire Four Seasons Hotel on May 13, 2014 in Beverly Hills, California. (Photo by Chelsea Lauren/WireImage)
The awards themselves moved at a new pace this year, due in part to Michael O'Neill, BMI's recently named CEO, and a stricter adherence to schedule. When you get hundreds of creative people in a venue like the Beverly Wilshire, add cocktails and good food...it can be like herding unruly sheep. Some people only see each other at these awards and business is often done everywhere from the lobby to the men's room. That's right, Charles Kelley (drop dead gorgeous and tall) from Lady Antebellum (who killed it along with Adam Levine, Sheryl Crow and Shakira in the Stevie Nicks tribute) was in the restroom at the sink with a songwriter telling him to be sure to send over any more tracks like the last one. The songwriter seemed very happy.
Keeping songwriters happy -- meaning paid -- is what BMI Music does. It represents hundreds of thousands of writers and millions of songs and is one of two major performance right's companies in the USA, ASCAP being the other. It is BMI's and ASCAP's duty to make sure writers and publishers have their work protected and paid for when used. They are key parts to how an artist makes a living.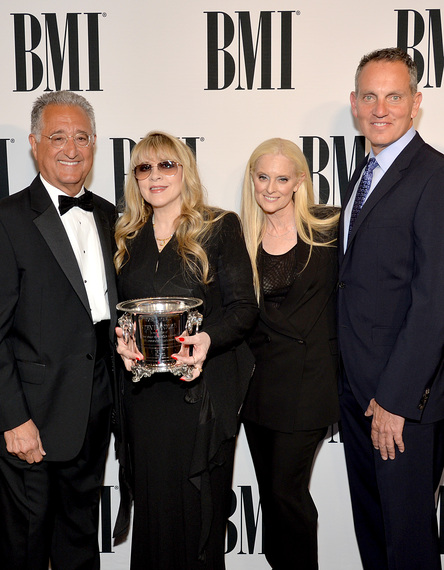 (L-R) BMI Vice President, Writer/Publisher Relations, N.Y. Phil Graham; BMI President Del Bryant; singer-songwriter Stevie Nicks, recipient of the BMI Icon Award; BMI Vice President & General Manager, Writer/Publisher Relations L.A. Barbara Cane; and BMI CEO Michael O'Neill attend the 2014 BMI Pop Awards at the Beverly Wilshire Four Seasons Hotel on May 13, 2014 in Beverly Hills, California. (Photo by Lester Cohen/WireImage)
But they are so much more, these agencies. They are heart and soul. Del Bryant CEO and President of BMI is leaving after 42 years at the company, and his heart and soul was touched by a prolonged standing ovation and tribute by another chamber of the heart of BMI, VP and GM of BMI West Coast Barbara Cane. These are the people that meet with the songwriters, help them, guide them and then find new ways for their music to generate income and to then protect that income. They give them hope when they don't have any, and give them awards when they are riding high. BMI (and ASCAP) truly are partners in success for creatives. And, the combined billions they help flow through the economy isn't a bad thing, either.
History is what these awards are really about. As singer/songwriter Brenda Russell received an award for song written in the 1980s ("I Try" which samples her hit "Piano in the Dark") and then one for a song written and recorded in 2013 ("The Way," a song she co-wrote with Jordin Sparks, who also looked amazing) it's a mix of new hit makers and some seasoned songwriters.
A complete list of winners can be found at the BMI Website.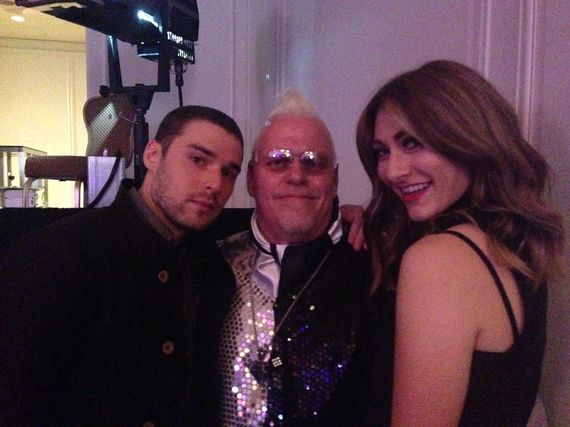 (L-R) Nick Noonan, Karel, Amy Heldemann Photo: Daniel Charleston
On a side note, if you want to have a fun evening at an awards show like this, take a friend like Daniel Charleston (and photographer) and sit next to the group Karmin (Amy Heldemann and Nick Noonan). Those two are not only talented singer/songwriter/rappers, but hysterically funny. I can't really divulge, but all I can say is "Dale!" (Pitbull please forgive us).
The business of music can be wretched. In fact, when asked, I always advise young musicians, actors, artists if they can do anything else and get as much satisfaction then do it and keep performing a hobby: Being an artist is often easier when you want to perform, instead of when you have to perform financially with your art. But as Nicks stated, it's people. And people like for people to notice, to get it. The BMI Pop Awards pulls these people out of their studios and writing / performing environments and says, hey, someone notices, someone gets it.
Writer Cyril Connolly once wrote "Better to write for yourself and have no public, than to write for the public and have no self." The BMI Pop Awards (and their other genre awards) recognize those that wrote for themselves and then found a public with their very personal works. They are meant to reward some and inspire others.
But more importantly, again, as Nicks said, they're about having some fun. And as always, everyone at the Beverly Wilshire left very happy.
To hear Karel get the Karel Cast App, subscribe in iTunes to the Podcast or simply go to the most incredible website on all the planet, save this one, iamkarel.com
Video Of BMI Pop Awards provided by BMI Music.
Follow Charles Karel Bouley on Twitter: www.twitter.com/therealkarel