And it ends as it began. Seven days previous, myself, my niece Heather McGrath (pronounced McGraww! In Ireland) and the very special Brandon Crispo hopped off US Air (willingly) and hopped on to BMW Sport Adventure bikes through Celtic Riders. Now, seven days later, we are back at Celtic Riders about to embark on a day trip to the "Garden of Ireland" the Wicklow Mountains and Wicklow National Park. It was Saturday, two days out from St. Patrick's Day and the day of big rugby match (which Ireland would go on to win!) that we wanted to return in time to see prior to going to the 0-2 Concert Venue to see the 20th Anniversary reunion of The Stars From The Commitments.
Gone were the maddening crowds from a few days back. In fact, the Friday after St. Patrick's Day 2011 was a sedate, controlled night in the Temple Bar area of Ireland, the part of Dublin set aside for the party animals and Bohemics.
In fact, Friday morning after St. Patrick's as we walked to a tour at the Jameson's Distillery in the heart of Dublin, it was back to work for many. It wasn't a four day holiday, so many Dubliners were back at work bright (?) and early Friday morning. Offices were bustling, stores and the locals were now mingling with the tourists that were left. Brits and others were filling the hotel rooms left vacant from the holiday for Saturday's match. Little signs could be found of the night before, an occasional patch of puke and several people sleeping (yes, sleeping) along the bridges over the Liffey still in their party hats left to sleep it off; but for the most part, it was back to work.
The Distillery is another great tour as Jameson's Whiskey is a big part of the Dublin and Irish culture. It sells over 31 million bottles world wide a year is the most popular Irish Whiskey made; it is also the fastest growing whiskey brand in the world. Established in 1790 by a Scot, John Jameson, it is distilled in Cork, Ireland with vatting taking place in Dublin. It is a single distillery whiskey, adhering to the single malt tradition with difference being Jameson's combines malted barley with umalted or "green" barley. Then they use what is known as the Pure Pot Still distilling tradition and used sherry and brandy kegs brought from Kentucky and other places. The tour is great fun and ends with a tasting, and be sure to see the actual cat that caught 20 mice per day for the brewery. They stuffed it. No lie. It's a great place for gifts for those that like whiskey as they will print the name of someone on a label of their Distillery Reserve, available only there in Dublin.

Dinner was in the Grand Canal Square area of Dublin, a newly redeveloped waterfront area that is where modern meets traditional on the waterfront. It is developing in to a very trendy area, think SoMa in San Francisco or SoHo in NYC and that includes the restaurants springing up. This is where you could get a bit of West Hollywood in Dublin; places like the Ely Gastro I suppose for locals this is great, but for me...ehh...I didn't travel all this ways to have service I could get in America (read, less than stellar) and food that was more style over substance. The patrons really seemed to be enjoying themselves at the bar and I could see this as a very trendy night spot for young urban hipsters; however, there's much better food in Ireland and places that mix more traditional Ireland with the modern. The Grand Canal is full of them, and so trendy, upscale, modern night life on an incredible waterfront by a spanking new theatre exists just a five minute cab ride from the City Centre.
Friday night Dublin was sedate, having shot an incredible amount the night previous. Pubs like Hogans or The Stag's Head that were far too crowded to attempt were now readily accessible with good crowds and good fun. The George rounded out with an evening of dancing and street food (Cod and chips at Fitzers) in the Temple Bar and it was back to the hotel by 1am, the earliest!
Saturday night after St. Patrick's Day was a huge concert event for Dublin, the 20th Anniversary reunion of The Stars from The Commitments. The film, now two decades old, and the actors and singers who made it all under the writing prowess of native Roddy Doyle came together for a special night at Dublin's O-2. The house was filled to capacity as the various members of the group did R&B covers and a host of material from the movie and other albums. The band has broken up a few times over the years and as singer Bronagh Gallagher said in jest when they first came out "we've already broken up 20 times today." She was joined by Andrew Strong, Robert Arkins, Angeline Ball, Michael Aherne, Glen Hansard, Felim Gormley, Dave Finnegan Ken McCluskey and Dick Massey for a rousing two-and-a-half-hour set. Even though these are actors and such who have gone on with their lives, I see a tour in their future. The night was a mix of a Blues Brother's concert and some real Irish spirit, a great combination. In fact Heather looked over and said "I didn't know Ireland had this much soul!" and when Brandon exclaimed "Look, White people CAN dance!" I exclaimed, "They're not White! They're Irish!"
The after party at the Premium Club was the best industry after party I've been to, and I've been to countless. The Premium Club is on the third floor of the O-2 and is the perfect spacious area to enjoy the after show. Bronagh's mom was behind us during the show and at the after party we got to hug that very proud woman and shake her father's hand; you could see the joy in the parents as the daughter worked the room. Irish celebrities abounded, Bushmills was the drink of the evening and before one knew it, it was 2am.
But the star of Saturday was the ride, back on the bikes and out to see more of Ireland. Paul Rawlins and Liam from Celtic Riders met us after we transferred to the Radisson Blu hotel at the airport. It's a grand hotel, with lush rooms and very modern appointments. It's a big cab ride to City Centre, about 30 Euros ($45) but it's worth it when flying out the day after because you can walk to the new terminals at the airport and should you have a rental car they share the rental car return car park.
Rawlins was going to take us in to the high country, the national park just 30 minutes outside of Dublin. I thought after the ride to Cannamara that I couldn't be overwhelmed yet again, naïve little me.
We headed out of town on the M50 and then quickly cut off to begin a twisting turning four hours that would lead us through some of the most spectacular views and scenery available in any country, any where and solidifying that it is worth going through a Motorcycle Safety Foundation course and getting a class C in America and practice on rental bikes JUST to do this tour. Even if you never saw yourself on the back of one, this drive alone would make it worth months of preparation.
And the BMW Sport Adventure series are the perfect bikes for this ride. I am very partial to my Aprilia Mana 850 in the United States as it is sports bike that meets commuter bike, an 850cc and, well, my bike. But the BMWs quickly showed me that as fabulous as Manny (my bike) is, if he had a way to tell me, he'd tell me that one should use a specific tool for every job. For the job of traversing the Irish countryside, a Sport Adventure bike is a must, and BMW makes one of the best.
Along the way we stopped at a graveyard for German soldiers from WWII. The Germans would fly over Ireland and run out of gas near the mountains and crash. The Irish would bury them out of decency and kindness. Ones that survived or lived through the crashes only to then die were sometimes heard asking "Why? Why help us?" As Paul explained Ireland was basically neutral and just felt it was the human thing to bury young men who were doing only what they were told. They weren't the evil dictator, they were kids, dying and deserved a beautiful place to be. And they are in one indeed marked by one of the few remaining Celtic Crosses standing in the land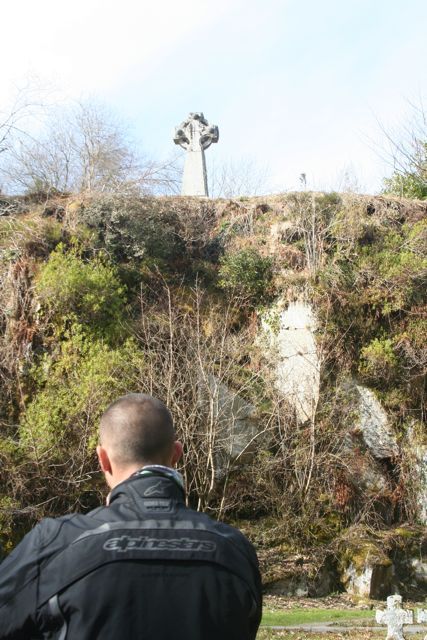 Next stop was a famous part of the Wicklow National Park and Wicklow Mountains; the place where the River Liffey begins, the bogs. It's in these mountains that many films of Ireland have been made, including a large battle scene from "Braveheart" with Mel Gibson PB (pre breakdown) that even got the Irish Army involved as extras. There's a great vantage point (well, every 20 feet really) of the vast bog that is the beginning of the River Liffey in Ireland. Bog is Turf, which is thousands of years of compressed organic material that is moist. Things buried in it like people or animals are preserved almost perfectly. It is used for fuel, to burn, in homes and pubs after it is dried. While moist, it is the sponge that soaks up the rains that feed the Liffey which runs from that point to the sea through Dublin.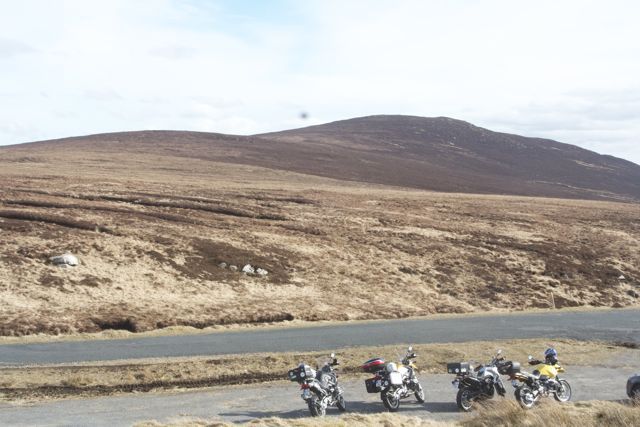 As we stood at its source the uniqueness of the place can be felt. Camping is allowed or just sitting for a while. There aren't many resources around, so come prepared (gas, food, snacks, etc). It really was standing on the top of Ireland.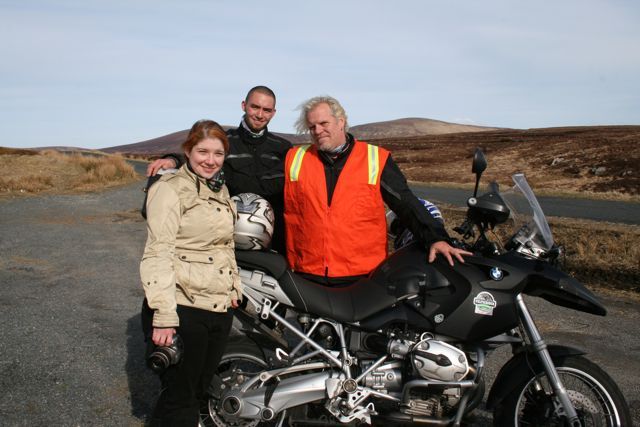 Brandon, Heather, Karel

Then it was more overwhelming beauty after more as we went by waterfalls, lush valleys and rivers out of every painting one has ever seen about lush country cottages. The road goes to the heart of the Wicklow Mountains, Glendalough where an ancient monastery, church and spire sit. A lovely lunch at the Glendalough Hotel and a stroll through the grounds juxtaposes the modern and the ancient all in a serene setting.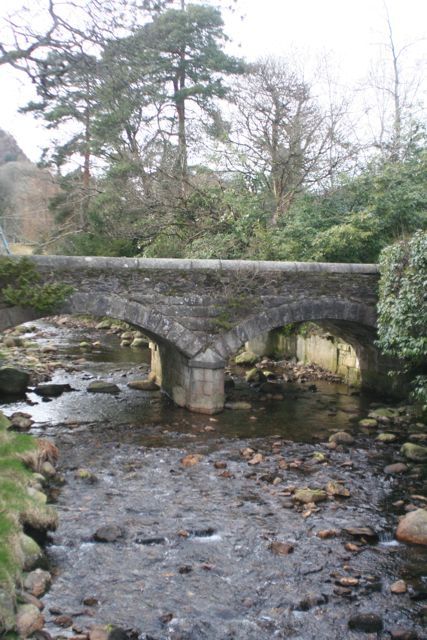 Leaving on the bikes it began to rain. This is a very dangerous time for bikers and the roads of Ireland are unforgiving; one doesn't control or conquer them, one respects them or gets hurt, especially in these conditions. This is where bike and gear makes all the difference in the world.
AlpineStars supplied the gear including the Gor-Tex jackets, gloves boots and pants. The wisest investment ever for a biker in these conditions whether in Ireland or Arkansas, Seattle to L.A. As the winds whipped and the rain began to fall hard, we were dryer and warmer than anyone could imagine, even myself.
The BMW 1200 GS and F 650 GS, as Rawling says, "are the only bikes for Ireland whether in the West or here," and I agree. From the heated hand grips to the incredible traction and sturdiness, as I rode with Heather as my passenger on roads that switchback and are barely 10 feet wide I actually wasn't too worried to check out things like the village of Hollywood, yes, the first, the lake scenery, gorges, valleys and other things along the way. It was an initiation by fire (well, rain) and thanks to the leadership of Celtic Riders Paul and Liam, the craftsmanship of BMW and the protection of AlpineStars, it proved to be another exhilarating experience.
We rode back and said goodbye to new friends, fast friends, friends we will be seeing again with our minds full of such joy, beauty, so much that it's too hard to process. So here's what Rawlings wrote in an email to me when I returned. "It was really nice to meet and talk to three down to earth American people, we enjoyed immensely bringing you all for a ride on Saturday afternoon. I know for a fact that Brandon's never ever going to forget his baptism of fire riding in Ireland. I read his eyes during our ride when we stopped to admire the landscape and he was wired straight to the grid, electrified with adrenalin and pure happiness. That makes me so happy because these feelings are the feelings I want to bring out in overseas tourists when they visit our island."
Well Paul, mission accomplished there.
Wired, electrified, adrenalin, overwhelmed, connected, alike, friends, family, laughter...how many adjectives, how many descriptors does the human language have; I need more.
In America, we are lucky if we take a week off from work by ourselves or with our families.; Let alone two or three or four. And in today's economy, where there is so much uncertainty, the thought of a vacation has been put aside for so many.
But why do you work? To live? Define living. Is living working hard to simply pay corporations interest, conglomerates fees? If the past three years has taught us nothing it's that living is what is important, connecting, being present, being there. People saved their whole lives for later, for retirement, never taking vacations longer than a few days, never spending money on a concert or play, and where are they today? So many were wiped clean, back to work.
We have to go and blow it out, go and explore, go and be different people and meet different people and see how NOT different we all are or else what is the point of being here? Today as I sit and wade through the bills from the last seven days, the calls, the "back to life, back to reality" I realized what I did was priceless and the relationships and memories I made forever.
Ireland may be a world away for so many of you, but let me tell you, it's waiting to welcome you. It's been welcoming people for thousands of years and will go on. Try to be one of those one day and do just a few of the things I may have suggested and you'll see life from a whole different point of view when you return home.
SUBSCRIBE TO & FOLLOW LIFESTYLE
HuffPost Lifestyle is a daily newsletter that will make you happier and healthier — one email at a time. Learn more