While live theatre may be a dying art, Legally Blonde: The Musical is breathing new life in to a new generation's theatre experience.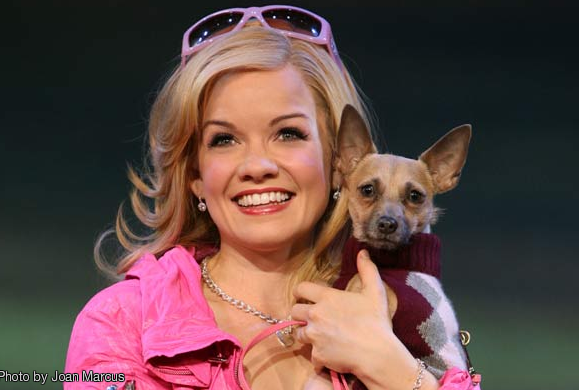 Nothing can replace a night of live theatre. While many in the Youtube/Tivo/iPod generation think a flat panel of any size from pocket to wall is all one needs for all one's entertainment options, being in the same room as the artists, the musicians, the actors and other humans brings about a communal experience humans have enjoyed since people began entertaining themselves.
And in today's economy, where ticket prices average about $40-$95 a seat for major productions, $35 or less for smaller it's easy to put live theatre aside for a while; But that would be a mistake, as leading psychiatrist now tell us. It's when we are most depressed, or broke, or worried that we should give ourselves a vacation of some kind; and with theatres now offering great last minute deals (remember "rush" tickets?) it's worth the investment.
And a night of theatre is a mini-vacation. At least it is for me. Now since this is a "blog" and not governed by some of the "hard, fast" rules of journalism, I'll digress for a moment. First, I'm gay, so... well, no surprise I love live theatre. I began attending in 1979, when I removed the word "High School" from the Long Beach Poly High School newspaper the "High Life" and got on all the publicity media service lists for opening, premieres and such. I was a poor kid in the inner city, a gay teen needing Hollywood movies and plays, knowing I needed to be in them, around them, so I remembered a Streisand story. She said she became an usher at a theatre so she could see the movies. Well, I became an usher at the Long Beach Terrace Theatre and at 17 began attending plays at the Pantages and other venues as a member of the press. The reviews always ran in my school paper and then community papers. I never have and never will attend a play as media that I do not then cover.
Those evenings, at 17, 18, 19 and on, and then later as I went in to music journalism eventually ending up at Billboard where concerts and green rooms, listening parties and after-parties became a regular event, shaped my youth and my life. I have always been poor to lower-middle class, save about 10 years from 30s on. Not a lot of money in the arts as artist, writer, photographer, journalist. And I have always been an entertainer, emceeing my first event in 7th grade (the talent show at my school whose theme was "Car Wash" yes, that "Car Wash") and never getting off stages of some kind, theatre, radio, night club, TV, even the print stage, since. So being so close to all of it, a part of it, talking to people doing it, and then doing it myself in some ways, it's made a fun life. And a life a poor kid from the hood wouldn't normally see or get.
However, I stopped attending about five or six years ago because after my late husband Andrew Howard died and getting someone to go was always a challenge. Matching the friend to the concert or production, schedules (many screenings and plays are during the week and award shows start usually at 5pm), driving up to Los Angeles...well, it just got to be that the production before the production was too much. So, I passed since I'm weird and don't do theatre alone.
But, my niece Heather is back living at my home, Park Howard, and she loves theatre. So when the chance to see Legally Blonde: The Musical at the Pantages Theatre (August 15-September 6) arose, I jumped at it.
The trip to theatre is no longer a trek but a fun ride since I became a motorcyclist. Heather is licensed as well, but opted to ride with me (traffic splitting would be required and she's not up to that yet). Of course Manny, my Aprilia Mana 850 was the only choice (I have a three wheeled wonder, the Piaggio MP3 500). The gas tank is under the seat, so the faux tank holds storage. Storage is necessary for a night at theatre for wardrobe.
There are those in today's world that don't dress for the theatre. Heather and I are not two of them. It's an event, a gala, so putting on festive wear is compulsory, whatever your style. I opted for black leather pants (riding pants), an Elvis Jesus studded shirt and a full length black leather coat a la matrix. The coat and shirt went in to the storage area, along with tickets, cameras, cell phones and such. Heather did high boots, fishnets, a skirt, a fabulously hip jacket... all on the back of the bike!
We made it to Los Angeles in 40 minutes, a drive that would take 1.5 hours in a car. Hollywood Blvd. was all dressed up, and the search lights were on in front of the Pantages as the red carpet was spread, news vans with their 30 foot high antennas as the spectacle known as a play premiere was in full swing.
We pulled up right in front, as in, right in front of the lights, the red carpets, the camera. Two people, fabulous Shoei helmets, AlpineStar leather riding jacket, a red naked Aprilia street bike, right in the thick of it. Heather popped off to get to the box office as I then pulled away to park Manny for free, less than 200 feet from the box office. Got to love motorcycles! What a sight we must have been. How fitting.
Once the AlpineStars was put in the storage area, and the wardrobe change complete, it was off to the red carpet. Heather grew up attending plays, concerts, premieres and then meeting the stars afterwards since she was a pre-teen because of my job (and her late uncle's) in media. Now 25, this was old hat, but still exciting. I could tell as Jane Seymour or Priscilla Presley walked by, or any of the other stars on hand that she still wasn't immune to the glitz. Even in bad times, Hollywood dresses up nicely.
The lights dimed and we found our seats. Celebrities from every list, A, B, C and yes, D, were in attendance seated all around us. I was even asked for a few autographs (having been on L.A. radio for years), so I guess the Y or Z list even attended! A 15 year old girl was next to us with her mom, and she warned me that she was going to sing along. I told her sing at the top of her lungs if she wanted, theatre was for enjoying and musicals were for singing. She did just that, and while the media person or agent or pseudo celebrity in front of us looked like she smelled a fart every time she shot a glance backwards I fully enjoyed her passion and zest. More people should sing. Truly. I see so many people now with iPod earphones in their ears everywhere I go, and yet, no one singing. How odd. Like the 15 year old next to me, I hear music, I gotta sing!
The play begins with a warning from the star, Becky Gulsvig, as her character Elle Woods, admonishing the audience that if any video shows up on Youtube she is "so going to be all over you..."
It sets the tone for an energetic, lighthearted, two-and-a-half hour escapist journey that is pure cotton candy fun (pink, even). After all, a play based on a Reese Witherspoon vehicle where a pampered blonde decides to run off to Harvard to follow her ambitious boyfriend so she can be a serious contender for his affections isn't Tolstoy. But why should it be?
What it is though is a series of energetic and contemporary dance numbers and songs that weave the tale of personal growth and eventual love and sews it all up in pretty pink wrappers. Gulsvig is perfect as Elle, appearing just "blonde" enough to be taken...well, not seriously, and then transforming just enough to not emerge as a different person, but the same one that was under all that processing and color before, just with some internal development. Her eventual falling out of love with Jeff McClean's egocentric Warner Huntington III and in love with D.B. Bond's unassuming and loveable guy in the background -- Emmet -- all while proving she's no dumb blonde is, of course, inevitable. But the cast makes the journey so fun that the eventuality simply doesn't matter.
Natalie Joy Johnson as Paulette, the slightly off-center hairdresser with a heart of gold, nearly steals the show, and dominates every scene she's in. Not even a dog could upstage her (the play has two, and the applause for each probably means they make more than you or I).
A few cast members were found via the reality show on MTV Legally Blonde: The Search for Elle Woods including Rhiannon Hansen and Lauren Ashley Zakrin and may be two of the best things reality TV has produced of late. Megan Lewis' Vivienne's character actually goes through as much transition in the play as Elle's, going from stone cold bourgeois ice princess to a woman that realizes not every book should be judged by its cover, or hair color.
Director and choreographer Jerry Mitchell who was nominated in 2007 for his work on Legally Blonde as well as 2005's La Cage Aux Folles and numerous other hits has infused Heather Hach's book and Laurence O'Keefe and Neil Benjamin's music and lyrics with a relevance and zest that is determined to entertain even the most jaded of theatre goers.
Running a little over two hours is risky, and gauging the audiences tolerance can always be done by watching the kids. At this gala, not one was fidgeting, waiting to leave. All eyes were on the stage as young and old smiled along.
If it sounds like a rave review, it's because Legally Blonde: The Musical deserves it. Before I went, my mind was a million places. Money is far too big an issue to go in to here, it'd be another story about the slow descent from middle class back to every day worry over finances. Every industry is volatile right now, and the entertainment industry, my industry, even more so. Yet, as I sat in that darkened theatre, all those problems went away. Laughter replaced worry and spirits lifted with every high note. The familiar themes of love found, love lost, self discovery, reinvention, played well in today's times. Just as Elle has a choice to make when she's down and counted out, quit, leave, retreat to the familiar, or step outside one's self, move forward, change, reinvent, keep going to get what you want, well, many in the audience are facing those same dilemmas in very real world terms. Watching the waters be navigated while singing and dancing in a lot of pink somehow puts a much better shine on things.
As in true Hollywood fashion, Elle gets her man (the right one) and happy endings are doled out all around to the deserving, the audience stands and cheers and the curtain falls. As the lights rise and we see everyone scurrying for the exits, Heather and I sit and take it all in for a moment. The Pantages is a gorgeous theatre, having been redone in early 2000 for the Los Angeles premiere of the Lion King. It's a theatre much like one on Broadway, ornate chandeliers, moldings, side boxes with ornate balconies. Traffic, the great equalizer, put celebs in the middle of the theatre crowd, and we simply darted to Manny and began gearing up.
As we did, we both looked over at the theatre. I turned to Heather.
"Look at those lights, all that hoopla, the theatre, the excitement, it's all for this, for us. We just saw a great play right here in Hollywood, we're off to the after party at Social, a club where TMZ and paparazzi hang in front of because it's known for its parties to mix and mingle, and we're riding there on this fabulous Aprilia, together. Just think how many people, young and old, throughout the country or world wish for a night like this. We should both breathe it in, and not take it for granted."
She fully agreed, and acknowledged while a night like this may not matter to some, or may seem frivolous to others, we were very, very lucky to be with each other, at this time, enjoying this moment.
Traffic was horrendous on Hollywood Blvd after the play. The Hollywood and Highland Center, where the Kodak Theatre is housed, was closed, at least to traffic. Filming something, or some event as always. Those in cars sat cursing their fate, while Heather and I made our way quickly and effortlessly to the next stop, looking good while doing it!
We weren't going to go. Truly. A swank afterparty, tough ticket to get, but in the real world Heather had to be at Peet's Coffee for her shift lead job at 7am and I need to continue concentrating on generating an income as do we all. But all work and no play... so, off we went.
Social is the former Hollywood Athletic Club, and it used to be the playground to the stars. Chaplin, Demille, Valentino all were members. Again, we parked within feet of the front door since motorcycles fit almost any place, and after both of us getting back in to our finest it was off to the party.
Social is beautiful inside, a throwback to the Hollywood of the 1930s and 1940s with ornate appointments and details like painted ceilings and even a throne here or there for fun. The obligatory buffet was going on, interesting food by this or that caterer or chef, and people in great clothing and tight waistlines trying to look chic while eating (not possible). The secret to these things is to get there early, eat, get your beverage, and then when the masses arrive, be done, and get ready to mingle.
Heather appointed me mingler-in-chief, so we sat and talked with everyone from cast members to other media, the DJ to the waitresses. The DJ actually had the coolest setup. His turntables were plugged in to his MacBook Pro and had dummy vinyl on them. The vinyl cued the MP3, so you could cue it and scratch and mix it like it were on vinyl. We've come a long way, baby.
We saw, we mingled, we laughed. And after an hour (my longest stay at an after-party yet) we were done. We decided that's most people's problem; they never know when they are done with fun. It was midnight, and we knew there was nothing else that would make our night. We were with each other, we were around fabulous architecture, theatre, interesting people from all walks of life, enjoyed the ride to and from thanks to Manny, tasted interesting food and had a nice cocktail, one, split between us... what was left? So, I traded full length leather for AlpineStars and it was back on the bike and off to Long Beach.
What a night. What a play.We all get knocked down. It's the reinvention that keeps us fresh, the finding who and what we are and going with it, no matter what. It's taking what the world sees and throwing back the image you want them to see, not what they may be observing at first glance. I remembered my first trips to the Pantages, a teenager, seeing the late Eartha Kitt in Timbuktu or Yule Brenner in The King And I. I remember wanting to be a part, so much a part. And now, 30 years later, here I am. A part. Be careful what you wish for!
When a play can enhance an evening, and then change the mood of the day or weekend, when a night out can replenish the batteries or a simple song and dance can elevate spirits once dashed it proves that live theatre has a place, and always will, at least in my heart. And as long as producers and cast members keep giving us feel-good fluffy productions like Legally Blonde: The Musical they'll still be something out there to laugh about.
The hear the Karel Show, please here.

This Blogger's Books and Other Items from...
FOLLOW HUFFPOST