Charles Karel Bouley with Andrea Lita Rademan
Photos: Brandon Crispo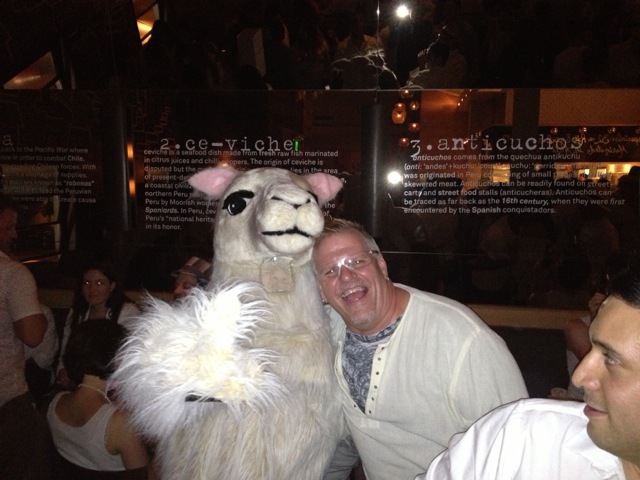 Chances are, if there's a dancing llama, it's an adventure.
Such was the case at the recent one year anniversary party at Picca, chef Ricardo Zarate's modern Peruvian restaurant located at 9575 Pico in Beverly Hills, CA Picca Peru.
Managing partner Stephane Bombet greeted us at the door with a fabulous French accent, overflowing hospitality, and an incredibly potent Pisco Sour, Peru's national drink, a la star mixologist Julian Cox, who makes ample use of rum, tequila, cachaça and mezcal in his cocktail creations here. That sour is so delicious ... well, let's just say it explains the Llama.
Even under intense pressure, Stephane combines laid-back charm with an incredible ability to keep the front of the house running without a hitch. He and his staff made sure that delights began appearing immediately and kept coming. While I leave the major food reviews to Andrea Rademan (my longtime friend and food and lifestyle editor for my show and columns) the impact on Brandon and Daniel, my tasting compadres, was immediate: this stuff is amazing. Having never eaten Peruvian food before, the assertive flavors and Japanese edge were a revelation. No wonder Nobu Matsuhisa adopted this style and brought it to the West.
The house was packed with Los Angeles foodies, celebrities and customers enthralled by Chef Zarate and the passion he brings to his food and his restaurants every night. It's catching. Energetic (and drop dead gorgeous) staff, including bartenders and line cooks on view in the open kitchen gave off electric energy.
Each tray of petite servings were devoured basically before they left the serving bins and as fast as the chefs could prepare them: this crowd was ravenous for Picca's offerings and after having sampled them, I could see why.
It's easy to forget, living in the suburban bubble that I (and many others) do, that there are people out there flourishing, pretty people of all types, sizes, shapes and colors who still seek out great food, and parties where it isn't uncommon for a flamboyant dancer to be slinging her tassels on a table top.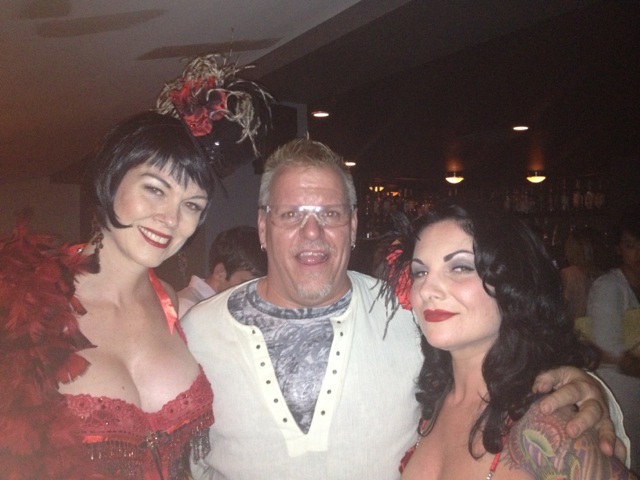 The invite said 10 p.m. to 1 a.m., but by 10:15 the place was packed and it the crowd kept growing. The mood was high, a DJ cranking out an eclectic set of modern day Dance/Pop, hits from the 1980s and 1990s as well as unique beats with a definite Peruvian flair. No Peruvian Pan Flute music was allowed this night (in deference to "South Park" of course).
At 2345 (11:45 p.m. for you odd people who still tell time the old fashioned way) as we were checking out the upstairs and attacking a dessert tray with shortbread creations that would make one cry, a six foot llama (OK, a guy in a Llama suit, but still) came dancing out from behind a wall. Well, of course, why wouldn't it?
It made it's way to great applause downstairs where the costumed creation posed with partiers at the Photo Booth that had been set up on the main floor. Even I had to go get a picture with the Llama plushie. Because when you find yourself drinking fabulous rum punch in Beverly HIlls, surrounded by good friends, great food, fabulous people in a great mood, dancing burlesque girls, a slammin' DJ, an attentive and attractive staff...well, when the Llama dances, you follow. At that point, it's an adventure.
At midnight balloons fell with prizes inside, including the cash, thrown from the balcony by the Llama, Chef Zarate and Stephane. The loud explosions of the balloons popping around the room gave the air of fireworks, and there were plenty to be had in the room.
We bid bon soir and left with the party still in full swing at 0030 (1230 a.m.).
This was a celebration, make no mistake, but the same enthusiasm permeates the restaurant every night, propelled by Zarate, who shot up from oblivion to become America's most prominent Peruvian chef.
He laid the groundwork at Mo-Chica, which he opened on a shoestring. He'd scout the seafood and vegetable markets at dawn and hurry to his stall at La Paloma food court to prepare classic lomo saltado (beef fillet); seco de cordero (lamb shank); aji de gallina (shredded chicken); causa (potato salad with crab and avocado); and quinotto (quinoa risotto) before racing across town to his job as executive chef at a sushi restaurant in Venice, where his day ended well after midnight.
With the help of adoring foodie friends and food professionals (John Sedlar, Jonathan Gold, Steve Plotnicki, Barbara Hansen and Hadley Tomicki were among the pioneers), word gradually spread and business flourished. Zarate was finally able to plant his Picca seed when restaurant entrepreneur Bill Chait spotted his talent and supplied the capital and expertise to make the Picca seed grow.
Now, while they retool the original Mo-Chica, Zarate and Bombet have opened a new and already wildly popular Mo-Chica at 514 W 7th Street downtown (213) 422-5645. The menu here focuses on updated Peruvian comfort food -- papa rellena stuffed with eggplant stew; pork belly on potato stew; Amazon River fish; tuna ceviche with yuzu mayonnaise; lamb shank with cilantro-beer sauce -- and highlights Peru's regional cuisine. It's part of a grand scheme to convince the world to love his homeland as well as the foods of his homeland.
Chicha morada, the non-alcoholic mixture of purple corn with pineapple rind and cinnamon that was Mo-Chica's most popular drink is available here, too, but so are wine and cocktails with names like "Papa Don't Peach," "Santa Claus is Back in Town" and "Tea-Nage Dream." Here, the pisco sour is called "Tha Doggfather" and "I'm Grapey and I Know It...(wiggle, wiggle)" is another pisco-based drink.
No llamas in sight but there's an alpaca stew and local artist, Kozem, painted a mural showing an alpaca spray-painting "Mo-Chica" on the wall.
Go for a celebration or go for a meal. Whether it's dancing llamas or painting alpacas -- adventure awaits.
SUBSCRIBE TO & FOLLOW THE MORNING EMAIL
The Morning Email helps you start your workday with everything you need to know: breaking news, entertainment and a dash of fun. Learn more