This Wednesday, the Seattle Seahawks' Super Bowl victory parade route will span a microcosm of the team's geographic reach -- a stretch of Fourth Avenue in downtown Seattle. Does this concentrated celebration, miles away from many "12th Man" fans, mean cities trump suburbs, or is it time to dispense with such distinctions?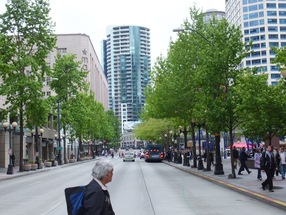 This question is a timely enhancement to everyday observation in urban settings.
In fact, sometimes a city looks like a suburb and a suburb looks like a city. That is the case in the second and third photographs here, with comparable imagery from across the world, and across urban history.
In the night photograph, below, the foggy skyline of Bellevue -- a so-called "suburb" flanking Seattle -- contrasts with one of Seattle's oldest single family neighborhoods in a particularly provocative way.
I met this glowing vision of a "suburban" center across Lake Washington the night before the Super Bowl, just after discussing Seattle's ongoing debates on how best to accommodate new building height, and simultaneously achieve affordability, growth-related services and infrastructure.
In the following third photograph, the fuzzy line between city and suburb resounds even more directly, based on the literal translations of place names dating back at least 1000 years. Mdina, Malta, the island country's historic capital, contrasts with its surroundings, including the adjoining town of Rabat (to the left).
In the Maltese dialect (substantially based on Arabic), "Mdina" (like the Arab "Medina") means "city," and "Rabat" was derived from the Arabic word for "suburb" (الرباط) -- but, ironically, Mdina was eclipsed in size and encompassed by the larger Rabat long ago.
The age-old questions of urban boundaries and city walls matter less today in a physical sense, but these photographs both suggest that the political overlay of region, cities and neighborhoods still keep visible form, however counterintuitive. And this age-old juxtaposition of city and suburb, and their latent interrelationships still dominates today's writing about cities.
Some revel in imagery of automobile-based suburban decline and creative reinvention and retrofit; those who write about resurgent suburban strategies in the face of "city" ascendance are now center-stage, including my two favorite books by Ellen Dunham-Jones (Retrofitting Suburbia: Urban Design Solutions for Redesigning Suburbs) and June Williamson (Designing Suburban Futures: New Models from Build a Better Burb). (For a very recent, related sentiment, see also Jillian Glover's thoughtful reflection from late January about suburbs as a laboratory for millennials to remake sprawl).
As for me, neither a true academic nor a design professional, I prefer the simple spirit suggested in my ongoing "urban juxtaposition" series of articles on the myurbanist blog -- and the "ripple in time" that these photographs represent.
What we see every day can inspire thoughts and questions, policies and plans. To me, such images of the ambiguous edges of modern settlement are catalysts beyond labels. They show urban juxtapositions that should take us beyond traditional monikers of city, suburb, region and neighborhood, and to focus on the forces that are common to all. Examples include the basics common to all urban areas -- movement, settlement, home-work connectivity and the modes of travel between.
To those basics, I might add the celebration of a professional football team's first-ever Super Bowl victory.
Mdina and Rabat are place names that have outlived their meaning in Malta, something we might consider for our own language of urbanism.
Images composed by the author in Seattle and Mdina, Malta. Click on the image for more detail. © 2009-2014 myurbanist. All Rights Reserved. Do not copy.
For more information on the role of personal experience in understanding the changing city, see Urbanism Without Effort, an e-book from Island Press.
This post first appeared in similar form in myurbanist as the ninth entry in the new series, in the urban world, juxtapositions matter.
SUBSCRIBE TO & FOLLOW THE MORNING EMAIL
Start your workday the right way with the news that matters most. Learn more