As the farm-to-table movement has taken off at restaurants nationwide, menus have become virtual verbiage breeding grounds, replete with the names of farms, geographical regions, and even descriptions of how animals are raised.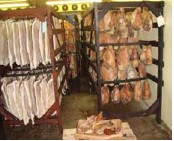 You'll see the likes of Niman Ranch double-cut pork chops, Jamison Farm rack of lamb, California grass-fed Black Angus beef...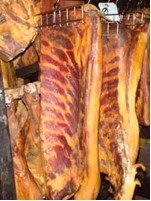 You get the picture. As consumers have become more interested in and aware of the slow-food philosophy, so are chefs interested in sharing the sources of their produce and meat. One name in particular that is appearing on restaurant menus nationwide -- a name that will make some of the nation's best chefs light up upon mention -- is Benton's Country Ham.
With a client list that includes Luke in New Orleans, Absinthe Brasserie & Bar in San Francisco, Momofuku Noodle Bar and Craft in New York, Highlands Bar & Grill in Birmingham, and Standard at the Smith House in Nashville, among many others, you might expect Benton's Country Hams to be some sort of massive, state-of-the-art pork curing facility and shipping center. Rather, it's a small Appalachian operation in a painted cinder-block building in Madisonville, Tenn., whose population is less than 5,000. There are only a handful of full-time employees, a few part-time workers and the one man who started it all, Allan Benton.
Benton, an unendingly gracious, consummate Southern gentleman, says he refused to self-identify as a "foodie" for years, despite his wife Sharon's insistence that he was exactly that. But the 63-year-old proprietor of wildly successful Benton's Country Hams now admits with a chuckle that he supposes he is a "mild foodie." "Mild" seems to fall short, though, when you consider the painstaking work and the time commitment this man has invested in perfecting the art of dry-curing pork.
Benton bought the business in 1973 from the late Albert Hicks, a dairy farmer who had been selling country hams since 1947. Benton himself entered the pork game after a very brief stint as a high school guidance counselor. Upon seeing his first paycheck, he quickly reconsidered his career path. (The bacon community is grateful.) So he drew upon his Appalachian roots for inspiration.
Benton grew up in Scott County, Virginia -- he notes that the "city of birth" was left blank on his birth certificate because his family lived 30 miles from anything that could be considered a town. His grandparents, like most people in the area, used pigs as one of their only sources of protein. Slow-cured pork was sustenance as well as a source of pride for them.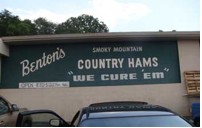 Flash-forward to 1973, when Benton decided to duplicate the ham he'd grown up on. In addition to the family secrets, he learned everything Albert Hicks could teach him about the business. But he didn't stop there. Benton wrote to major Southern universities, seeking expert opinions on the curing process. Hicks expressed his doubts about trusting academics on the subject, but Benton, as is consistent with his entire career, was intent on absorbing any knowledge that could give him an advantage and result in a superior product.
And what a superior product it turned out to be. Today, prominent chefs are absolutely smitten with Benton's hickory-smoked pork. Celebrity-chef David Chang, of the Momofuku restaurants in New York, is on the phone with Benton on a weekly basis, asking for bacon ends, ham hocks and whatever derivative products Benton might have.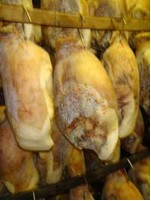 It's hard to imagine the soft-spoken, endlessly humble Benton occupying the same universe as the notoriously foul-mouthed, mind-in-a-million-places Chang, much less the two contrasting personalities talking on the phone. Therein lies the power of pork.
As for the secret behind the superior hams and bacon, there isn't one, Benton says. Just time, patience and the family's basic rub recipe: brown sugar, salt and a little red pepper. Hams undergo an intense, high-temperature smoking and then are typically cured for nine to 10 months. Bacon takes five or six weeks.
He's happy to accommodate special requests from chefs, however, as is evidenced by a few hams on site that have been curing for 26 months. Benton imparts the philosophy he's incorporated since day one: "Don't worry about the bottom line. Worry about the quality, and the bottom line will take care of itself." He takes no quick-curing shortcuts and uses Berkshire pork from the Midwest, saying, "I can't make a superb product out of mediocre products." Despite his success, he's always trying to learn more about the curing process, constantly searching for new ways to improve his product.
Benton refers to himself as a simple mountain hillbilly who got lucky, but the man can really wax philosophic and scientific about pork. He participated in a pork panel in New York City with North Carolina barbecue legend Ed Mitchell and Peter Kaminksy, author of Pig Perfect, a book that Benton cites for having changed his entire perspective about the business. Among the issues discussed at the panel was how to get American farmers to raise pork more like Europeans. Iberian pork is considered to be the world's best, and in Spain and Italy, ham is considered much more than just "the other white meat." Benton speaks of the struggle to get more small farms producing pork, rather than the environmentally disastrous feedlots that supply most of the nation.
Though not a farm, the success of Benton's Country Hams perhaps indicates some progress on this front. This tiny, family-run business takes the time and effort to make amazing products, and the most influential food minds in the country are taking notice. It couldn't have happened to a nicer guy.
It's not all about the high-profile restaurants, though. Benton's will deliver bacon and ham directly to your doorstep, too. And this bacon will change your life. As an added bonus, your home will smell like hickory-smoked pork for a week.
SUBSCRIBE TO & FOLLOW THE MORNING EMAIL
Start your workday the right way with the news that matters most. Learn more