Here's something you don't see very often in our Photoshopped, airburshed and Dermablended world: stretch marks. And not just a couple discreetly tucked away on a hip or breast. Oh no, these are full-on I've birthed a baby and no amount of Mederma will ever fix them stretch marks.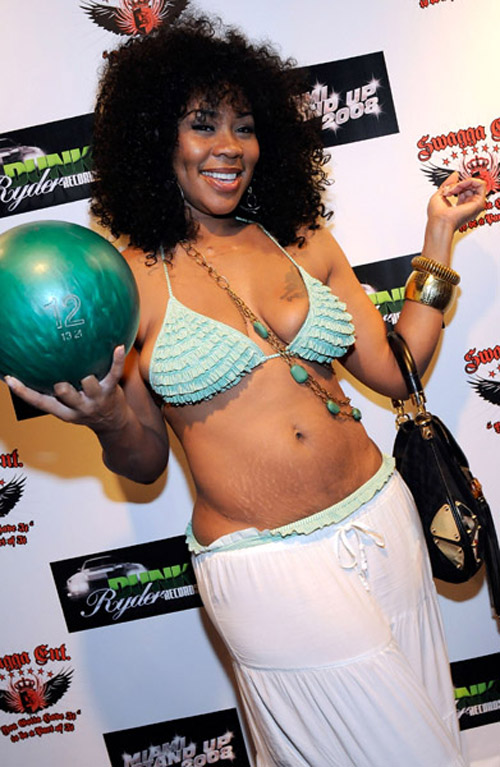 A woman named Deelishis from, unsurprisingly, some reality show showcased her baby mama marks with pride at a private bowling party in Miami. It was some semblance of a red carpet event as there was, well, a carpet involved and so Ms. D's fashion accessory of choice is being questioned.
The Ultimate Fashion Blunder?
Every woman has them. The lucky girls have only a few courtesy of puberty and are not really noticeable. The rest of us, especially the mothers among us, look more like Deelishis. My five-year-old actually called me "the tiger lady" upon seeing mine. It would have been funnier had it not been him that caused the claw marks. So I'll be the first to say that they're not the most attractive feature. And yet for those of us unwilling or unable to have a tummy tuck does that mean we should be banished to muumuus for the rest of our days? What's next, Burqas for acne scars?
The Shape of a Mother, a website dedicated to showing the reality -- both beautiful and not -- of stretch marks, saggy boobs, and all other accouterments of motherhood, agrees. The site owner got the idea after seeing a woman at a restaurant carrying a baby.
"As she lifted it up to fit between the tables, her shirt raised and I saw that, although she was at a healthy weight and her body was fit, she had that same extra skin hanging around her belly that I do. It occurred to me that a post-pregnancy body is one of this society's greatest secrets; all we see of the female body is that which is airbrushed and perfect, and if we look any different, we hide it from the light of day in fear of being seen."
With the current celebrity baby boom in full swing (hi Jennifer Garner!), I predict we'll be seeing more glimpses of these silvery scars in the future. Seriously, I know Angelina Jolie is SuperMom but nobody has twins without stretching like a human slinky. Whether they choose to embrace them (coordinate with metallic heels?) or hide them under layers of makeup and fabric remains to be seen. Can we accept our celebrities mamas blemished? Can we accept ourselves scarred?