One minute I am having hot lattes with two girlfriends at a coffee shop in Georgetown, the next I feel an unfamiliar hand on my shoulder. The man with a Mac laptop from an adjacent table, who knows one of my friends and has his other hand on her shoulder, leans between us and confidentially whispers: "That's Jon Gosselin over there getting coffee."
"Oh my goodness so it is," says my friend.
Casually shrugging the hand off, I look at the people in the coffee line. There is a middle-aged blond woman with big hair; a businessman in suit, tie and overcoat, more Jonathan than Jon; a woman in a white jacket with rabbit-fur trim and a crocheted hat, two clumps of long hair like inverse rabbit ears running down her back; and a stocky guy with short spiky hair in a hooded jacket, faded jeans and an untucked shirt.
Jon pays the cashier and sits at a table with Jessica Rabbit who keeps her crocheted hat on.
"Who the heck is Jon Gosselin?" I ask.
My shocked girlfriends run quick fire popular culture references that more or less elude me: Jon & Kate Plus Eight (means nothing), TLC (a place for learning minds?), People and US magazines (sorry, I don't read them, unless stuck in a queue at Safeway or under a hair dryer at the salon), eight kids (the only eight I know lived in a shoe), divorce (what with eight kids?), and the clincher, reality TV (sorry, I have zero interest in voyeurism).
But apparently, I am in an ignorant minority, as the young fellow with the female companion is a celebrity of sorts. The place is buzzing and it's not just the caffeine.
"He was in the Reliable Source in today's Washington Post," says one friend as a last ditch effort.
"Didn't read that section this morning," I reply.
"Google him," says the other friend justifiably exasperated.
To make up for my low celebrity IQ, I ask them if they dare me to get an autograph. Sure, they both say. Go for it. I feel a tad silly walking up to ask for the autograph of someone I do not know. I might as well be asking the barista behind the espresso bar for his John Hancock or for that of any one of the gawkers having their morning java.
"Hello," I say, smiling. " Sorry to interrupt you, but could I bother you for your autograph?"
"Sure," says Jon. I notice he has nice greenish eyes, leading me to assume he is a mutt of sorts. "Who do I make it out to?"
Jon has some trouble spelling my name. C-H-A-R... Maybe it's my British accent or he has not yet read Charlotte's Web to his eight children, as I have to my only child. But he seems pleasant enough. We chat as he misspells.
Apparently Jon is in town visiting a couple of high school friends affiliated with local nightspots Cafe Citrone and the Fly Lounge. (Later I see I have more information on why he is here than the not-so Reliable Source.) I tell him I am a freelance writer and also a Huffington Post blogger.
On my way home I see Jon in the street chatting with his pals. I ask his permission to take a photo with my cell phone in case I publish a story. He kindly obliges, sending a wave my way.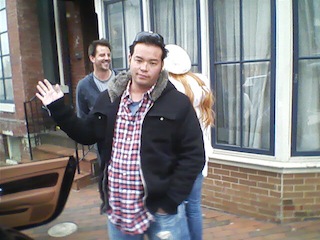 Truth is the only celebrity I was ever really excited to meet--and I came across a few over the years I worked in Hollywood and lived in LA--was George Harrison of the Beatles.
To me, a celebrity is a person with significant talent and noteworthy accomplishment, someone who leaves behind a legacy of sorts for future generations. Think Audrey Hepburn, Ernest Hemingway, Joe DiMaggio, Stephen Hawking or Samuel Barber. A celebrity also gains recognition from the public while he or she is alive. Thus Pablo Picasso was a celebrity, but Vincent Van Gogh was not. No less an artist than Picasso, some might even argue more so, Van Gogh became famous after his death.
Notoriety is a whole other ball of wax. I suppose cheating on the wife and getting divorced despite having eight kids puts one in that category, but I was thinking more along the lines of Jack the Ripper.
In any case, I met George Harrison in 1993. I was fortunate enough to attend his 50th birthday party in LA, as the legit date of an invitee, not on the arm of White House party crasher Tareq Salahi. The event was a relatively intimate affair at a modest private residence, a sit-down dinner for 50 or so people. Several members of The Traveling Wilburys were in attendance, including Tom Petty (also of Tom Petty and the Heartbreakers) and Jeff Lynne (also of Electric Light Orchestra), whom I was seated next to.
When I was introduced to George Harrison, I confess I went weak at the knees. Wobbled in my high heels, perspired into my Azzedine Alaia dress. He was tall, had a commanding aura for want of a better phrase and soft dark eyes. I shook his hand. I confessed I was star struck, apologized for being effusive, and thanked him for his contribution to twentieth century popular culture.
I did not request his signature or photograph. I did feel privileged to have met him during his lifetime.
So, Jon, thanks for the autograph and snapshot. It was nice to meet you, but sorry, you are just not my type of celebrity.