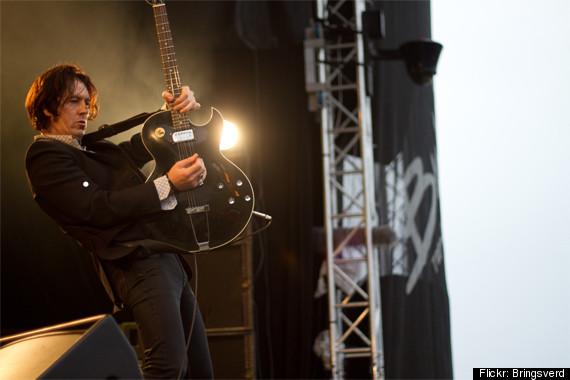 Blame Jerry Lee Lewis and Little Richard: because of them, the American public has instilled into its psyche a belief that all piano based boogie rock outfits should tote an ivory pounding singer. But that's just not how it's always gonna be. And in the Jim Jones Revue's case, there's no screamer more fit to handle the load that comes with fronting Britain's newest barnstormers than Jim Jones himself, a mop topped Englishman who can seemingly howl for days without emitting so much as a single cough.
But it would have been nice if at least some of the attention had been paid to Elliott Mortimer, JJR's pianist, the true heartbeat of the band, and one of the finest power squatters in all of modern rock.
For nearly seventy sweaty minutes James, Mortimer, and the rest of the Jim Jones Revue -- bassist Gavin Ray, drummer Nick Jones, and lead guitarist Rupert Orton -- plowed through every variation of the 12 bar blues, putting on a bass line walk-up exhibition and torching the stage with wail after dirty, rotten wail. Problem was, New York hadn't bought into the arrangement. While Jones tried time and time again to unite his Manhattan audience, the just-less-than-sell-out crowd at Mercury Lounge responded with rarely more than a whimper -- certainly less than what Jones has grown accustomed to in his native London.
But the band played on, opening with the Beatlemania of "Hey Hey Hey Hey"; "Dishonest John", the track set to open September's Burning Your House Down; and self-titled stomper, "Rock n Roll Psychosis," before Jones even stopped to catch his breath.
That's when the disconnect became obvious. With drummer Nick Jones pacing out the beginning of "Burning Your House Down", front man Jones made his first plea to the audience to dance, asking, "We have any tables in here?" No one was having it -- a rare occurrence when the band is firing on all cylinders like JJR was Thursday night. Sing-a-longs fell short too, with a ringing chorus of "Here we go, nice and slow" from 2008's self-titled album's closer "Cement Mixer" failing to whip the masses into a frenzy. "512", their South by Southwest-inspired anthem about getting lost on Austin's 6th Street, and "Elemental", a call-and-response piece of Maximum R&B from their 2009 EP Here to Save Your Soul, led to a few instances of head bouncing and booty shaking in the audience.
And then finally -- finally -- Jim Jones and crew unleashed their most decipherable song: "Princess and the Frog", a song so infectious and so steeped in the beginnings of rock and roll that even the most wary in the audience couldn't help but hop around like they were standing on great balls of fire. It took seventy minutes and a hit, but Manhattan certainly did warm up to this powerhouse quintet of British brashness.
FOLLOW HUFFPOST