THE BLOG
The Love Language Whip Up The Mercury Lounge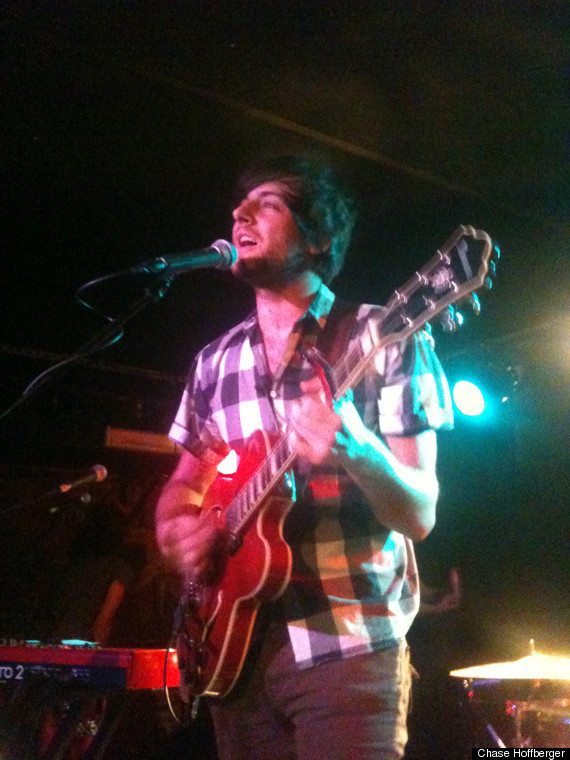 You have to understand that Libraries just came out on Tuesday. But it rips, and I've probably spent fifteen of the last 48 hours of my life with the Love Language's second LP reverberating in my ears. So you can imagine my anticipation for Stuart McLamb and his band from Chapel Hill, NC, on this, their third to last show before shutting down until September's Hopscotch Festival in Raleigh.
My first experience with the Love Language came in Austin, at SXSW 2009. They were ripe back then: a seven-piece, all-in-the-family outfit composed mostly of allegiants, caught onto McLamb's love songs -- the ones conceived from the doldrums and eternalized on 2009's self titled debut.
It was a thinned out troupe at the Mercury Lounge last night. Once a two-keyboard crew, only Missy Thangs remains on the electric ivories; and Stuart's brother Jordan has moved from acoustic guitar to a more fitting place, pumping the heartbeat of the band from behind the drums. Promising in 2009, the Love Language has tightened its own grip and, with Libraries, evolved into one of the loudest, young buzzes around the indie rock scene.
And so, through their signature infusion of reverb and echoes, Stuart McLamb and company warmed up with his show tune melodies -- "Providence", "Nocturne", "Summer Dust" -- in front of a sold out Mercury before launching into "Heart To Tell," the infectious first single off Libraries, and a party starter if Stu's ever written one. Then "Blue Angel" melted, and a bare boned "Britney's Back" -- which banged and clamored like the White Rabbits', "The Plot" -- bled into "Wilmont" before the surprise of the night: a punked-out "This Room" that sounded nothing like the underwater Beach Boys dream sequence edition that closes out Libraries.
But the true spirit of Thursday's Mercury blowout didn't emerge until the encore; one they'd promised would come before leaving and joked about taking after returning to the stage. Love Language began their four-song encore with "Manteo", McLamb's most aspiring cut from their self-titled debut. This time, though, "Manteo" began only on McLamb's acoustic guitar, with no microphones in use and no strum coming through the PA.
"Chesapeake, I can barely speak..." and like that, the whole crowd sang the first verse together, as if everyone knew the lyrics. It wasn't provoked, but rather natural, because the North Carolina triangle's brightest future creates such a community, really, without even trying.
They closed out with "Lalita"; "Pedals", Libraries' lead and crowning achievement;
an acoustic take on "Night Dogs"; and "Stars". Smiles were flashed throughout, both from the band (and keyboardist Missy Thangs boasts one hell of a friendly smile) and from those in attendance. Few young bands these days are as welcoming, as normal, as every-man and as dynamic as the Love Language, and everybody in the Mercury could tell. As one star-struck girl said to her friend on my way out, "They just make me happy."
Here's to happiness.