Persephone Books is a female-run publishing house and London bookstore that publishes out-of-print 20th century female authors. It's a quintessential example of the kind of business built of passion, intellect and saleability that inspired Girl on the Street and What Women Make.

On my way from Brompton to Bloomsbury to interview Nicola Beauman, Persephone's founder, I had to quickly change gears from innovation and novelty-seeking to the section of my brain that strikes even closer to my heart, creative writing and its hopeful end product, publishing.
When I walked into the store, I further detached from the streamlined design arena and took in the intimate, cluttered and well-lighted store stacked sky high with books in gray and floral print covers. There I was ushered toward the back to a room that was even more cluttered and more charming, filled with the smell of new paper from boxes of books.
I tripped down a step, a graceful entrance, and took a seat opposite Ms. Bauman and settled into a worn leather chair adjusting my bags and jacket around me. When I looked up, she was smiling and unaffectedly curious, not a word or sneer of disapproval about my clumsiness. An hour later, after her urging me to move to London, listing all of its charms and scholarly offerings, my blossoming crush on the city and it elegant restraint had cemented itself. Not to mention that the part of me that perennially wishes for the mentor / teacher / editor I never had had been piqued. Here are outtakes from my conversation with the smart and funny-as-hell woman who started and runs Persephone Books. Without her, Miss Pettigrew would literally not have lived to see another day.
How did you get started?
I didn't know that much about publishing but one can learn these things really.
Why mid-20th century women?
Nowadays, women who could be writing are doing a million and one other things, but in the mid-20th century, women stayed home and took to writing. Also, there isn't the same sense of tragedy now because we don't have the same moral conflicts, do we? Today everything goes. These books have plot. They're page turners. Now a novel like this would have to be set against a historical background. This is a chance to see what really went on during that time.
When did you start Persephone Books?
1998.
How did you start your career?

I had children young. At 26, I secured a contract to write a book on female authors, A Very Great Profession: The Woman's Novel 1914-39. I was writing and reviewing books for the Observer in my twenties.
And your children?

They are about your age I'd say. I have three sons and two daughters, all in the arts. My oldest son is a children's book writer. Another son just wrote a cultural history of the pineapple.
Wishes, regrets?
I wish I was more techie. I'm a little late getting to the party. [She has an amazing blogging concept and a great website. For her blog, she sends out an image every day that is historically relevant to her titles. I'd say she's got quite a handle on the medium.]
Can you touch type? [I answer in the affirmative.] Oh good! It's very important to be able to touch type!
Wisdom?
I tell my son, find a stable of people who can help you. An electrician, a handyman, a type setter, people who you like who won't be offended if you call up for a last minute request, people that you don't have to explain yourself to. I've had the same delivery man the whole time, the same accountant, the same bank but I do have a new printer. [She considers this.]
What are your plans for the future?
Well, we'll just continue as we are! We put out 6 books a year. We have 3 new books coming out next month. 80% of our business is mail order. Ms. Pettigrew is our best seller. You know there are 30M women in this country. We have 20k on our mailing list. You know only 3% of London buys books?
I love these prints. I told a pattern designer I was meeting with you and she told me she had tried to reach you about using her designs in your books.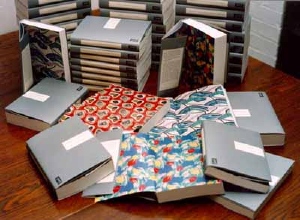 We are quite ruthless about requests. I just get so many requests and I can't answer them all. Most of the books are gray though. They have to have a uniform look you see because they are coming by mail and then they know what they are getting when they open the package. The books we sell to stores have a print pattern because it catches the reader's eye. They expect that. For those, we use prints from fabrics produced the year the book was written.
Who are some women you find inspiring, from any field?
Lucienne Day, fabric designer. She's 95 years old. Marjorie Scardino who runs Pearsons which owns the Financial Times. She's gone very far in a man's world. Sarah Waters who was shortlisted for the Booker Prize. She's a very very nice person. She just gets on with it. I admire her. Jane Brocket. She's in the domestic arts and lives in Windsor. She bakes a lot. She writes about tapestry. She's interesting without being annoying.
-Chauncey Zalkin
Reprinted from Girl on the Street.
*See some Lucienne Day Converse sneakers here.
SUBSCRIBE TO & FOLLOW CULTURE SHIFT
Level up. Read THIS and be the most interesting person at your dinner party. Learn more