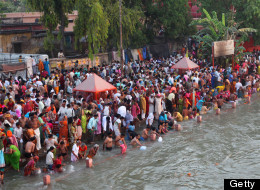 More than two million people are expected to greet Pope Francis in Rio de Janeiro when he visits Brazil this week. It'll be a homecoming of sorts for the Catholic Church's first Latin American Pope.
When massive crowds gather, we've found it's usually for religious reasons or to celebrate sporting events. Here's Cheapflights.com's top selection of the biggest crowd-drawing events from around the world.
Top 10 Crowd-Drawing Events from Around the World
Probably the world's largest gathering ever, the Kumbh Mela festival in India occurs every 12 years. An estimated 8 million Hindus gathered at the mythical rivers of the Ganges and Saraswati to be cleansed of sins and seek salvation. This record number occurred at the last gathering in February of this year. It's thought that around 80 to 100 million pilgrims visit throughout the 55-day festival. Search and compare cheap flights to India.

"Copacabana" might be a famous Barry Manilow song, but it was a different crooner who set a biggest-audience-at-a-live-concert record when he performed on the iconic beach in Rio. Britain's Rod Stewart belted out "Maggie May" and "Da Ya Think I'm Sexy" to a crowd of 3.5 million on New Year's Eve in 1994, according to the "Guinness World Records." However, other reports estimate that 4.2 million people watched the rocker. That night was certainly the night for Rod. Search and compare cheap flights to Rio de Janeiro.

London is witness to many big gatherings and stages many significant events. However, there is one woman you could call the 'Queen' of mass gatherings. In 1953, around 3 million people gathered in the capital to celebrate the Coronation of Queen Elizabeth II. Then for her Golden Jubilee in 2002, an estimated 1 million people gathered outside Buckingham Palace to celebrate. And an additional 1 million got out the bunting in the Pall Mall area last year to celebrate her very popular Diamond Jubilee anniversary. Search and compare cheap flights to London.

Another musician has broken his own record for having the largest-ever concert audience four times. French composer Jean Michel Jarre has been seen live by more than 8 million people. In 1979, Jarre performed in Paris on Bastille Day to around 1 million spectators. There was a TV audience of more than 100 million reported as well. In 1985, he performed in Houston to celebrate the 150th anniversary of Texas. More than 1.5 million people attended, according to the "Guinness World Records". For his second Bastille Day concert in Paris around 2 million people attended in 1990. Then in 1997, he played in Moscow to around 3.5 million people to celebrate the city's 850th anniversary. Search and compare cheap flights to Moscow.

In Boston, an estimated 3 million baseball fans celebrated the Boston Red Sox World Series win in 2004. They weren't just celebrating their team's first title win in 86 years but also the end of the infamous 'Curse of the Bambino.' The curse, one of the most well-known sporting superstitions, began when the team sold legendary pitcher Babe Ruth (nicknamed The Bambino) to the New York Yankees in 1919. Before this, the Sox were one of the most successful teams in the competition. Fans were clearly delighted when the curse eventually ended – and the Sox won again in 2007. Search and compare cheap flights to Boston.

Here's another case of sporting fanatics coming together. When Spain won its first World Cup in 2010, beating the Netherlands 1-0 in Johannesburg, an estimated 1.5 million patriotic fans turned out a few days later in Madrid to celebrate the team's homecoming. The players paraded the trophy aboard an open-top bus tour through the capital to scenes of great celebration and demands that the government declare a national holiday. Around a quarter of a million people had gathered on the city's streets to watch the final game. Search and compare cheap flights to Madrid.

In February 2003, some 60 countries hosted protests against the invasion of Iraq, creating what is undoubtedly the largest gathering of people worldwide for the same reason on the same weekend. Between 6 and 10 million people protested in cities throughout Spain, Germany, Switzerland, Ireland, America, Canada, Australia, South Africa, India, Russia, South Korea and Japan. An estimated 3 million people marched in Rome, which is the largest anti-war march ever, according to the "Guinness World Records." Around 1 million each turned out in London and Barcelona. Search and compare cheap flights to Rome.

One of the biggest crowd-pullers ever has been Pope John Paul II. Millions of people have gathered in destinations around the world to see him. When he visited Ireland in 1979, around 1.25 million people turned up – about a third of the country's population at the time. More than 5 million people attended a World Youth Day Rally in Manila, Philippines, in 1995. Around 2.5 million people showed up for a beatification mass he held in Kraków, Poland, his native homeland. And, in a fitting send-off, an estimated 2 to 4 million people attended his funeral in Rome in 2005. Search and compare cheap flights to the Philippines.

Although it's in the wrong country and often on the wrong day, around 2 to 3 million people attend the annual St. Patrick's Day parade in New York City. Founded in 1762, before America became independent, the parade has actually been established longer than any in Ireland. It's the world's oldest civilian parade and the largest in the United States with more than 150,000 participants. The route is 1.5 miles long and the procession takes more than five hours to complete. Search and compare cheap flights to New York.

Lastly, to Saudi Arabia, for one of the largest annually occurring pilgrimages in the world. In 2012, an estimated 3.16 million people made the annual Hajj to Mecca. Around 1.4 million of these were from Saudi Arabia and 1.75 million traveled from outside the country. The numbers have been steadily increasing over the years, with no less than 1.8 million people making the pilgrimage since 1996, increasing to more than 2 million since 2003. Search and compare cheap flights to Saudi Arabia.
Follow Cheapflights on Twitter: www.twitter.com/Cheapflights