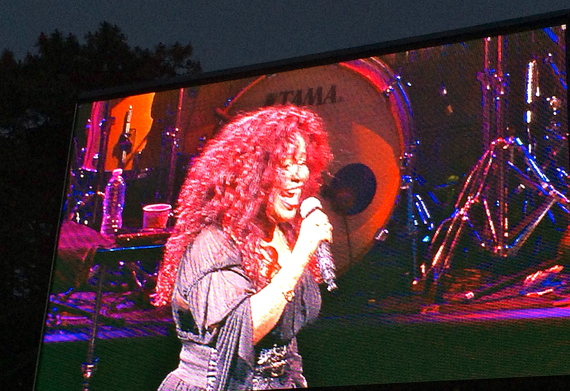 Sitting on LJ's blanket in Prospect Park with her gal pals Andy and Amy, digging into chips and salsa and watching Chaka Khan belt it out (that woman is 62 and can still hit all the high and all the low notes as if heaven were channeling through her), I thought to myself, "Mud, crowds and my butt falling asleep aside, this is JOY!"
I was swamped at work (as always) and was certain that I'd cancel on LJ. Best to tackle the foot-high pile of paperwork on my desk. Hop the subway to Prospect Park for a concert? I am 50 now. Time to put silly things aside.
I thought of my dad. He's 88 years old, in a wheelchair, in diapers, his only joys are eating A LOT, sitting in the sun and getting visitors who feed him treats and wheel him to the sun, so yeah, pretty much food and sun. He wishes he could get up out that chair and go to a concert.
I gave the finger to the mound of papers and hopped the F train to Prospect Park.
The lines were way too long to get into the bandshell but my smart gal pals had scoped out a perfect spot in front of the large monitor where the concert would be broadcast.
It felt as though we got first-row seats without getting squeezed into Sardine Central. Once all the politicians had made their speeches, Chaka came on, looking sexy and adorable, happy and filled with soul, all the things you could wish for at 62. Then she proceeded to belt it out of the park. Literally; you could hear her singing way, way out of the park.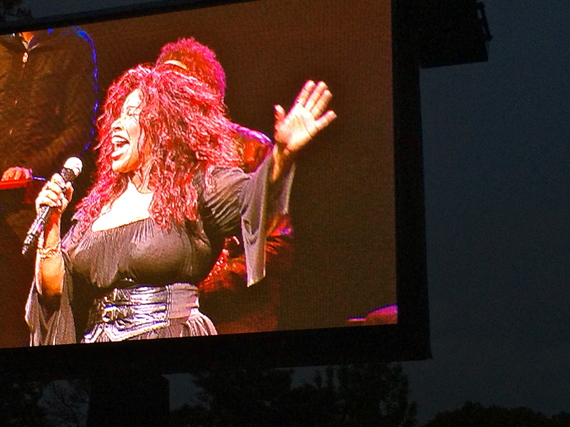 An adorable baby who had eaten some cheese was smiling happily with melted cheese goop all around her mouth. The crowd was singing along and dancing. LJ, no stranger to endless hard work and strife, was smiling wider than I'd seen her in years, and that's when I felt it. Joy. It twinkled in my solar plexus like a slew of butterflies.
"I was looking through some old photos, and you seemed so much happier when I met you," My girlfriend said to me recently.
"That's before I had a dying father and was working like a mad-woman to keep up!" I said, defensively.
I DON'T HAVE TIME FOR JOY!!
I'd been working on a book for 16 years. Sixteen years and 33 rewrites later, my book is getting published this year! So, you know, I'm an overnight sensation.
I was signing galleys at a book industry event and was truly surprised at how many people showed up to get autographs. Maybe it was the peanut butter and bacon sandwiches I was also giving out. But mostly it was that the long line of people loved food, loved food memoirs and were genuinely happy to meet me.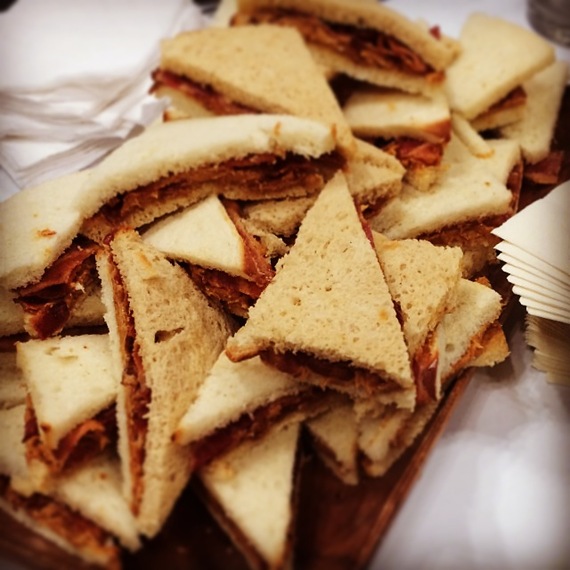 They were so joyful at meeting me that I found myself overcome with joy at meeting them and rather spontaneously starting writing "FOOD IS LOVE" on the inside cover of the galleys. I felt the buzzing solar plexus butterfly thing. It lasted for hours.
Peanut butter and pure joy.
Later, I wrote on Facebook, "I gotta find something to complain about, stub my toe or something just to keep even; all this joy is setting me off balance!"
I wasn't entirely joking.
Growing up with my superstitious Yiddish mom, I learned to be afraid to announce things to the world like "I AM HAPPY!" lest the universe take it away from me. Better to say "I'm NOT THAT BAD!"
So okay, Mom, at the Chaka concert, at the galley signing, I was, you know, not that bad.
My girlfriend went to visit my father (you know you found a good one when they are willing to visit your parents without you; just saying).
And she said after she had brought him kosher hot dogs (his fave) and wheeled him in and out of the sun and read him the paper and finally, kissed him goodnight, she heard something vibrating.
She thought it might have been a wire with the electricity not properly running through it, but then she realized what it was. It was him!
My old geezer dad was actually vibrating with joy!
Is there anything in the world more important than that?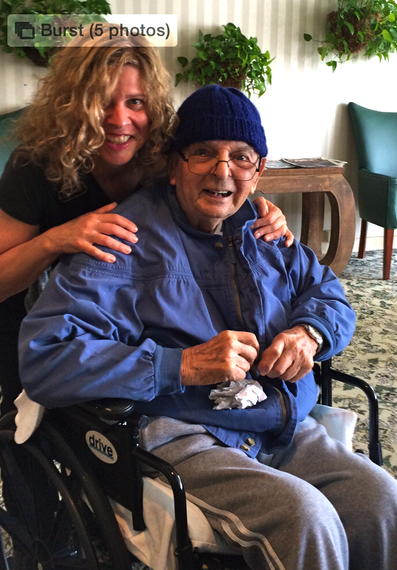 SUBSCRIBE TO & FOLLOW THE MORNING EMAIL
The Morning Email helps you start your workday with everything you need to know: breaking news, entertainment and a dash of fun. Learn more