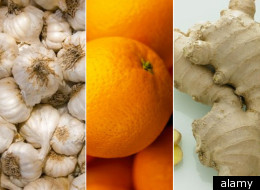 Coldbusters -- Tips and Recipes to Chase Away Your Cold
We're smack dab in the middle of cold season, and if you're lucky you haven't yet succumbed to a cough, sneeze or sniffle. But if the winter woes of a cold already haunt you, don't call on antibiotics for help. The common cold is caused by a virus and antibiotics treat bacteria.
Luckily there is a natural way to shift your body into prevention gear and fire up your immune system with cold-busting foods. And a revved-up immune system can stave off much more than just a cold.

Antioxidant-rich, nutrient-dense foods including whole fruits, vegetable, grains and omega-3 rich foods provide a diverse range of tastes and textures to appease the pickiest of eaters while packing a powerful punch to keep your immune system humming this winter or anytime. (And the fact that they can help to slow the aging process doesn't hurt either.)
Here are some potent cold-busting foods to top your next shopping list. Turn up the volume on your immune system to combat colds before they knock you out.
The most requested food of cold sufferers. Though its medicinal role isn't clearly defined, a slew of doctors agree this all-time favorite has a certain je ne sais quoi that seems to work wonders. It may be the steaming broth acting as a decongestant, or a combination of some of the ingredients that elicit an anti-inflammatory response to the respiratory system. Either way, few foods offer the same soothing combo of savory comfort and old-fashioned memories.

These contain a myriad of antioxidants, including the star power of Vitamin C. But it's not all in the juice. Most of the vitamin C in oranges is actually found in the peel (53 percent), while lesser amounts are found in the juice (23 percent) and the pulp and rind (21 percent). Be sure to zest your fruit and stir it into your juice or your favorite recipe.

Has a distinctive role in enhancing immune function among its many health benefits. It has also shown promise in moderating healthy cholesterol levels, antitumor activity and antioxidant properties.

Contains several phytochemicals, including shogaol and zingerone, which have anti-tussive and anti-inflammatory properties. This means they bring relief for cough and congestion from a cold or the flu.

Zinc is a potent supporter of several different immune functions. Zinc- rich foods include mushrooms, fresh parsley, lean beef, low fat dairy and sesame seeds.
Additional Guidelines for Prevention
• Wash hands frequently -- this is the No. 1 form of cold transmission
• Avoid nutrient-poor foods, which are processed, refined, fried, including sugar, excess fat and salt
• Get plenty of rest
• Moderate exercise (or lay off for a couple days if you're feeling hammered)
• Minimize stress
• Optimal hydration -- drink plenty of fluids, especially if you have a fever
Whether you're trying to stay at the top of your game, or you're already in the throes of a nasty cold, here are some recipes to tickle your palate while they chase away the chill.
Spiced Chicken Soup
Yield: 2 quarts
No noodles here -- a fragrant blend of spices punctuates this robust soup. For a vegetarian version, replace the chicken with garbanzo beans or cubes of firm tofu.
Ingredients:
1 tablespoon olive oil
2 cups finely chopped onions
2 tablespoons finely chopped. peeled fresh ginger
2 tablespoons chopped garlic
1 cup diced fire-roasted tomatoes or 1 cup tomato sauce
1 tablespoon ground coriander
1 tablespoon ground cumin
1/2 teaspoon ground cardamom
1/4 teaspoon ground cinnamon
4 cups fat-free low-sodium chicken or vegetable broth
1 (12-ounce) sweet potato, peeled and cut into 1/2-inch dice (about 2 cups)
12 ounces boneless, skinless chicken breasts, cut into 1/2-inch cubes
Salt and pepper to taste
1/4 cup chopped fresh cilantro, without stems
Instructions:
Heat oil in a large heavy pot over medium heat. Add onions and cook, stirring occasionally, until onions are tender but not brown, about 10 minutes.
Add ginger and garlic; sauté until fragrant, about 1 minute. Do not brown garlic.
Add tomatoes and simmer for 5 minutes. Add spices and cook until very fragrant, about 1 minute.
Add chicken broth and bring to a boil. Stir in sweet potato and simmer for about 4 minutes. Add chicken and simmer until cooked through, about 5 minutes. Season with salt and pepper. Serve hot, sprinkled with cilantro
Sweet Ginger Tisane
Makes 4 servings (1 quart)
Tisane (pronounced tee-ZAHN) is an infusion of herbs, flowers, and/or fruit steeped in hot water. It doesn't contain tea and is usually caffeine-free. Ginger gives a spicy flavor to this soothing sipper.
Ingredients:
4 cups water
1/4 cup grated, peeled ginger
1/3 cup fresh lemon juice
1/2 cup firmly packed fresh mint leaves
1 tablespoon dark honey
1 tablespoon grated lemon peel
Garnish:
4 lemon slices
Instructions:
In a 2-quart saucepan combine water, ginger and lemon; bring water to boil. Reduce heat to low and simmer 5 minutes. Remove from heat and add mint and zest; let steep for 5 minutes. Strain tisane; discard mint, zest and ginger. Stir in honey. Serve immediately.
Cheryl Forberg, RD is a James Beard award-winning chef, former nutritionist for NBC's "The Biggest Loser" and NYT bestselling author. Her latest book is "Flavor First" (Rodale). She lives on a farm in Napa, California. For plenty of scrumptious recipes, check out her website or follow her on Twitter or Facebook.
Follow Cheryl Forberg, RD on Twitter: www.twitter.com/CherylForbergRD