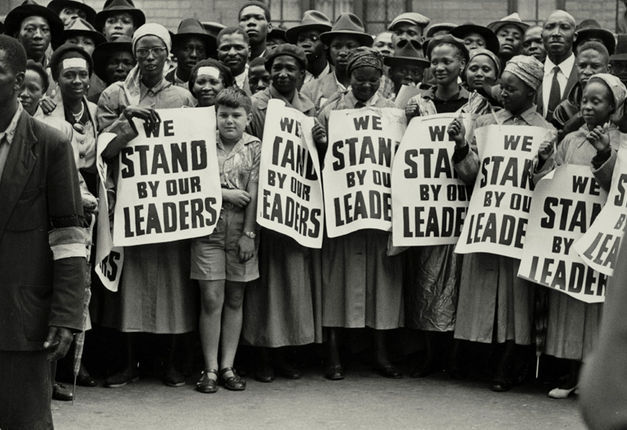 Unidentified Photographer, [Part of the crowd near the Drill Hall on the opening day of the Treason Trial], December 19, 1956. Times Media Collection, Museum Africa, Johannesburg. All images courtesy, ICP, NY.
Okwui Enwezor (the director of the just-concluded La Triennale, Paris, whose day Job is director, Haus der Kunst, Munich) has organized a landmark exhibition on the history, memory and legacies of Apartheid in South African. This exhibition, which features about 550 objects/images/films by nearly 70 photographers, artists and filmmakers will, as has rarely happened before, occupy the entire museum. So, this is a big exhibition; which is not surprising, given how so much apartheid occupied the world's imagination and shaped a country for half a century. Moreover, I expect it to be another signature exhibition by Enwezor who has a penchant for spectacular, complex and rigorously conceived shows. I will be posting photos from the opening of the exhibition, plus an interview with Okwui in the coming days. So stay tuned.

Jurgen Schadeberg, The 29 ANC Women's League women are being arrested by the police for demonstrating against the permit laws, which prohibited them from entering townships without a permit, and were later kept in Boksburg Prison for 14 days, 26th August 1952. Courtesy the artist.
Here's a bit of press statement on the show by the ICP:
A central premise of this exhibition is that South African photography, as we know it today, was essentially invented in 1948. The exhibition argues that the rise of the Afrikaner National Party to political power and its introduction of apartheid as the legal foundation of governance changed the pictorial perception of the country from a purely colonial space based on racial segregation to a highly contested space based on the ideals of equality, democracy, and civil rights. Photography was almost instantaneously alert to this change and in turn transformed its own visual language from a purely anthropological tool to a social instrument. Because of this, no one else photographed South Africa and the struggle against apartheid better, more critically and incisively, with deep pictorial complexity, and penetrating insight than South African photographers. It is the goal if this exhibition to explore and pay tribute to their exceptional photographic achievement.
......
From the work of members of Drum Magazine in the 1950s to the Afrapix Collective in the 1980s to the reportage of the so-called Bang Bang Club, included in the exhibition are the exceptional works of pioneering South African photographers including Leon Levson, Eli Weinberg, David Goldblatt, Peter Magubane, Alf Khumalo, Jürgen Schadeberg, Sam Nzima, Ernest Cole, George Hallet, Omar Badsha, Gideon Mendel, Paul Weinberg, Kevin Carter, Joao Silva, and Greg Marinovich, and the responses of contemporary artists such as Adrian Piper, Sue Williamson, Jo Ractliffe, Jane Alexander, Santu Mofokeng, Guy Tillim, Hans Haacke, and William Kentridge. In addition, the exhibition will feature the works of a new generation of South African photographers such as Sabelo Mlangeni and Thabiso Sekgale, who explore the impact of apartheid as it continues to resonate today.

This Blogger's Books and Other Items from...
SUBSCRIBE AND FOLLOW
Get top stories and blog posts emailed to me each day. Newsletters may offer personalized content or advertisements.
Learn more