THE BLOG
Fashion Meets Music at New 'Women Who Rock' Exhibit
On May 13, 2011, Cleveland's Rock and Roll Hall of Fame and Museum raises the curtain on the much-anticipated new exhibit, "Women Who Rock," which explores more than 60 female recording artists who have changed the face of music from the 1920s through today. And guess what? The exhibit includes plenty of fashion!
And why not? Fashion is an inextricable part of performance -- just ask Lady Gaga, who may rock out onstage in a dozen or more couture looks on any given night. Or Ciara, the hip-hop star and Givenchy/Pucci muse who told StyleBistro, in an exclusive interview, that "fashion and music go hand in hand -- both things need each other." As our celebrity guest editor this week, Ciara confessed, "Sometimes I can be making a record and I'll be thinking, 'Oh, this is what I want to wear.' It really shapes the direction, and takes it to another place. Or, sometimes I can put something on and want to play a certain song. It's a beautiful thing."
The link between music and fashion is a beautiful thing, and a crucial one. What would Madonna's 1990 Blond Ambition tour have been without the cone bra bustier designed for her by Jean Paul Gaultier? Or Lady Gaga's 2010 Grammy performance without the controversial bum-baring, crystal-encrusted leotard courtesy of Armani Privé?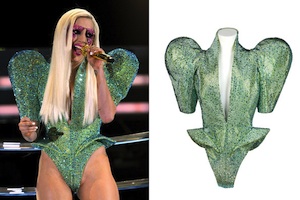 (Getty Images, courtesy Rock and Roll Hall of Fame)
These looks and more -- from Cher's 1972 Bob Mackie-designed "Half Breed" ensemble to Rihanna's hyper-sexy spiked bustier, worn at the 2008 AMAs--will be on display at the Rock and Roll Hall of Fame through February 2012. Can't make it to Cleveland? Check out our Music Editor Alicia Dennis' look at 15 of the exhibit's hot, historic looks!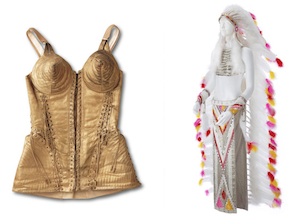 (Madonna's bustier and Cher's "Half Breed" look, courtesy Rock and Roll Hall of Fame)