As part of my spring cleaning, I realized something: I have way too many old audio cassette tapes in my possession. A few of these are keepers, like my old college radio show tapes, which every now and then I listen to when I want to remember how silly I was during college. But most of them, I really don't need any more. I've replaced them with CD's. In the case of Nine Inch Nails' Pretty Hate Machine, I've wound up upgrading to it on CD and later purchased a second copy of it on vinyl.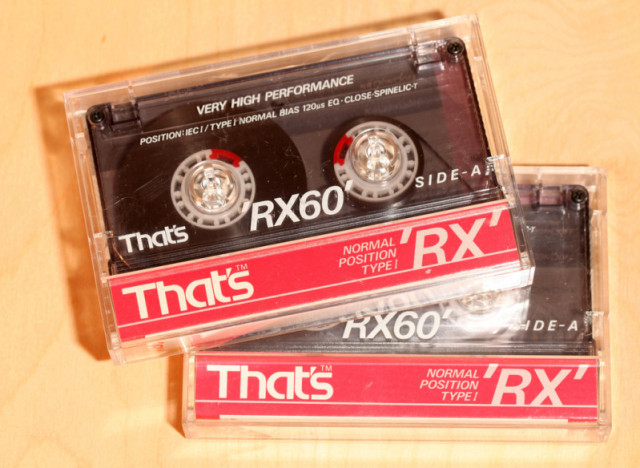 It's pretty hard to giveaway old cassettes; no one wants them anymore. But with a little creativity you can repurpose tapes in a bunch of useful ways. (Note: Yeah, I know these are a bit craftier than the usual, but aren't these ideas fun?)
TWINE
Did you know that a 60 minute cassette has approximately 285 feet of tape in it? Cassette tape is fairly strong and flexible, allowing it for many uses around the house. You can put this tape to use as twine for bundling recyclable newspapers. Just remember to use a generous amount when bundling heavier things.

FASHION ACCESSORY
You can repurpose a cassette into a statement fashion accessory. They make great belt buckles, especially if you find an old generic blank cassette. If you are more daring, you can make a necklace out of it by hanging it from a chain. If you find the micro cassettes that are used in office recorders, you can even make earrings out of them! Cassette tape jewelry shows how much you love analog technology. Here's a how-to from TLC.

WALLET OR COIN PURSE
DIY wallets make great gifts -- and you can make one out of an old cassette. Carefully crack the case open, remove the tape reels and insert a small handmade pouch. At the top of the cassette, put in a zipper. Or if you're in a pinch, you can stick in a small coin purse that you got at a dollar store. There's a great set of instructions at Instructables.

BUSINESS CARD HOLDER
Let's face it, business cards are always going to be pretty boring. But a cassette tape holder makes the task of networking a little less dull. It's just like the coin purse, just with business cards inside! Here's a great example over at Etsy.

LIGHT SOURCE
You can use old cassette tapes--preferabbly the translucent ones--to make an awesome lamp cover. For inspiration, check out this great table lamp made out of 20 cassettes.
Be sure to check out more clever ways to use household items in our slideshow below.
5 New Uses For Everything