When I'm not talking about household tips here, I'm talking about comic books here. And I'm not the only one who loves comics: From references on super-popular shows like the Big Bang Theory to comics-influenced fashion, comics have continued their rise into mainstream pop culture.

But, what to do when you're done, or just have a bit too many in your collection? With a little creativity, you can incorporate comics into a bunch of different household decorations and use them in fun projects. A word of advice: Before you repurpose comics, research their value online. Using something like 1991's X-Men #1 -- which had a print run of well over 7 million -- is acceptable; you wouldn't want to wind up cutting up something that was rare.

This is one of the highest profile weekends in the comics world, with the debut of the Avengers film and Saturday being Free Comic Book Day, where comics retailers across the country are giving away comics. To celebrate the occasion, we've come up with some great ways you can repurpose comics.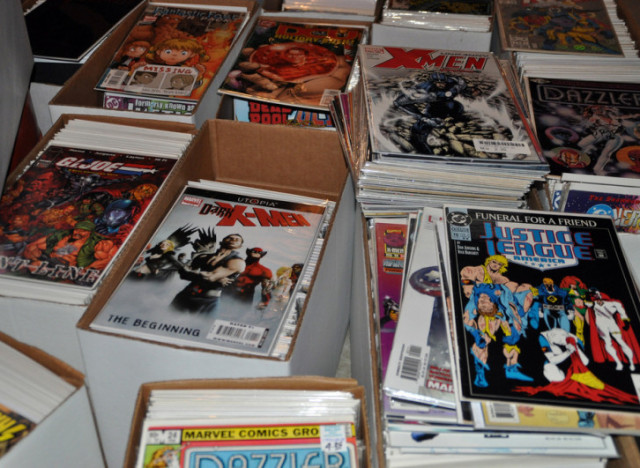 Flickr photo by killswitched

COMIC BOOK WALLET
The late, great magazine ReadyMade has instructions on how you can make a wallet out of old comic books. It's a great statement piece that just looks fun. When you're finding the comics pages to make into the wallet, try to find the larger splash pages and panels so the final wallet doesn't look too busy.

COFFEE TABLE
You can use some comics and decoupage glue (like Modge Podge) to decorate an end table with pictures of someone's favorite super hero or comic character. It makes a great addition anywhere, ranging from a kid's or family room, to a grown-up's home bar or rec room. Make sure you use an acrylic sealant spray to cover the table so the finished result doesn't get scratched or nicked.

COASTERS
You can even make matching coasters! How cool would it be to have Superman and Green Lantern coasters to match your Justice League coffee table? Just decoupage some comic pages to a ceramic tile.

COMICS SHOES
Women can get in on the fun, too! With some comics pages, a pair of inexpensive flats and some Modge Podge, ladies can show their love of comics with some really fun footwear. You can find out how to do it at Craftster.

FRAMED COMICS
A great way to show off a comic book collection is to frame some of your favorites. Blogger Youseph Tanha has a great resource of how to frame your comics in a way that is both archival and UV safe. Another way to show your love of comics is to mat and frame comic pages. You can put up the pages in order on the wall, allowing your visitors to share your love of comics.
Be sure to check out more clever ways to use household items in our slideshow below.
5 New Uses For Everything