Potatoes are a pretty common staple of many people's diet. But there are other uses for a potato, and we're not talking about potato salad or hash browns. There are tons of odd ways people have found uses for potatoes outside of the kitchen, and here are some of our favorites. If you have some, please share...no spuds about it!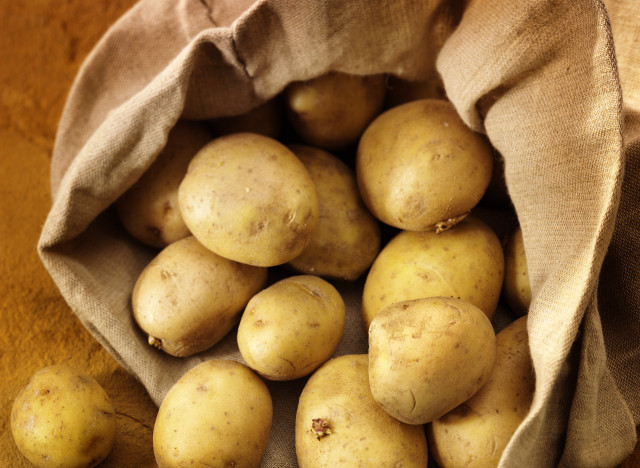 Shutterstock Photo
Broken Light Bulb Remover
If you've ever wound up with a broken light bulb in a lamp socket, don't panic. Instead, get a potato. Press the potato into the broken bulb. It's thick enough to protect you from the glass, and you can use it to unscrew the bulb. When you're done, you can just throw out the potato and not have to worry about cutting yourself.
Potato Stamps
You can use a potato to make your own stamp. Cut one in half and carve out the shape or design you'd like the imprint to be. Then dip the potato-stamp in paint so you can decorate whatever surface you'd like. It's very simple to do and it leaves behind a pretty textured pattern.
Plant Food
Did you know that potatoes are one of the more nutritious foods for people? Well, it turns out that potatoes are nutritious for your flowers as well. It's an old home garden tip that geraniums love potatoes. When you plant your flowers in the ground, place some small slivers of a potato around the root. As the potato breaks down, it releases nutrients into the soil that the flower is more than happy to soak up.
Remove Tarnish On Silverware
Check out eHow for the exact details, but you can use a potato to clean the tarnish off of your silverware. Take half of a potato and dip the unskinned side into some baking soda. You can then rub this onto your silverware, gently of course. The baking soda helps break the tarnish down and your potato absorbs it.
Hot Or Cold Compress
There is a reason why we play the game hot potato. It turns out that potatoes do an excellent job at both retaining coldness and heat. So depending on what you need, you can make a nice compress out of a potato to help an aching body part. Just put it in the freezer to make it cold, or microwave it to get it hot. Your back or knee will thank you later!
For more great uses for everyday items, check out our previous installments of "5 Uses For..." in our slideshow below!
5 New Uses For Everything
From party favor to plant protector, these cardboard tubes can take on many different roles.

From drawer liners to photo backdrops, check out other new uses for wrapping paper.

Explore these alternative ways you can use vodka.

Take a look at these 5 different new uses for wine corks.

Before you toss them, check out these great ways to repurpose them.

Just because you can't use them on your car anymore doesn't mean they're useless!

From artwork to insulation, this loud packing material can be used in many different ways.

The most unique ways to use all that leftover Halloween candy.

This quintessential fall fruit can actually be used for more than just decor and pie.

A candle holder, spill cleaner and more!

Not only is it a culinary staple, but it can also help you with some chores around the house.

Create wall art and even plug your sink--no driving range necessary for these new uses.

Who knew this veggie could be so multi-purposed? Learn how to use a potato to create stamps, remove a lightbulb and more!

Make coasters, a purse and more all with maps.

Ever wonder what to do with your old keys? Repurpose them in these 5 new ways.

Use dish soap to make an ice pack, wash your hair and more, with these 5 new uses.

Did you know this beauty product can not only clean stains on china, but also dissolve super glue!

They're not just for kids! Learn 5 other things you can do with action figures.

It's not just for chilling soda (or beer)! Check out the 5 other uses for a cooler.

Use this common office supply to grip a bottle, open a lid and more! Check out these 5 uses for rubber bands.

You can do these 5 things with cards... and not one of them involves gambling!

Who knew that this material could be used to make a wallet? Learn how to use duct tape for this and four more things.

It does wonders for your...hair? Check out the ways you can use milk to clean and polish things around your home.

Who knew that besides holding pills, these containers could be used as a water resistant survival kit? Now that's a reason to hold on to these!

Learn how paperclips can help you fix your electronics AND pit a cherry.

Use peroxide to do anything from cleaning your cutting board to highlighting your hair. Read about those new uses and more!

From removing stains to a great fertilizer, here are even more reasons to love eggs!

This vegetable-based powder works wonders removing grease and cleaning your...pet!

This fruit is more than just delicious--it can also do wonders in your kitchen.

Find out how to get a few more uses out of plastic gallon containers before tossing them in the recycle bin.

The cure for more than just that throbbing headache.

Sugar isn't just for your coffee... Use it to feed your flowers, remove grass stains and more.

Got a ton of pastic bags from all your grocery shopping? Put them to good use!

We prove that this kitchen staple can go beyond cooking.

From tables to wallets, there are more to comic books than meets the eye.

Egg cartons can be repurposed for use in both your home and garden. Check out the 5 different ways to use them!

Who knew vodka could do other things besides make a great cocktail? Learn how to use it as a room deodorizer, shower cleaner and more.

Since you most likely haven't used one of these in years, check out how you can repurpose them in these 5 new ways.

We bet you didn't know you could use cotton balls to... catch mice?

Don't throw out your old socks -- learn 5 new ways to put them to use.

Check out the 5 different ways you can use baking soda to clean and deodorize your drain, brass and even your face.

It can do much more than clean your teeth.

Learn the 5 other ways you can use your coffee mugs besides to sip a hot drink every morning.

Just because a CD is scratched doesn't mean it's useless. Try these 5 ideas for reusing old CDs around the house.

Who knew this sugary drink could help you clean?

Not only can you get your caffeine fix, but you can also repel bugs and fertilize your garden with this popular drink.

This happy-hour drink has protein that strengthens your hair AND can help you sleep better at night.

Learn how to eliminate shoe odor, pesky ants and sweaty sheets by simply using baby powder.

This clear liquid can do wonders in your car, home and even the air!

Consider these 5 new uses for plastic soda bottles before tossing them in the recycling bin.
Follow Chris Barnes on Twitter: www.twitter.com/thatchrisbarnes