Have you ever had one of those mornings where you wake up, look in the mirror and think to yourself "Wow, I'm fat"?
It's a painful realization, but I had many of those mornings. That's what happens when you live on top of Burger King during your senior year of college. That's what happens when you think muffins are one of the five major food groups. That's what happens when you fail to realize "I'm responsible for what I put inside my body."
Last December, I decided to end those mornings. After celebrating my friend's 25th birthday, I woke up the following Sunday, feeling like absolute murder. A few weeks earlier, my doctor's visit had me tipped in at 205 pounds. He told me I could lose five pounds. It was generous.
As that feeling of failure marinated its way through my daily menus, it was time to change. The days of managing hangovers sans food until 3 p.m. were finished. It was time to take care of myself.
For years, breakfast had been my morning dessert. Dunkin' Donuts was just iconic. I might as well have painted my stomach orange and purple. I had never been much of a cereal fan, but realized that it was the best food to get a jump start on the vitamins and minerals necessary for my body to function. Along with that, I needed to limit my sugar consumption.
While searching the cereal aisle of the grocery store, you'll notice that very few boxes actually fit that bill. Take Raisin Bran and its 17 grams of sugar. Sure, it's loaded with dietary fiber -- something that would help me feel more full -- but no vitamin provided more than 25 percent of the recommended daily intake.
Eating rabbit food was not the answer, either. Sure, Fiber One is loaded with vitamins, but who wants to start off the day feeling like they just went through a scientific experiment?
I finally settled on something tasty yet tempered. Every morning, I start off with a cup of Wheat Chex. Slice 1/2 a banana. Add in two tablespoons of Smucker's Natural Peanut Butter. Choosy moms may choose Jif, but zero grams of trans fat and one gram of sugar is the better choice. Sprinkle on some wheat germ for some extra minerals.
Lastly, it was time to quell the beverage binge. Start off your day with a nice glass of "Florida orange juice" -- and all appears well in the world. Read the label on any major carton, from Tropicana to Minute Maid, and you'll find that 22 grams of your daily sugar get lost in an 8-ounce glass. If Florida oranges really are that sweet, I figured the least I could do was switch over to the real thing -- Florida oranges.
Add a glass of water, and breakfast is set.
With that breakfast base in my system, lunch and dinner came down to the intangibles. Take the elimination of condiments. Ketchup lovers -- I hate to break it to you, but high fructose corn syrup fries should not be a diet staple. With that in mind, I said goodbye to barbecue sauce, salad dressings and sauces alike. To add flavor to my food, I stuck to red wine vinegar, garlic, crushed red pepper and other sources that weren't gastronomically related to sugar.
Refined grain aficionados -- newsflash: white rice and white bread will never parallel the fiber punch of long grain rice or multigrain bread. All of my grains became whole grains, and I turned to small doses like 100-calorie sandwich thins, or individual cups of multigrain rice.
Late eaters -- I know you think you're hungry at 11 p.m., but you're really not. Binge drinkers -- I know you've planned a trip to the gym for the following morning, but that's not going to fully stop the aftereffects of an open bar. For six months straight, I stopped consuming calories after 8 p.m. No late-night snacks. No alcohol. I learned that when you eat and drink is just as important as what you eat and drink.
Critics would say -- how can you starve yourself for that much of the night? With the right snacking methods, 6 p.m. will become the new midnight. I divided up what could serve as another meal into four smaller snacks. Each day, I came to work with one serving size of rye Triscuit crackers (six pieces), one small bag of baby carrots (ten sticks), one piece of fresh fruit (apples, oranges or bananas) and one serving size of lightly salted peanuts (about 40 pieces). By eating in small segments, dinner feels like meal six instead of meal three.
No matter how tight your diet becomes, weight loss remains an afterthought without exercise. I've never been the type of person to gravitate toward a gym. People-watching makes it impossible for me to get into a routine, and the thought of paying $100 a month to stand on a treadmill seems rather silly.
With that in mind, I turned to two basic pieces of equipment to get myself going -- an eight-pound medicine ball and a pair of ten-pound free weights. I hand-picked four sets of exercises that I could repeat every other day, ranging from isometric arm curls, to suitcase crunches. To this day, I have yet to change the weights that I use. Carrying out a consistent plan with a big picture is more effective than lifting up a 50-pound weight once, taking a mental snapshot and then realizing that you tore your bicep and tricep in one fell swoop.
Have I had lapses? Sure. Were there days where I went out with friends and had some drinks? You know it. Did I miss a turn in that exercise plan? On occasion. But one year removed from that awful post-bar hangover, the results are ever-present. I've dropped a full pant size to a 34-inch waist. I'm wearing medium shirts for the first time since the George Bush Sr. administration.
I have mornings where I wake up, look in the mirror and think to myself "Wow, I'm fit." And if I want a donut, I can still eat one.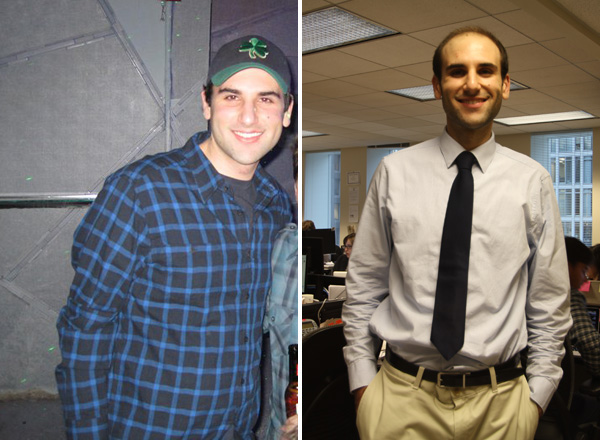 Follow Chris Gentilviso on Twitter.
SUBSCRIBE TO & FOLLOW LIFESTYLE
HuffPost Lifestyle is a daily newsletter that will make you happier and healthier — one email at a time. Learn more