Culture comes in all different mediums and can be delivered in all different sizes -- literally, in the case of the Swedish company T-Post, a magazine printed on t-shirts that's delivered every five weeks to subscribers. Each shirt has a story idea illustrated by an artist with a colorful graphic on the front of the shirt. Flip it inside out to read the article. Past issues have ranged from the political (the controversial Arizona immigration law) to the philosophical (questioning if our increasing use of pharmaceuticals will have an evolutionary effect on future generations) to the downright bizarre (unusual college course offerings: lap dancing, marijuana growing). Publisher Peter Lundren prints only enough for current members, so back ordering is impossible but makes the shirts unique and good fodder for cocktail conversations. When the company started a few years back, the shirts were rather pricey but have since dropped to a reasonable $18.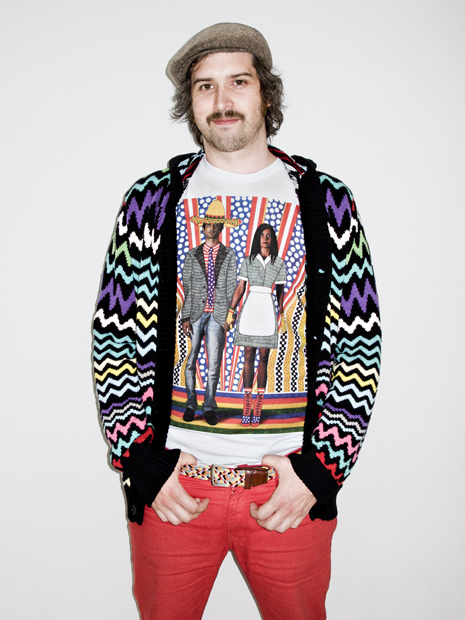 As for culture you can't wear, the choices are nearly endless. On Broadway, David Hirson's 1991 flop La Bete receives an energetic revival thanks to top-notch performances by Mark Rylance, David Hyde Pierce, and Joanna Lumley. Rylance plays a talentless hack playwright, Valere, who's caught the eye of the princess, who invites him to meet her esteemed resident playwright, Elomire. Hyde Piece plays Elomire with a wonderful restrained rage and watching him hold back as Valere pontificates on nonsense is one of the great pleasures of the play. Hirson's fast-paced dialogue is structured like a farce, but there's something more experimental at work as well. There are long stretches (particularly when Valere prattles on) that aren't very funny. The first thirty minutes of the play is one excruciatingly long monologue where Valere spews out everything on his mind, and no one can get a word in edgewise. Instead of laughing at the situation, though, we feel Elomire's frustration so acutely. Later in the play, we're forced (along with Elomire) to watch a makeshift staging of one of Valere's "classic" works. The humor again is cut by the tedium, and it seems Hirson is trying to make a case against mediocrity in art by producing mediocre art. It's an interesting and thought provoking exercise that keeps us alternating between laughing and cringing.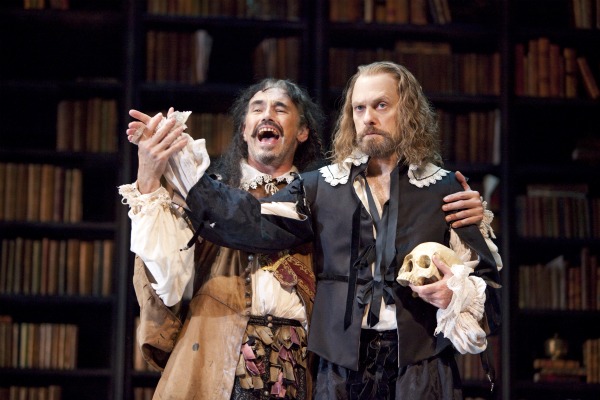 Unfortunately, I found myself cringing through most of Beau Willimon's disappointing Spirit Control. The play begins with a thrilling scene where an air traffic controller (Jeremy Sisto) tries to talk a woman (Mia Barron) through landing a play after the pilot suffers a heart attack. The dialogue is crisp with a Mamet-like rhythm, and the suspense builds organically to a terrifying crescendo. Like the plane crash at the center of its story, though, Spirit Control, quickly descends before crashing and burning. Sisto plays Adam, the air traffic controller, with gusto and his pain feels palpable, but there isn't much for him to work with. Barron is equally compelling in a double role of the woman in the plane, Maxine, and a girl that Sisto meets at a bar after the crash. Willimon blurs the lines between the two, suggesting that the woman in the bar is just a ghost (cringe) who prevents Adam from moving on with his life. Willimon has an obvious talent for dialogue (as demonstrated in his compelling political thriller, Farragut North), he just needs to work on his story skills.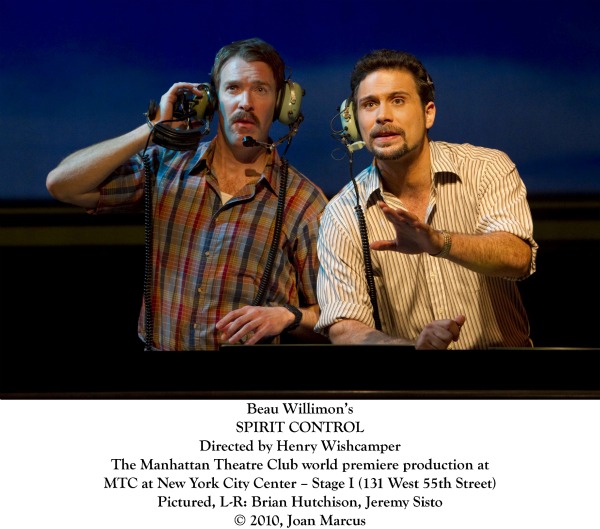 Eric Simonson's Lombardi suffers from a similar lack of narrative drive. He sets the play during a week when a reporter comes to live with the Lombardi family to write a story on the winning coach. It's based on David Maraniss' book When Pride Still Mattered that details the time sportswriter W.C. Heinz spent with Lombardi but takes a lot of liberties. Heinz's week turned out to be a bust, so Simonson imagines what would have happened if he got Lombardi to open up. The play's chock full of regional theater fodder of marital quarrels, comical yelling, etc. It's actually pretty amusing (due in large part to Dan Lauria's dead on performance as Lombardi), but the most interesting scene is when the players are shooting pool with the reporter, discussing their frustration with the management and struggle to make a decent living before their time expires. It's not the NFL today where players earn millions and live in mansions. It's too bad Simonson doesn't show us more of that world.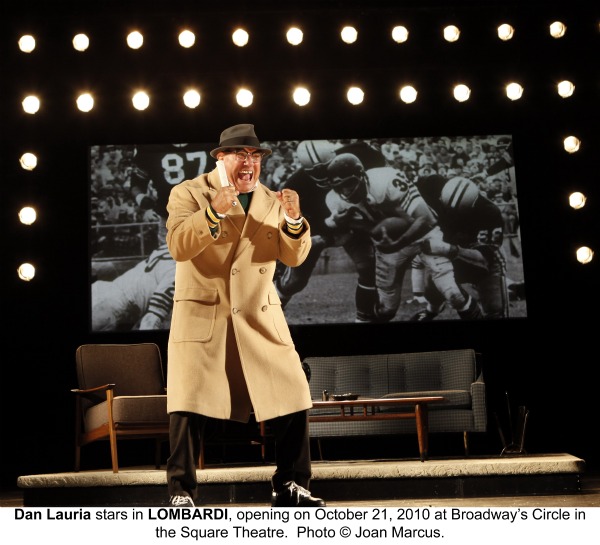 Frederick Wiseman has been documenting many diverse worlds since the '60s. His latest, Boxing Gym, opened recently at the IFC center. It's a 90-minute meditation on the passion and skill involved in the primal sport and shows the gym's wide range of members (ex-cons to new mothers) honing their skills as they spar with each other and practice on their own. There are long stretches without dialogue that could feel mundane in other hands, but Wiseman has a way of finding the unique in the ordinary. He positions the camera in an up-close but non-intrusive way that allows us to see his subjects as we would if we encountered them on the street. Dialogue is sparse powerful where present. In a clarifying moment, two guys stand by the ring talking about the Virginia tech shooting as others in the background fight, making a subtly profound statement about the context of violence.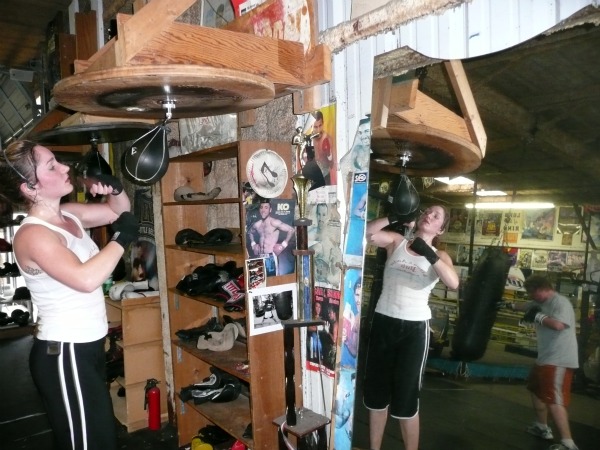 Punching the Clown follows a struggling comic songwriter, Henry Phillips, across the country as he plays random gigs and tries to make a name for himself. It's as much about the creative process as the comedy and is really funny to boot. Phillips has a soft-spoken delivery that usually contrasts with the content of his songs. In "Love Song", he puts a Harry Chapinesque melody with lyrics describing a girl, who despite having a perfectly charmed upbringing is still a bitch. These quirky observations make his humor and the film very enjoyable.
Lastly, Alex Gibney's Client 9 (opens next week) documents the fall of Governor Eliot Spitzer with interviews with him as well as some of his biggest enemies including Home Depot tycoon Ken Langone and former AIG CEO Hank Greenberg. It's hard to imagine why Langone and Greenberg would talk to Gibney -- didn't they see his Enron film? -- but their presence is a nice contrast to Spitzer, his aides, and the madam of the escort service he patronized. Spitzer is pretty forthcoming, but admits that he's not sure why he started seeing the girls except that it fits into the classic story of powerful people brought down by their own hubris. Most interestingly, the film reveals that Ashley Dupre wasn't "Spitzer's girl" despite all the headlines that suggested otherwise. In truth, he saw her only once, and she used the scandal to catapult herself into the spotlight. The girl he saw regularly, known as Angelina, appears in the film played by an actress to preserve her true identity. Client 9 walks a fine line between substance and sensation, using hip-hop to punctuate the scenes and underscore the consuming greed on Wall Street effectively. Ultimately, for those of us who saw Spitzer as the last best hope for real change, the film is almost unbearably sad.
SUBSCRIBE TO & FOLLOW LIFESTYLE
HuffPost Lifestyle is a daily newsletter that will make you happier and healthier — one email at a time. Learn more