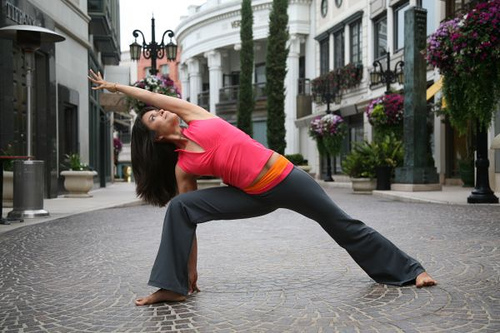 This month's top 10 list pulls evenly from the worlds of rock and pop. On the former front, you've got bands like Bastille, Imagine Dragons, and NONONO. On the latter, you've got dancefloor divas like Lady GaGa, Rihanna, and Katy Perry. Somewhere in the middle there are cross-genre collaborations that pair DJs like Zedd and Steve Aoki with rockers like Linkin Park and Paramore's Hayley Williams.
Here's the full list, according to a poll on Run Hundred -- the web's most popular workout music blog.
Lady GaGa & R. Kelly -- "Do What U Want" -- 99 BPM
Rihanna -- "What Now (Firebeatz Remix)" -- 128 BPM
Bastille -- "Pompeii" -- 127 BPM
Pitbull & Kesha -- "Timber" -- 130 BPM
Katy Perry -- "Walking on Air" -- 128 BPM
NONONO -- "Pumpin Blood" -- 121 BPM
Zedd & Hayley Williams -- "Stay the Night" -- 128 BPM
Linkin Park & Steve Aoki -- "A Light That Never Comes" -- 116 BPM
John Newman -- "Love Me Again" -- 126 BPM
Imagine Dragons -- "Demons" -- 90 BPM
Check out this month's top 10 workout songs on Run Hundred: www.RunHundred.com.
For more by Chris Lawhorn, click here.
For more by HuffPost Workouts, click here.