It's been a good year for Beyonce. Her self-titled album dropped unannounced and sold over a million copies. She's become the only female in history to have her first five studio albums debut at the top of the Billboard charts. And she already made TIME Magazine's list of the top 100 influential people in the world. This comes after a knockout Superbowl performance and a coveted slot at President Obama's second inauguration.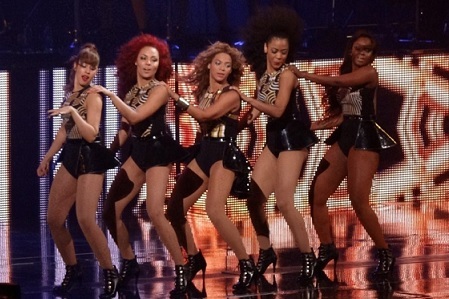 One could be forgiven for forgetting that she's in the middle of the massively successful The Mrs. Carter Show World Tour, which made a stop at TD Garden in Boston on December 20th. The tour name itself has already drawn fierce debate among the predominantly white feminist movement that views Beyonce with a certain level of distrust. Her answer to this comes in a command to the audience: "Everybody say, 'Hey, Ms. Carter!'"
Mere seconds into the show, anyone questioning Beyonce's level of agency has been swiftly dismissed. From the all-female band and dominantly female dancers to aggressive video interludes about power, the use of "Mrs. Carter" seems as much a claim to ownership over Jay-Z than an implication of submission. Beyonce's evolution toward an embracing of veganism for both herself and her husband further serves as an assertion of agency against patriarchy if one takes Carol Adams' theories on sexual politics to be legitimate.
Not since Michael Jackson has a superstar performer held so much power in stillness. The best choreographers highlight the important of tension. Beyonce exists with extreme comfort in these spaces. The show opens with "Run the World (Girls)," and she explodes into the percussive number after first facing the audience, grounded and ready to charge through thunderous applause.
In a refreshingly unusual twist, Beyonce doesn't appear to use backing vocals at all. Her incredibly capable backup singers carry the heft of vocals during heavily choreographed moments as Beyonce tastefully weaves her way through the mix. The band is among the very best pop music has to offer. Almost every arrangement has been improved from the studio version for a live audience, adding interesting new genre flavors and embellishments that leave every song feeling fresh. It's most noticeable on cuts like "Naughty Girl" where Donna Summers' "Love to Love You Baby" is given more space to breathe.
Lest anyone doubt the extreme power of Beyonce's vocal prowess, she delivers subtly challenging performances like "Love on Top" with flawless precision. Only "If I Were a Boy" seemed to lack a bit of energy. Show closer "Halo" soars as she modifies the vocal melody, taking full charge of what was an arguably too-straightforward song.
But Beyonce never indulges to the point of wearing out a song's welcome. In fact, one might wish she lingered on some of the show's tracks a bit longer, like the crowd-favorite "Get Me Bodied." Instead, she opts for a Janet Jackson-style delivery, creating vast medleys of her seemingly endless hits.
One track from her new album currently makes the cut on tour: "XO" which replaces "Grown Woman." Given "Grown Woman" plays more into the ethos of the show, the switch doesn't make much sense. Not that the audience particularly cares as Beyonce delivers a stellar rendition of the brand-new single.
At roughly eighteen songs, The Mrs. Carter Show still manages to feel too short. With the exception of an equally stellar P!nk, all of her other contemporaries should take note. This is how it's done. All hail Queen Bey.
(Image used with permission by Natt Villa, CC 2013.)