Sunset Boulevard--it's a street, it's a movie, and it's perhaps best known as the quintessential blank slate that lures generations of dreamers west. Now it's also a coffee table book.
Amazingly, no other modern photographer has sought to document the denizens of perhaps the most famous thoroughfare in the world--with all due respect to 5th Avenue and the Champs Elysees. Certainly on neither of these would you find such colorful incarnations of the very dreams associated with the city it spans.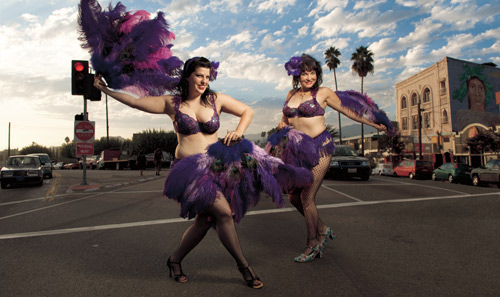 Some are sleepwalking, many are having nightmares and a few are truly living the American dream. The project itself was the personal dream of photographer Patrick Ecclesine, who may have been born on Sunset Boulevard, but still found a way to take his camera west. His lens traces a path from downtown-known to be the "birthplace" of Los Angeles- through eastern Los Angeles and to Hollywood , Beverly Hills, and the Pacific Palisades. "From the barrio to the beach," he captures the (street) theater of a place we Angelinos often fail to see as more than a viable alternative to the 10 Freeway on particularly heavy traffic days. The secret to his powerful portraits lies in the relationship he forges with his subjects--however brief those may be. A picture may be worth a thousand words but the high definition he manages to achieve has less to do with his abundant technical prowess and more to do with the fact that he interviews each of his "stars", sometimes several times. He carefully mines just a few of those words to add that extra dimension to his portraits. A homeless mom dreams of a safe haven for her children as Larry King strikes a heroic pose at the studios of CNN. Further west an actress in Hollywood plays what is undoubtedly the biggest role of her career yet, posing for Ecclesine's camera as Dorothy whilst musing about the witches and monkeys that make this particular yellow brick road especially difficult to navigate.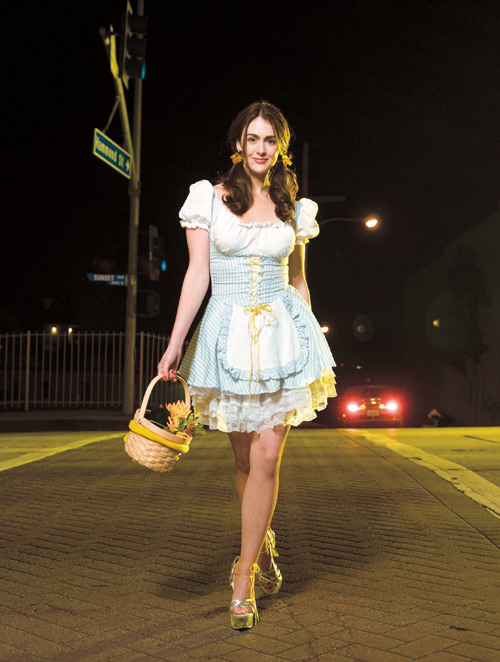 A photographer starting out in the entertainment business just a few years ago, Ecclesine made his living working on TV and movie sets concocting images designed to embellish the very dream each production was selling. On his way to the studios he cultivated a desire to capture the daily dramas he saw unfolding along Sunset Boulevard-- itself the ultimate set. The resulting photographs-a project almost four years in the making- remind us that just as the dreams of newcomers weave fragile support for the myth of transformation that is LA and Hollywood, the boulevard itself is the backbone of tinseltown -and just like any spine, it is strong, yet delicate. They even invite the same analysis once accorded dreams. Critic Rodger Jacobs deemed the photos "one of the strongest statements about man's dark fate in the west ever committed to paper."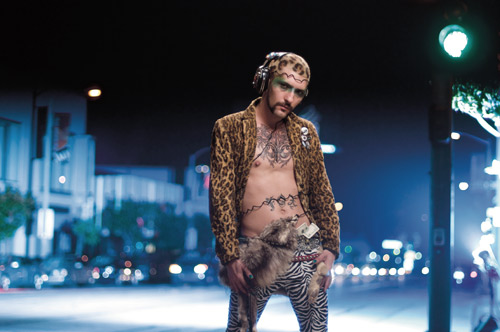 Ecclesine recently showed his Sunset Boulevard body of work at the Annenberg Space for Photography in conjunction with its inaugural exhibit celebrating the best of Los Angeles photographers.
But his photos originally caught my eye--where else?--in the lobby of a Sunset Boulevard movie theater.

CS: What do you call what you do? Are you a documentarian? A journalist? A social commentator?
Patrick Ecclesine: I'm a storyteller. In the case of Sunset Boulevard this story was Los Angeles and the expression of people's dreams and hopes and aspirations on being on the boulevard of dreams. [It's] the idea that everyone comes to LA to live a better life and Sunset Boulevard [is] the greatest physical symbol of that in our city.
Describe your aesthetic.
I come from the school where you make people look good-- that's what I get paid to do. I also knew I wanted everyone to look heroic. Using a cinematic treatment makes everyone look glamorous and [I applied that] to everyday reality. And that's LA--there's the dream where everyone is beautiful, and reality is a bit different. It's elevating ordinary moments through creative use of lighting but also grounding them in reality.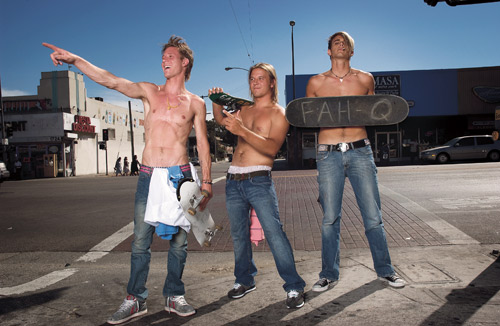 All of your subjects do come across as glamorous even when they are skate punks or two older vets walking down the street, but most striking to me is the mom with her two kids in front of the Paradise Motel. How did you convince her to pose for you?
I knew with the Paradise that I wanted to find a single mother. It was clearly going to be about irony. I had a list of shots but that day I just went out there and dropped lights on the corner and Nay Nay walked by. She was dodging social services, she was 19 so she was trying to keep her kids. The kids were into it and it made their day. It's one of those times when all the stars aligned.

Was that the last time you talked to them ?
I got her cell but three days later her phone was disconnected, she disappeared and I never saw her again.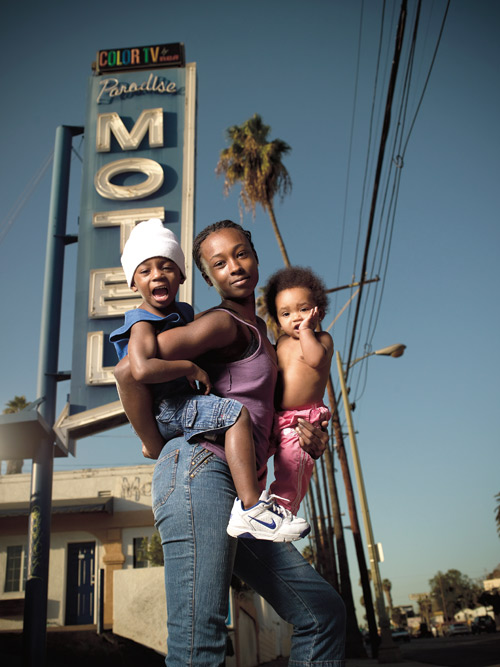 So she might not know that she is one of the stars of your book. There were subjects like Nay Nay that you could just approach on the street but others must have been harder to line up?
I put fliers in peoples boxes and it really didn't work. Then I had a shoot for the new season of 90210 at a mansion on Sunset so as a result I befriended the owners and the maid and then convinced her and them to allow me to photograph her on the front lawn.
Giuspe Franco was a friend of friend
.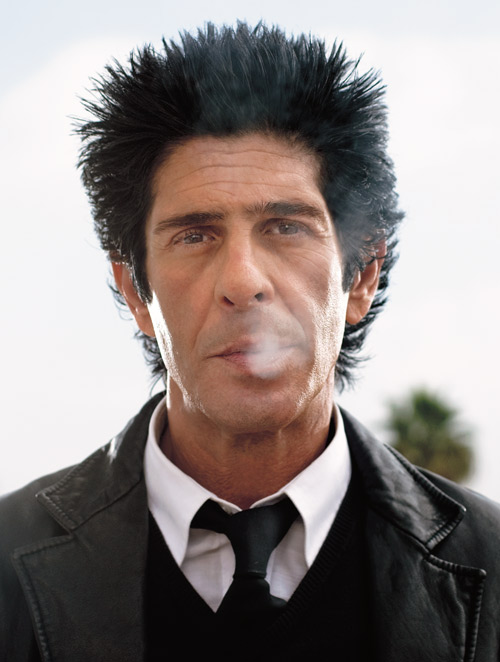 With Larry King I had already done some photography for Turner [Broadcasting].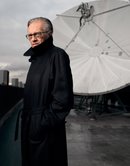 It's just how you do things in LA
Yeah, the front door approach doesn't always work too well.

The Bratton shot is also one of my favorites and I know from watching the "making of" feature on your website that you only had five minutes to capture the whole thing? How is that possible?
When we first made an approach there I went through Councilman Tom LaBonge.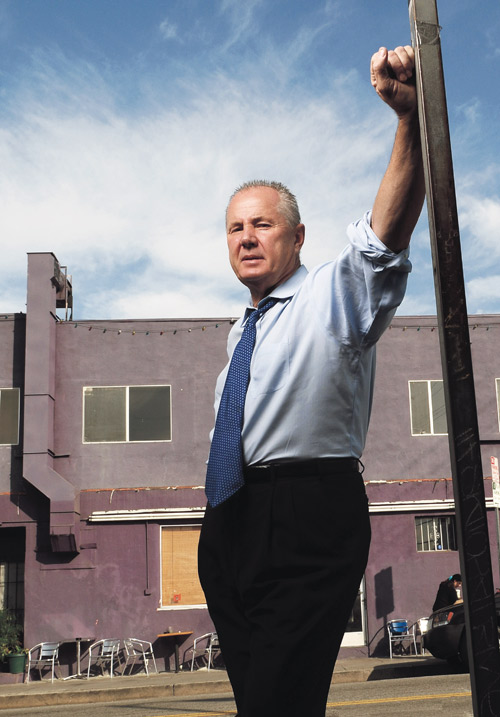 I went and scouted [the LAPD helipad] twice and mapped it out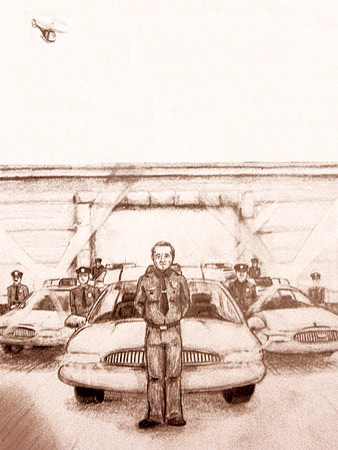 I looked at the sun in the late afternoon and I found one spot I could see that it would be the optimum time of day, but would necessitate a helicopter in the sky to block the sun. A month later they said we can't do it there but we could go to the top of city hall. I consulted with pilots who said no way, too many updrafts, so it was a constant back and forth. I thought at one point they would just say 'screw you, ' but six and a half months later it happened and I knew exactly what I wanted to accomplish.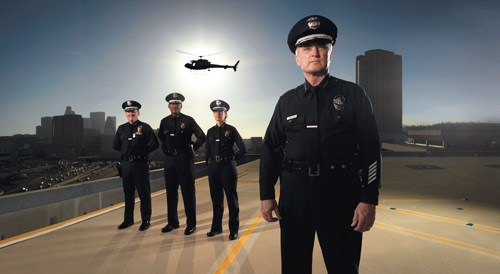 When did you conduct the interviews?
I would spend time with them as we were shooting, and if i didn't get everything I would go [back] and have coffee with them. If they were being superficial I would go for hard questions and sometimes it was uncomfortable for people. I was curious about what makes a person do what they want to do; what it is they think and how does that color their reality because such a huge part of LA is the reality that we all have the ability to create a life for ourselves. LA is self realization. in a way Other parts of the country do not have the same opportunities.
How so?
LA is spread out and people are more in their own space and their own time as they go through their days. It gets a bad rap for people being fake and artificial and saccharine sweet but that 's a result of not being in intimate contact with each other, like in Chicago or New York. There's more space, more time, and the weather doesn't change so one day bleeds into the next. That sort of energy allows people to dream and to create and maybe to put up a façade and also to enter the realm of the delusional. As we climb our climb towards our dreams we face this thing--if we are honest with ourselves; am I the person I want to be? In a sense that mentality along with cinema being the industry of choice --film, video and TV--where an ordinary moment can be a heightened experience --[I take] that sort of cinematic highlighting and apply it to what you find in a street level situation.
You picked a lot of your settings for just that reason.
There were certain blocks that were very productive. You look at buildings and the light and certain blocks are very beautiful. Formosa and Sunset --any angle you look you can shoot--north, south, east or west. Then sit or plant yourself in that situation and ask if you can photograph them and start talking to them.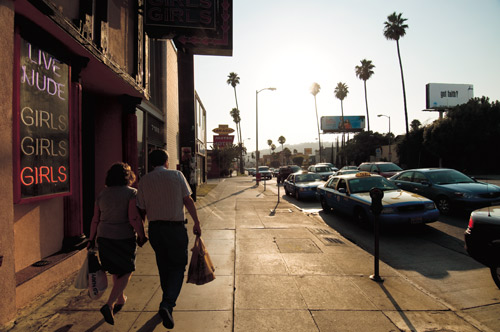 Do you think an outsider someone who wasn't born and raised here could have done a better job?
That's a fair question. . Someone would have done a different job, not better. I was surprised to see no one else has done it this way. I never found a coffee table photo book combining the interview aspect in a way that was relevant and worked with or against the photo...to have a psychological profile of that person through what they are expressing to you. A very big part of it was getting to know the people I was photographing as best I could.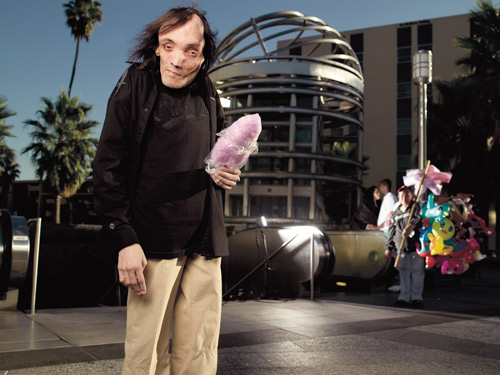 What didn't make it into the book, any regrets?
I would have liked to include Lou Adler and his son from the Roxy. It was a page count thing. The West Hollywood section was purposefully a little more colorful and crazy and surreal and that shot was more in keeping with an honest journalistic moment.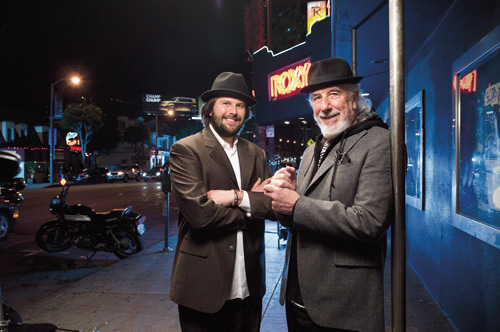 Did your book have the impact you intended?
There was a time it was a let down. [I thought] Wow, I worked all this time and I hardly got any press at all. All my own personal dreams--like being in Vanity Fair, none of this happened. I felt I failed--that I didn't get where I wanted to go with this thing, and here I am in debt , and this didn't pan out. I set a goal for myself that if my career hasn't worked after all this I'll put myself in storage and I'll go somewhere else for a year. Go be young. Then things just picked up . So sometimes when you approach what it is you are trying to do you don't realize it's all in the process. You are creating even in your static moments, even when you think everything sucks, you're still creating.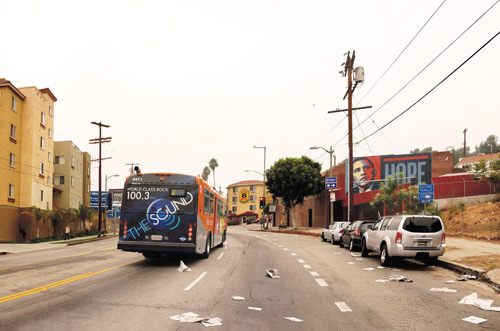 Faces of Sunset Boulevard: A Portrait of Los Angeles is out now.