Morocco has given the world more than gorgeous textiles and treasures. It has gifted us with the likes of Yasmine El Baggari. A Moroccan native, Yasmine came to America at the age of 15 for a summer in San Francisco. Since that summer, this bright-eyed dreamer has held America at a high regard for its bountiful beauty and endless opportunities. Fast-forward three years, with her parents' encouragement and her brother's support, El Baggari geared up and left Morocco to work for the US. State Department as a young Moroccan Ambassador to then attend Hampshire College in Amherst, Massachusetts.

With endless energy, she hit the ground running. She was as devoted to her academics and college community as she was to her dreams of living life to the fullest by experiencing what the entire world and its people have to offer. Fueled by grants, awards and the commitment to her dreams, Yasmine vowed in 2011 upon entering Hampshire College designing her own Travel & Hospitality Program that she would visit all 50 states upon graduating. Within three years she has since been to 34 states, 15 countries, and stayed with more than 52 hospitable hosts and by October 2014, will have added another 15 countries that will have been graced with the zest of El Baggari. She plans to explore entrepreneurship more broadly, and its impact on women empowerment in business as well as their contribution to the overall economic development.
Taking the next year off from Hampshire College, her eyes beam with excitement, anticipating the wonder and discovery as she tells of her upcoming World Tour. Travel has bestowed Yasmine with the tenacity to venture out and bridge the continental gaps, to reach out to activists, politicians and professors on initiatives to socio-economically empower women. You can see her gracing the stages at NYC's C3 Business Summit in October and One Young World Summit in Dublin, where she will share her latest project, Voyaj, an international travel community service to bring back the concept of hospitality in the world. It will offer an online platform to help travelers, like herself, in the future connect with potential host families on the ground, and gain an authentic, safe and immersive experience that fulfills their interests and passions.

Through traditional and social media, several of her interviews with students, families and entrepreneurs will be aired live on the UR Business Network and National Geographic ranging from "Women in Business, Entrepreneurship, Hospitality, People, Culture of food." She also plans to share some of her findings through a series of articles. If you are interested to be interviewed, you can contact her at: yasmine.beg@gmail.com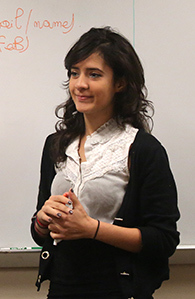 Read more about El Baggari:

http://www.fairobserver.com/region/middle_east_north_africa/tech-revolution-female-entrepreneurship-youth-employment-56701/

https://www.hampshire.edu/news/2014/03/05/yasmine-el-baggari-pushes-academic-and-geographic-boundaries-in-her-search-for

http://www.jadaliyya.com/pages/index/15428/implications-of-moroccos-bifurcated-educational-sy

http://thoughtcatalog.com/yasmine-el-baggari/2014/01/why-i-want-to-travel-to-all-50-states/
This Blogger's Books and Other Items from...
FOLLOW HUFFPOST