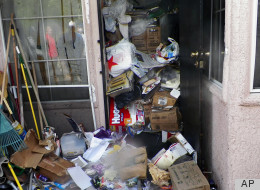 One woman shares her story of how she knew she had hit rock bottom with her obsessive hoarding.
"I grew up in a house where hoarding was normal. My mom is a hoarder, and my dad tolerated her behavior. I now see myself sliding down a very slippery slope into the same dangerous territory.
Let me explain. My family home in South Carolina consists of five bedrooms for our family of four. When my brother and I left home, my mother took over all of our closets for her massive collections of handbags, shoes and suits. My dad even built her a custom closet in the spare bedroom.
My mom amassed tremendous amounts of clothing because when she loses or gains weight, she buys a new wardrobe and doesn't throw anything away. Once, she had a garage sale and we hoped that she'd be getting rid of some of her stuff. Instead, she sold my things to make room for her belongings in my closet.
This obsessive collecting has started to creep into my own life. Hoarding is in my DNA, so I can't say I'm surprised.
Growing up, I was always very organized about my belongings, but there were hints that hoarding was in my future. I needed to know where everything was so that when I got dirty I could run inside and change. My family says I would change multiple times a day.
Once I was a professional earning my own income, things got bad -- my online shopping addiction took over. Around the same time I moved to Philadelphia, where my habits weren't as closely watched and my storage space was limited. While I may have sacrificed closet space, I sure didn't curb my shopping.
I have one closet in my current apartment. The closet is small (it measures 29 inches wide by 79 inches high), and I have open shelving where I store my shoes and handbags. I have a bedroom dresser that is stuffed to the max as well as numerous plastic storage units under the bed. I use suitcases as shoe storage, too.
There are many problems with this situation, one of which is that I don't get much wear out of my clothing because I can't see it all. I stumble across things that I've bought that still have tags on them.
Thankfully, it's not a financial crisis -- yet. I never shop on credit; I only shop with cash and I know the limits of my budget. But I know that I'm addicted: I love the thrill of a good deal.
Then, I hit rock bottom. When I moved into my current apartment the metal closet racks were already damaged from the previous tenant. Since DIY isn't my strong suit, I ignored it and hoped for the best. But things took a turn for the worse when I kept loading my new purchases onto the already weak frame. One Sunday night, while watching "Game of Thrones," I heard the inside of my closet collapse. I groaned, because I knew exactly the mess that was waiting for me behind those two doors.
I slowly opened the doors and then quickly slammed them shut again. That's when I realized I had become my mother and was officially a hoarder.
Since then, I've given in. I've succumbed to it, allowing it to stay that way. To make matters worse, I've begun piling my clothes on top of the mess, like a widow throwing herself on a funeral pyre.
In my eyes, the only solution is a new apartment with a bigger closet. Though it may not sound like it, I am learning to deal with my addiction. I've become obsessed with closet organization: I watch YouTube videos and I plan on investing in Huggable Hangers to conserve space.
I know I have work ahead of me in order to curb my hoarding tendencies. I'm going to have to let go of many of my prized possessions. I've held onto things that haven't seen the light of day since the late '90s -- those have to go.
But I'm not gonna stop shopping. Instead, I can focus my talents on my new home. Rather than a new pair of shoes, I'll be looking for a new couch."
Are you in need of some organization? Here, some of our best tips:
The Best Cleaning & Organizing Tips
remove stick price tags.

using a baking soda and water cleaning solution.

to reuse their glass holders.

using crumpled aluminum foil.

using a coffee filter.

using a colander.

to clean your outdoor grill.

catch the debris when using a drill.

remove coffee and tea stains on your cups.

by wiping your space down with vinegar.

unclog your drains.

by using rubber bands to keep them in place.

by using binder clips to keep them in place.

fix stubborn carpet dents.

save time and money when ironing clothes.

clean those hard-to-reach places in vases.

make your own broom.

and six other home tasks you've probably been neglecting.

they're a huge germ hot spot.

using baking soda.

help from your hair dryer.

by placing your items on cutting boards.

by using a clothing hanger.

by rubbing it down with flat beer.

with a rub of toothpaste.

with these easy laundry tips.

clean small spaces in your home.

that are dirtier than your toilet.

by dusting your lightbulbs.

to organize your hair ties.

by standing it upright with a binder clip.

to organize your bathroom.

using shower curtain hooks.

with these mail organizing tips.

to mark your keys and prevent losing track of them.

by lining the bottom of your trashcan with newspaper.

with these stress-free organizing tips by 'A Bowl Full Of Lemons' blogger.

clean out bottles with persistent odors.

water your plants.

a bar of soap.

make nifty magazine storage.

make your pillows fluffy again.

clean stainless steel appliances.

help you dust a ceiling fan.

remove rust stains from your toilet.

make your home smell like cookies all day.

as air purifiers at home.

to deodorize your home.

How often should you wash scarves, gloves and hats?

eliminate litter box odors.

keep dust baseboards clean.

eliminate litter box odors.

They're kind of gross.

protect floors from scratches when moving furniture.

polish forks between the tines.

using a hanging shoeholder.

remove paint stains on the floor.

Browse through these surprising bathroom items that have expiration dates.

clean your toilet bowls.

to clean your cheese grater.

It's one dirty little thing.

to remove sticky price tags.

as a garbage bin.

Check and clean your vacuum without making a mess.

clean your coffee grinder.

Don't let it ruin your New Year's Eve!

remove oil stains on cement.

remove ink stains from fabric.

make your fire smell even better this winter.

Make sure you aren't exposing your best friend to any harmful chemicals.

remove water marks from wood surfaces.

a Post-It note?

remove scuff marks from vinyl flooring.

It's the dirtiest part in your home, so make sure you're cleaning it thoroughly!

with plastic bags filled with ice

reduce static cling on your clothes.

with this beauty salon product.

fix scratches on CDs.

clean a dirty wall.

attach pairs of socks so you'll never have a mismatched pair again!

remove staples.

filling them with baking soda and putting them in the fridge.

with foam rubber, which can be found on dry-cleaning hangers.

increase suction of a toilet plunger and keep it in good shape.

help remove wine stains from your tablecloth.

place a teabag in water in the microwave.

clean food particles out of your can opener.

stop a shower curtain from sticking.

safely store candles.

create a yummy (and all-natural!) home fragrance.

help clean the keys and buttons on your cell phone, laptop and remote control.

remove grease stains from clothing.

remove paint odor from any room.

naturally polish silver.

silence squeaky door hinges.

protecting doorknobs and other hardware while painting.

help you clean soap scum from your shower.

fix a shrunken shirt.

help dry your delicate sweaters.

clean your bathtub.

remove mineral stains from glasses.

freshen a linen closet.

collect particles from your broom.

turn discolored socks white again.

clean laminate floors.

dust Venetian blinds.

clean the dust off your houseplants.

clean burnt food out of your oven.

get rid of spiderwebs in your home.

remove gum from the soles of your shoes.

clean up an egg spill.
Have something to say? Check out HuffPost Home on Twitter, Facebook, Pinterest, Tumblr and Instagram.
**
Do you have a home story idea or tip? Email us at homesubmissions@huffingtonpost.com. (PR pitches sent to this address will be ignored.)
Follow Christina Anderson on Twitter: www.twitter.com/xtina_anderson