I received a call a few weeks ago from an art curator who told me she was working on an upcoming fine art and design exhibition for a prestigious design showroom in connection with the L.A. Art Show (something like LA's mini version of Art Basel.) We set up a meeting with the owner of the showroom where she explained their desire to showcase both emerging and established artists and provide a casual and creative atmosphere where collectors and their clients could be introduced to the work.
Their concept was to incorporate the newest ideas in interior design and visual art in an elegant and functional display. As a designer this intrigued me, since it was rare, if ever, to have the opportunity to visualize all of these elements together at one time. I was thrilled to be asked to include some of my own art photography in the exhibition alongside such renowned artists as Mattia Biagi (who would exhibit his wonderful installation, "Storm of Life,") Lisa Bartleson, Ryan McCann, Eric Johnson and Eric Zammitt. Given only a couple of days to prepare, I scurried about to complete the final touches on the pieces they had chosen from my portfolio and had movers deliver the huge 13ft. x 3ft. photographs to the showroom just in time.
A few days after the meeting, I invited a friend to join me at the opening of the L.A. art show being held at the downtown convention center. The show included work from top galleries around the world and fantastic pieces by some of my favorite artists, Ed Ruscha, Sebastiao Salgado and Andy Moses. As we traversed the small cubicles inside the huge convention center, I found myself quickly becoming overwhelmed. I wondered why this brilliant art, which should be so energizing and inspiring, and an event specifically created to promote and excite potential buyers, was instead so utterly exhausting?
I kept asking myself why I wasn't dreaming of owning some of these stunning pieces... and why I couldn't imagine any of it hanging in my home, or even more importantly, in the home of one of my clients? That unsettling question would not be fully answered until the following evening...
When I arrived at the design showroom for the event, it was already buzzing with celebrities, entertainment industry execs and even a couple of rock stars. I also recognized in the midst of this wonderful crowd some of my peers who I deeply admire... photographers Jill Greenberg and Mark Hanauer, designer James Magni and former ASIDLA president, Victoria Reitz -- just to name a few!
As I stood in the middle of this very familiar showroom, a place I had frequented so many times before, I was struck by something altogether new... the combination of the art on display alongside the gorgeous furniture and stunning lines of the showroom, looked amazing TOGETHER...
What a dramatic difference from the day before, where the art was crammed into those small cubicles and images of the shocking and surreal, simple and beautiful were rendered void of emotion simply because of how they were displayed. How perfect and effortless to view it here where everything had been so carefully and seamlessly combined to provide the ultimate experience in art, furniture and design!
As I was leaving I realized what a wonderful evening this had been and how it reminded me of just how important the holistic relationship of art to space, time and surroundings really is... and how great it would be if all designers, collectors and clients could experience fine art and design together in such an exciting and cohesive way.
And as I stared at my own photographic image above that gorgeous Italian sofa... I saw how the art actually made that gorgeous sofa look even more fabulous ...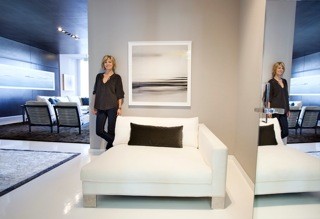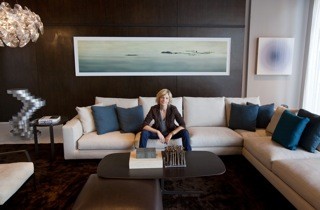 SUBSCRIBE TO & FOLLOW LIFESTYLE
We're basically your best friend… with better taste. Learn more