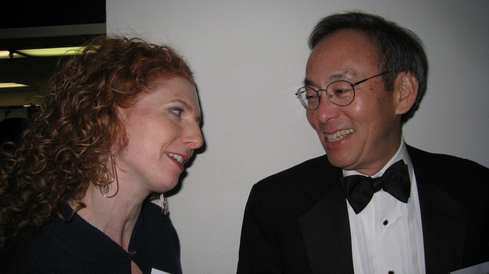 We've all heard the old adage that Washington, DC is Hollywood for ugly people. As
someone who once belonged to the ranks of those geeky law grads who descend on Washington each spring after graduation, I am comfortable saying that DC just got a whole lot sexier over the past few days. And it wasn't because the Tinseltown A-list was well-represented among those of us who trekked East to witness this historic moment firsthand.
People's imaginations have been captured by the possibilities that this new administration presents. There is a distinct twinkle in the eye and a lift in the step of everyone you pass on the street. This giddiness you could feel in the crowds was something President Obama sought to temper with his inaugural address. Yes, before we drink too much of the Kool-Aid, he seemed to say, let's get ready to think through the hard choices required to shore up our democracy.
The raucous energy brought by the million people that descended on the National Mall Tuesday was complimented by the quiet exuberance of those who make their living in the federal buildings that stretch from the Capitol to the Lincoln Memorial. The career civil servants who managed to hang in there over the past eight years describe silent cheers and surreptitious high-fives as they watch their politically-appointed colleagues - who often had no expertise in the work of the departments they were overseeing - pack up and slink home.
And among those pushing for a more sustainable future, an administration that is ready to have Larry Summers and Carol Browner lead the conversation on the relationship between energy independence, economic prosperity and the stewardship of our environment is well, frankly, pretty titillating.
Meritocracy is back in fashion and Washington may even have its own version of The Big Bang Theory coming soon. On Inauguration night, our new Energy Secretary Stephen Chu- a guy who trapped atoms for a living before he came to Washington - was mobbed by a crowd trying to get a photo with him. I know he won a Nobel Prize, but that is not what had guests trailing him out the door as he left the evening's festivities. This fan club was filled with policy wonks and folks whose company valuations will rise and fall with the direction he sets at DOE.
Bearing witness to this new phenomenon of physicist-cum-celebrity, I had to ask Secretary Chu what he thought of his new rock star status. In modest fashion, he proclaimed he didn't know what I was talking about. I arched my brow and gave him my most skeptical frown. As the throng pressed forward, he grinned and remarked that the frenzy surrounding us was "not consistent with his training as a scientist". Well, maybe it should be. I then asked Secretary Chu if he was ready to push the envelope. Here, he did not demur or hesitate. "Yes, absolutely", he replied.
Lisa Jackson, Obama's nominee for the top EPA post, was able to move a little more quietly through the same ball at which Secretary Chu welcomed his new fan club. Similarly, both she and Nancy Sutley - Obama's pick to become Chair of the White House Council on Environmental Quality - were left mainly to themselves by fellow partygoers in the VIP section of Green Ball 2009 on Inauguration Eve. Perhaps partygoers did not yet recognize these two green sirens as they mingled through a crowd that included Senator-in-waiting Al Franken and environmental activist Bobby Kennedy, Jr. When queried on why he chose to attend Al Gore's festivities that night over other events, he indicated that it was because of the critical place that the environment held on his state and our national agenda.
As for the celebs themselves, they seemed to be enjoying their relative anonymity. I came across Jon Bon Jovi at the Green Ball 2009 absorbed in the now ubiquitous Shephard Fairey poster of Obama hanging in the National Portrait Gallery. He had worked hard for Obama and I thanked him for coming to play our Angelenos Go Green for Obama event last October (www.angelenosgogreenforobama.org). I was rewarded with a fist bump from the author when I pointed out to John Cusack that his HuffPo Two Questions blog had begun to play out in reality - first with Holder's confirmation hearings on the Hill and later with a signal sent by Nancy Pelosi on her Inauguration Eve press conference. In a Georgetown hotel, Ashton Kutcher, Demi Moore and their small posse waited quietly in line with all the rest of us for a post-inauguration bite while Oprah, Steve Spielberg, the Governator and the Shriver siblings quietly absorbed the morning's events at tables nearby.
And while the attorney in me feels like there should be some conflict-of-interest policy about any HuffPo blogger saying this, I want to give a shout out to Arianna Huffington for doing more than her fair share to put some glam back into the District of Columbia this week. As the hostess with the most-ess, Arianna and her co-hosts at the HuffPo pre-inauguration ball showed that being an informed and informing citizen has now become one of the really hot tickets in town.
SUBSCRIBE TO & FOLLOW THE MORNING EMAIL
The Morning Email helps you start your workday with everything you need to know: breaking news, entertainment and a dash of fun. Learn more