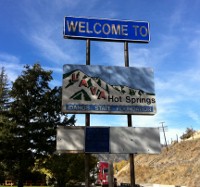 It's pretty wild that I'm already a third of the way through my 3 month road trip. After my life was turned upside down by the loss of my career and a realization that I have no idea who my authentic self really is, I hoped and prayed that this road trip would deliver some answers about who I should be, where I should be and what I should be doing. I can feel changes happening within me on a daily basis, although I can't yet quite define them. It's a lonely and private process, yet at the same time I've made new friend after new friend after new friend. The long hours Yoda the dog and I have spent driving in Princess the Prius have begun to take their toll on my shoulders, back and hips, so I decided to indulge myself in what I consider the ultimate in self pampering: hot mineral springs. Although hardly a hot mineral spring connoisseur, I've been all over the world in search of them for the simple reason that soaking in the healing waters of a hot spring is one of the few things in life that can kick-start my spirit, release my gridlocked shoulder muscles, and quiet the traffic jam of my noisy mind. Many people tout the health properties of steaming mineral water, which they say can provide relief for arthritis and digestive issues, give speedy recovery to wounds, increase blood flow and circulation, increase metabolism, and allow for absorption of essential minerals. I don't know if any of that is true, but what I do know is that I feel like a bowl of Jell-O after taking the waters, and Jell-O is a good thing!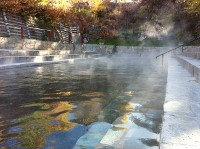 On our way from Boise to Salt Lake City, we ended up in Lava Hot Springs, Idaho for 3 days. The name alone was enough to draw me to the town. Lava Hot Springs was originally a sacred gathering place for the Bannock & Shoshone Indians who designated the area as a neutral ground to be shared in peace by all tribes. The town now has a population of about 500 people. However, in the height of the summer tourist season up to 15,000 people visit per month. Visiting during the off-season seems to be a recurring theme for my road trip, but for once I was happy by my timing because it really did feel like I had the town all to myself. The heart of Lava Hot Springs is the World Famous Mineral Pool Complex, which consists of five pebble-bottomed mineral-laden hot pools with temperatures ranging from 104 to 112 degrees. 3.5 million gallons of odor-free, naturally filtered water bubble out of natural underground springs and course through the pools every single day. During the summer months tourists can also take advantage of Lava Hot Springs' Olympic Swimming Complex, which covers nearly 1/3 acre of swimming space and include two hydrotubes which offer the thrill of riding water over the highway. Summer visitors also enjoy inner tubing down the Portneuf River and zip line adventures.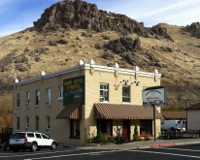 I stayed at the warm and inviting historic Home Hotel which was built in 1918. It is the only hotel in the city that has private jetted hot spring tubs in the rooms... a luxury I simply couldn't forgo. Although Lava Hot Springs' public pools are the nicest commercial hot springs I've ever visited, my favorite part of Lava Hot Springs was discovered through a conversation with Levi, the front desk clerk at Home Hotel. I asked him if there were any secret hot springs in the area about which only the locals know. After pausing briefly, and then slowly giving me a sheepish smile, Levi told me about a spring which bubbles up next to and then flows into the Portneuf River. The locals call it Chicken Soup Hot Springs because, folklore has it, in the 1920s women would put their chickens in the hot waters to help with plucking feathers. I was excited to hear about Chicken Soup Hot Springs, because by far my favorite hot springs to visit are those hard to reach ones that take a bit of creative energy to locate. Directions might be something like "walk through the RV park, crawl over the boulder, and walk along the river bank until you see the steam rising" or "park your car at mile marker 4, then hike a quarter mile up the hill on the unmarked trail."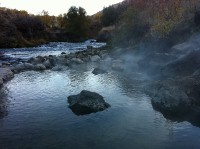 Early one morning Yoda and I made our way to Chicken Soup Hot Springs with the intention of enjoying a long private soak as the sun rose. Of course, I'd be lying if I said that soak was pure relaxation. You see, that same conversation with Levi the front desk clerk educated me about another local legend: ligers. Yes, you heard me, ligers -- what I thought were that mythical hybrid of a lion and tiger that Napoleon Dynamite so loved. Levi swears they live in the hills around Lava Hot Springs, but that their existence is kept under wraps so as not to disturb tourism. An internet search does indeed reveal that in 1995 two people were convicted of animal cruelty after ligers escaped from Ligertown, an illegal exotic game ranch near Lava Hot Springs. Although the authorities claim they either captured or killed all of the ligers, Levi said the locals still have occasional sightings.
I'm not sure what I believe, however while attempting to soak that early morning, I couldn't stop thinking of the large animal droppings on the trail leading to Chicken Soup Hot Springs. They could be from elk, deer, moose, bobcats, or even a horse, or... they could be from ligers. And with that thought, I quickly grabbed my clothes and bolted back to the safety and privacy of the hot spring tub in my room at Home Hotel.

SUBSCRIBE TO & FOLLOW LIFESTYLE
HuffPost Lifestyle is a daily newsletter that will make you happier and healthier — one email at a time. Learn more