Obama foreign policy adviser Susan Rice and former CIA officer Bruce Reidel held a conference call yesterday to address what they consider the Bush Administration's failed approach toward Pakistan and toward the recently reported safe havens that exist there for Al Qaeda operatives. A McCain Administration, they said, would continue that failed policy.
Speaking for the Obama campaign, Rice and Reidel referred directly to a report published yesterday in the New York Times that detailed the rising number of Al Qaeda operatives being trained in the forbidding borderland region of Afghanistan and Pakistan:
"Just as it had on the day before 9/11, Al Qaeda now has a band of terrorist camps from which to plan and train for attacks against Western targets, including the United States. Officials say the new camps are smaller than the ones the group used prior to 2001. However, despite dozens of American missile strikes in Pakistan since 2002, one
retired C.I.A. officer estimated that the makeshift training compounds now have as many as 2,000 local and foreign militants, up from several hundred three years ago."
During the call, Rice and Reidel said that, as president, Obama would focus on a multi-layered economic approach that would aim in part to draw in help from NATO to eliminate the Al Qaeda presence in Pakistan.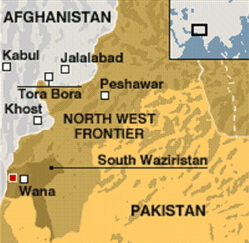 Rice made a point of underlining McCain's support of the Bush policy in the region and called it a case of "poor judgment."
"We have five times the troop levels we have in Afghanistan in Iraq, yet John McCain wants to keep our troops in Iraq indefinitely," she said.
She added that by giving economic assistance to Pakistan and Afghanistan, the U.S. would be "in a better position to leverage comparable contributions from NATO."
"The heart of the terrorist threat has always been in Afghanistan and [on the] Pakistan border," Reidel said.
The two appeared slightly defensive, however, about comments Obama made last summer on his willingness to move independently on "actionable intelligence." Obama said that, as president, he would strike Al Qaeda targets in Pakistan with or without the permission of Pakistani President Pervez Musharraf and was called naive by both Hillary Clinton and John McCain for holding such a position, although pressed on the matter by a conservative talk radio host recently, McCain seemed to back pedal from that stance, searching to explain how he would act differently on the same sort of intelligence.
"Of course, of course I would take action if we had actionable intelligence," McCain said. "We just acted on some actionable intelligence and apparently we may have killed eleven Pakistani soldiers. Um, and uh, that is, obviously arouses the anger of some in Pakistan... Of course you would, if you had actionable intelligence, you would take action..."
Rice called Obama's controversial stance on the region "a new approach" and highlighted that he was the only candidate at the time to make such a statement on U.S. policy. She added that Obama's plan for the region includes a commitment to add an additional two combat brigades in Pakistan.
Rice and Reidel responded to a reporter's question on whether or not the Times article itself in their opinion constituted "actionable intelligence." Both disagreed.
"It's not the kind of intelligence that tells you where you can drop a bomb," responded Reidel. Rice responded to the question saying, "actionable intelligence is widely understood to mean time and place specific."