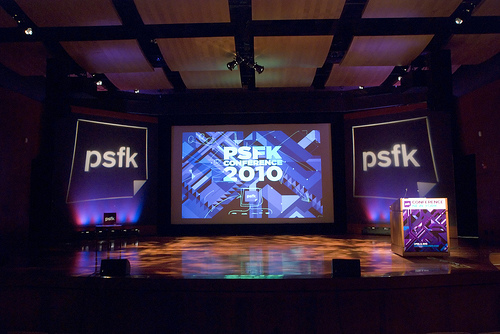 On April 9, PSFK held its annual conference of fresh ideas and inspirations in New York City. The day-long event featured talks by innovative change-makers across disciplines, from design to business to technology.
Highlights from the day:
Rob Walker kicked off the event with his presentation on Significant Objects, a project he launched with author Joshua Glenn aimed at exploring the fluid relationship between objects and value. In the project, Walker and Glenn take thrift store paraphernalia and bestow them with new meaning - fabricated narratives about their histories and significance - then resell the items online, often for several times their original price.
Learn the insights from Rob's talk here.
Good Ideas in Storytelling
Contemporary artist and graffiti legend Steve Powers talked about his creative journey and the process and thinking behind Love Letter - arguably the longest love story ever written: a 20 block long grafitti ballad painted across West Philadelphia's rooftops and walls.
Ouigi Theodore shared his unpredictable, inspiring road to becoming the visionary founder of BK Circus, a trendsetting men's and women's boutique and lifestyle brand with outposts in Brooklyn, SF, and distribution in Japan.
Nicholas Felton - Designer and creator of the annual infographic Feltron Report, shared the inspiration behind telling his life story through numbers, graphs, and charts.
Andy Spade & Anthony Sperduti, founders of studio and consultancy Partners & Spade, discussed how they create authentic products, experiences and stories to redefine brands.
Read about the highlights and insights from the Good Ideas in Storytelling session here.
Good Ideas on Creative Refocus
Erik Proulx shared the moving stories of some of the individuals he profiled in his documentary about job loss and new beginnings, Lemonade. As a former ad man who was one of the tens of thousands to be laid off in the recession, Erik found new purpose in embarking upon this project - to meet others like him and share their stories of re-evaluation, renewal and revelation.
Tina Roth Eisenberg, founder of influential design blog SwissMiss, shared her experiences as a Swiss graphic designer in New York, and how and where she finds inspiration day-to-day.
Adam Wells, Design Director for Virgin Group USA, shared his insights on the future of industrial design and how innovation in the field is changing the way we experience products and services in a fundamental way.
Creator, Illustrator & VJ Shantell Martin encouraged us to "rediscover our creative seed" in a rousing talk about creativity, passion, and connectivity.
Read about the highlights and insights from the Good Ideas on Creative Refocus session here.
Good Ideas in Changemaking
Colin Beavan, well known in sustainability circles as No Impact Man, shared his thoughts on progress and how to effectively measure change in a hyper-technological society.
Andrew Hoppin, the Chief Information Officer of the New York State Senate, spoke on how leveraging digital media and transparency could better generate social and political impact.
John Dimatos, a Resident Researcher at NYU's Interactive Telecommunications Program and teacher of 'Designing for UNICEF,' spoke on how design and human understanding impact social organization.
Zach Lieberman, a creative technologist whose work bridges the real world with the digital, spoke about his ongoing collaborative research efforts to empower people and spark creativity.
Read about the highlights and insights from Good Ideas in Changemaking here.
Good Ideas in Disruption
Peter Weijmarshausen, CEO at Shapeways, discussed how his 3D printing company and community is changing the relationship between products, creators, and consumers.
Anthropologist Grant McCracken discussed the thinking behind his latest book, Chief Culture Officer, a clarion call for the integration of culture into corporate strategy.
Entertainment changemaker and Boxee founder Avner Ronen shared his predictions for the future of television.
Naveen Selvadurai, co-founder of Fourquare, discussed what he's learned in growing his gamechanging location-based social application, and how he sees it improving the way we navigate our daily lives.
Read about the highlights and insights from Good Ideas in Disruption here.
And finally, maverick creator-entrepreneur Steven Grasse (Art in the Age of Mechanical Reproduction) closed out the day's discussions with a spirited talk about his journey from disgruntled ad man to revolutionary businessman. He spoke candidly about his inspirations, trials and tribulations, and his passion for living a life driven by art, authenticity, and conscience.
Read about highlights from Steven's talk here.
(photo by Dave Pinter)
FOLLOW HUFFPOST