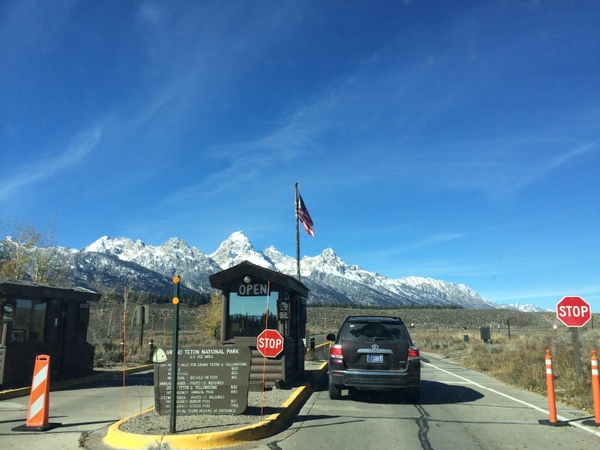 Maybe we should thank the United States Congress for shutting down our government, which closed America's national parks for 16 unbearably long days.
"Welcome back," I said to a smiling park ranger.
"Glad to be back," he replied. And he sounded like he meant it.
I handed him my credit card and my National Parks annual pass, and asked him for a renewal. Ours had expired during the closure, fittingly.
"You know," I said as I signed my credit card receipt. "Sometimes you don't know what you have until it's gone."
"I hope they never let this happen again," the ranger added.
But I'm not so sure. An occasional shutdown might be helpful.
The heart breaks to watch it.
Actually, if you think of the federal government as a person, then shuttering our national parks is a little bit like stopping its heart. National parks define us as Americans. They represent everything that's right about us.
We hiked around Bradley Lake on a snowy reopening day, with the distant peaks of Middle Teton and Nez Perce shrouded by low clouds behind us. After more than two weeks of running with just a skeleton crew, several pine trees had toppled and blocked the trail; an easy hike quickly became an adventure.
We felt as if we were the only people there.
Grand Teton could have easily become another Jersey Shore or South Florida, places that have forever been altered by reckless human development. Ironically, one of the 20th century's most famous robber barons, John D. Rockefeller, Jr., teamed up with conservationist Horace Albright to make sure that didn't happen.
In a country that was built on capitalism and celebrates the free market, national parks in general -- and Grand Teton in particular -- are quiet reminders that we aren't defined by the success of our economy, or even our government. There's more to us than that, and it's not always obvious.
Maybe, in explaining what national parks mean to us, it's useful to think of what America would be like without them. We learned that this month, when the government barricaded their entrances. The best part of us was hidden away from view, closed off and inaccessible.
But you have to go if you want to really get it. Buy an annual pass and visit your nearest national park. Repeat if necessary. They have them everywhere, even in Florida, our home state. Ever been to Canaveral National Seashore? Or to the amazing Florida Everglades? They're national parks.
For us, seeing the incomparable Grand Tetons on Friday with flawless fall weather -- blue skies, crisp temperatures and few visitors -- was that crystallizing moment.
Hike up to Taggart Lake on a late afternoon, like we did. Mind the bull moose grazing near the trail. And as you come to the top of the hill, look down at the lake and up at the mountain range. Take a deep breath of cool air.
SUBSCRIBE AND FOLLOW
Get top stories and blog posts emailed to me each day. Newsletters may offer personalized content or advertisements.
Learn more