We've all be there. Late at night. Needing to relax. Knowing that television isn't going to provide anything other than commercials, we flick through the countless thrillers, love stories and classics we've seen hundreds of times.
Then the prospecting for gold in a sea of unknowns begins. Some digs are less glorious than others. However, once in a while, you find gold.
Today's Late Night Netflix Desperation Streaming Pick is:
Holes in My Shoes starring Jack Beers, directed by David Wachs.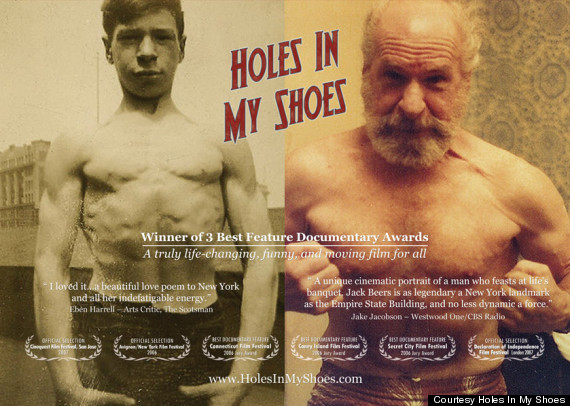 I do believe I found gold in this search. I've been thinking about the film since it ended, finding a rallying cry for love and hope despite the insanity that unfolds before us every day.
This film shows the true beauty that humans are capable of. One of my favorite quotes from Jack Beers's countless, precious lines was:
"I'd give up everything I have if my father could see where I am now!"
Watching a movie like this makes me want to be a good person. It makes me believe that there is good in other people. I can't think of anything more important for art to accomplish in these times.
We follow Jack through his 93 years of incredible journey from "New York's Strongest Boy," to builder of much of New York, to a film acting career that landed him in Tootsiewith Dustin Hoffman.
Now, cynics would say, that in these modern times being all about positive energy is near impossible, but Jack Beers lived through the thick of the 20th century and stayed positive when he could have turned to a much darker side.
Next time you want to relax and tap into the good-side of your brain, take a look at Holes in My Shoes.
SUBSCRIBE TO & FOLLOW ENTERTAINMENT
THE spot for your favorite fan theories and the best Netflix recs. Learn more