The near-impossible can happen in performance art. Chris Burden was famously shot in the arm for one performance, the late Italian artist Gino de Dominicis attempted to learn to fly by leaping repeatedly off a rocky mound, and Marina Abramovic laid out a table full of items--including grapes, razors, a gun and a bullet--that audience members could use on her while she sat passively.
This past summer, New York-based artist Clifford Owens faced his own set of seemingly impossible problems while he was an artist in residence at MoMA PS1. He was preparing for a marathon run of performances at the museum, nearly every weekend for the season, which would culminate in his solo exhibition Clifford Owens: Anthology. Owens invited twenty-six African American artists to contribute performance scores for him to enact, creating kind of a history of Black performance art.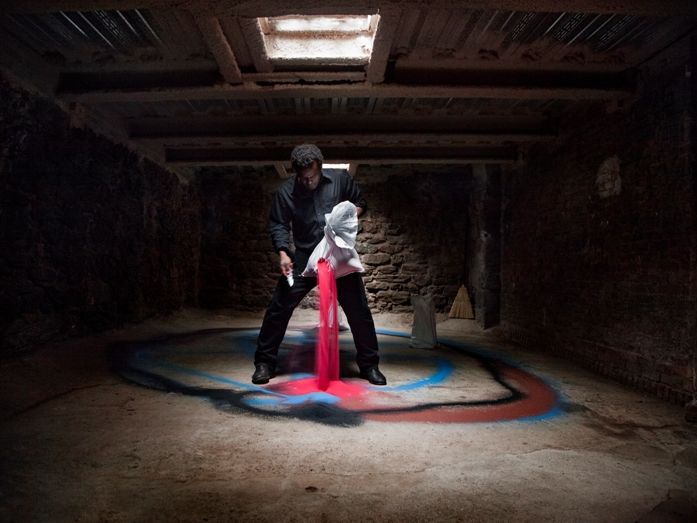 The score, contributed by Kara Walker, proved to be especially difficult to realize. In fact, it was first presented in the pamphlet to a program of performance at MoMA in spring 2011 but was never performed. Walker's instructions were far from vague, beginning with, "French kiss an audience member" who should be an adult, and then "force them against the wall and demand Sex..." and "if they are willing to participate in the forced sex act" the roles are reversed and the steps repeated. While the score can serve as a summary of many of Walker's own artistic concerns, specifically the legacy of sex and violence in the Antebellum South, it makes for a tough and ethically dubious act. Owens' challenge was double fold; he had to resolve not only the problematic instructions but also create compelling photographs and video from it.
As organizer of the performances and exhibition, I had a unique inside look at how Owens tackled the challenges he set for himself. It was quickly evident that the process was as pivotal as the results.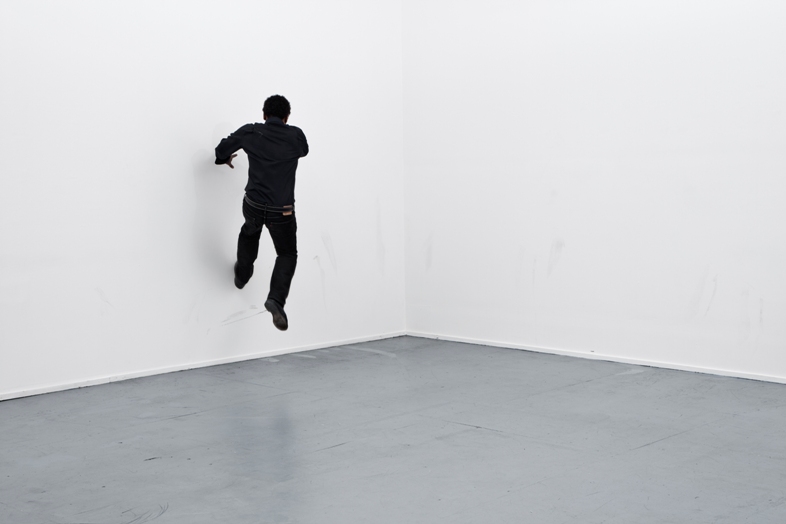 Performance 1: Owens is in what he calls his performance stance. Feet are shoulder-width apart, shoulders relaxed, back straight. The audience sits on the floor of his MoMA PS1 studio, which is empty, save for the lighting and photography equipment. He instructs me to read the score as he stands motionless. As I read, the air is tense with anxiety; the audience is silent, listening to the instructions as if they are a fate to be avoided. Owens pulls out some Binaca and sprays it in his mouth to the audience's uneasy amusement. He instructs me to read over and over. Owens remains motionless. Time feels frozen. The audience keeps their head down, especially the women, avoiding the artist's gaze. I read the score again and repeat it another dozen times. No one moves. No one agrees "to participate in the forced sex act." I read again. And then Owens calls it done. The audience gives a collective sigh. Nothing happened, no good photographs were taken, and yet in its own way the performance succeeded.
Performance 2: one month later. The audience files in and sits down. Anticipation fills the room, especially since stories of the first performance began to spread by word of mouth. Owens instructs me to read the score once and everyone falls quiet. He leans against the back wall and slowly says, "You see me. You know where I am in the room. You know where you are in the room." The lights go out. In the dark I recite the score. Owens says, "You can hear my voice. Follow the sound of my voice and you will find me. I need you to come towards me." Darkness, silence. Then there is the sound of someone shuffling forward and soon the noise of bodies moving, kissing. Owens calls to his photographer and the lights go on abruptly, a few frames are shot with Owens' back to the audience, a woman gently pressed between him and the wall. It goes dark again, more sounds of movement, whispers, and then the lights come on, the photographer shoots, and then it is dark again.
Performance 3: three weeks later. The audience enters the studio and is instructed not to sit but to stand along the perimeter of the room, wallflowers. Owens offers cans of beer to the audience. "You'll need it," he says. I proceed to read the score as Owens paces the room trailed by a photographer and camerawoman. He stops a few feet in front of someone, stares. She smiles at first, then looks down, and begins to frantically shake her head. He moves on, cracks a joke about dating in New York City, and the audience laughs. A man asks why he is only approaching women, and Owens stands in front of him, nearly nose to nose. They kiss and the audience member at first pushes Owens away and then draws him in, his hands embracing Owens' head. They part. I read the score again. Owens locks gaze with another.
Christopher Y. Lew is Assistant Curator of MoMA PS1. Clifford Owens: Anthology is on view at MoMA PS1 until March 12, 2012. The opening reception for the exhibition is Sunday, November 20, 12 - 6pm.

FOLLOW HUFFPOST