Lisa Scharoun, PhD is a professor in graphic design teaching at Australia's University of Canberra. She's also a mother to Noah, who was born with a cleft palate. Lisa spent much of Noah's first nine months in hospitals.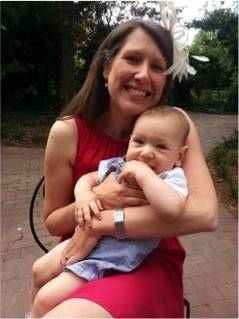 Noah had a nasogastric tube and we were in and out of hospitals two to three times a week. During that time, I filled in an awful lot of hospital forms. As a mom and designer I wanted to make it easier for parents to access this information. The hospitals give you as much information as possible so you don't come back and say 'you didn't tell me that'. It was overwhelming. I saw the Gates Foundation competition for Records for Life, and jumped at it as something I'd love to do. Even though I don't have a medical background, after having gone through that massive experience with our son, I thought I could apply my experiences as a mother with my technical training to find a better way to disseminate some of that information.
Lisa became a graphic designer in 2000 in the U.S., then an interior designer in London and then a design lecturer in Shanghai, finally ending up in Australia. She and her family live on a small farm outside Canberra. "We named our son Noah because our property had two of every animal -- two sheep, two alpacas and then two stray cats arrived."
She researched and referenced the current vaccination records system in Australia as well as other countries.
I went through and picked out what I found annoying and cumbersome. Most are very text heavy. Going through the vaccination cycle myself I found some things that worked in current systems, like color coding and sectioning information.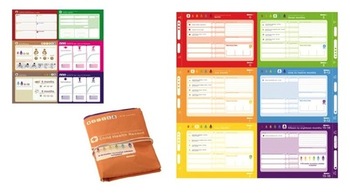 The Australian version has too much info and the format is too bulky to carry around -- it takes up half your handbag! I wanted to make something simple, small, light weight and all on one page.
Lisa received an honorable mention and was one of the eight finalists.
I didn't ever do the competition expecting to win it. I'd just come back from maternity leave and was getting back into the headspace of work. It was a total surprise to get that far in a competition. I've also been able to use the project as an example with my students.
Lisa is grateful for the experiences she's had with Noah's rough start.
You have this idyllic idea of how it's all going to be. It was completely different, he was in intensive care for more than a month, and I now have a very different appreciation for what health care workers do. It's a big learning curve. I knew my baby would live and thrive with surgery, but some of the mothers I got to know in intensive care weren't sure their children would live. I'm so grateful to live in a place with options. I met amazing parents and doctors but it's not where you want your kid to be. If you can prevent your child from going into the hospital then that's what you want to do. Which is why vaccines and keeping good records matter so much.
You Can Take Action Too
Learn more about the Bill and Melinda Gates Foundation's "Records for Life" project and view other finalists' work here.
Want to do something simple to help get vaccines to kids who need them today? Join the Shot@Life global vaccines campaign! Like them on Facebook and follow them on Twitter to learn more about this critical work.
This post first appeared on www.globalmomschallenge.org
Chrysula Winegar is the community manager for the Global Moms Challenge. Find them on Twitter and Facebook.