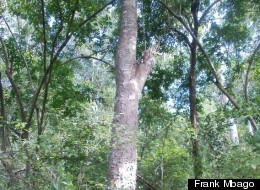 I woke up this morning early, full of anticipation with no idea what to expect. This week is my first time cycling in the STIHL Tour des Trees, America's largest fundraising event for tree research, a weeklong bicycling tour that travels through a different area of the country each year.
The most I've ever ridden up to now is 55 miles on very flat land. My mind was racing about the amount of training I had done and the gear I had! Too late now, we are on our way.
This year, the STIHL Tour des Trees riders are cycling 585 miles through Oregon and on Sunday, August 5, I was one of 113 cyclists who rode from Banks to Seaside, Ore. - nearly 100 miles in one day.
We arrived at 8 a.m. in Banks, Ore. ready to start the ride, and I felt like a little kid on Christmas morning. We started by planting trees in a community park in Banks, dedicating them to future generations, and then the ride began.
Oregon's bike trails are amazing - we don't have anything like that at home in Virginia Beach, Va. The other thing we don't have at home is hills. Climbing up and down Oregon's Coastal Range today was incomparable to anything I'd ever prepared for in Virginia Beach - at times it felt like my legs weren't cooperating with my brain.
What made the pain more bearable (at times) was Oregon's amazing scenery - we rode through huge Douglas firs and green leafy ferns. Traveling through the forest, it felt like any second something from another era, like a pterodactyl, might come swooping in.
One thing I didn't expect about traveling nearly 100 miles by bike was how quiet the ride would be. Riding down the road with almost no cars, it felt like floating down the road, and gave me a totally different perspective on my surroundings.
Most of the buildings we passed were old barns and farmhouses, and we saw cattle from time to time. With the exception of the fir trees we passed, we almost could have been in the Appalachian mountains.
The best part was the downhill portion of the rides, going 40 miles an hour past exhilarating scenery.
But cycling is just part of the reason people are excited to join the STIHL Tour des Trees - the real reward of this event is giving something back to the trees themselves.
Trees give people a connection to something bigger than themselves. We tend to take trees for granted, but by caring for them now, we really are taking care of them for future generations. Cycling with nothing but bikes and trees gave me a bigger appreciation for all of this.
Toward the end of today's ride into Seaside, Ore., we caught an epic glimpse of the Pacific Ocean through the mountains, and started preparing for the next day's ride.
--
Chuck Kellen is an employee of STIHL Inc. who is spending this week cycling through Oregon with the STIHL Tour des Trees. The event benefits the Tree Research and Education Endowment Fund (TREE Fund). To donate to the TREE Fund or learn more, visit www.stihltourdestrees.org and www.treefund.org.
Photo Credit: Alvin Gilens
113 cyclists launch from Banks, Ore. for the 20th Anniversary STIHL Tour des Trees

Members of the Confederated Tribes of Grand Ronde performed a traditional tribal song for the cyclists of the STIHL Tour des Trees.

Cyclists pass through clover fields and farmland on the Tour.

Tree planting on the land of the Confederated Tribes of Grand Ronde.

Tree planting ceremony with the children of the tribe.

Lunch stop at Stoller Vineyards

Team STIHL cyclist Mark Hilliard gets cozy with Ruby the corn snake

Cyclists head toward Government Camp, Ore.

Beautiful views along the STIHL Tour des Trees

The author, Chuck Kellen, at Rowena Crest Viewpoint.

Scenic view of Mt. Hood

A pair of cyclists of the STIHL Tour des Trees ride through Mt. Hood during the week-long fundraising event for the TREE Fund.

Scenic view of Columbia River Gorge

A cyclist from the STIHL Tour des Trees rides through Mt. Hood during the week-long fundraising event for the TREE Fund.