Whether you are a Disney fan like myself (sometimes we are called Disney Nerds) or just enjoy the various forms of entertainment Disney has to offer in many cases you can thank a Disney Imagineer and Walt Disney Imagineering.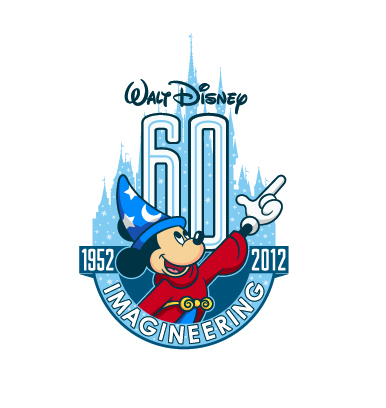 What is an Imagineer you may ask? Even though the term Imagineering has been around since 1940 when the Alcoa Company first used the word, most people today associate it with The Walt Disney Company. Imagineering is a combination of imagine and engineering. The Oxford Dictionary defines an Imagineer as a person who devises and implements a new or highly imaginative concept or technology, in particular one who devises the attractions in Walt Disney theme parks. To us Disney fans, the Imagineers are our celebrities and rock stars. One of those rock stars is Disney Legend Marty Sklar.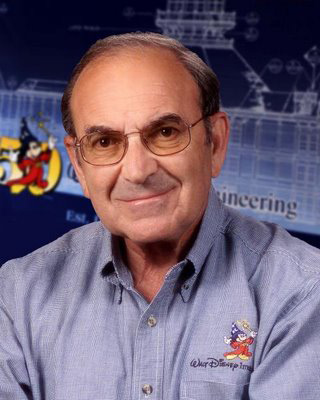 Marty Sklar
Photo: The Walt Disney Company
Marty, who recently retired from The Walt Disney Company on July 17, 2009, the same date as the opening of Disneyland in 1955; has seen, heard and experienced quite a bit in his 54-year career. Starting in the publicity and marketing department and moving to WED Enterprises in 1961 (which was renamed Walt Disney Imagineering in 1986), Marty eventually became president of Imagineering. In 2006 he resigned that position to become the international ambassador of Walt Disney Imagineering.
"When I retired from the Walt Disney Company on July 17, 2009," says Marty. "I announced that a primary goal would be writing this book. In the four years since, hardly a day has gone by when someone - Imagineering colleague, Disney fan, theme park industry associate - has not asked me: 'How's the book coming?'" Well, "Dream It! Do It! My Half-Century Creating Disney's Magic Kingdoms" is finished and will be in stores and online August 13, 2013.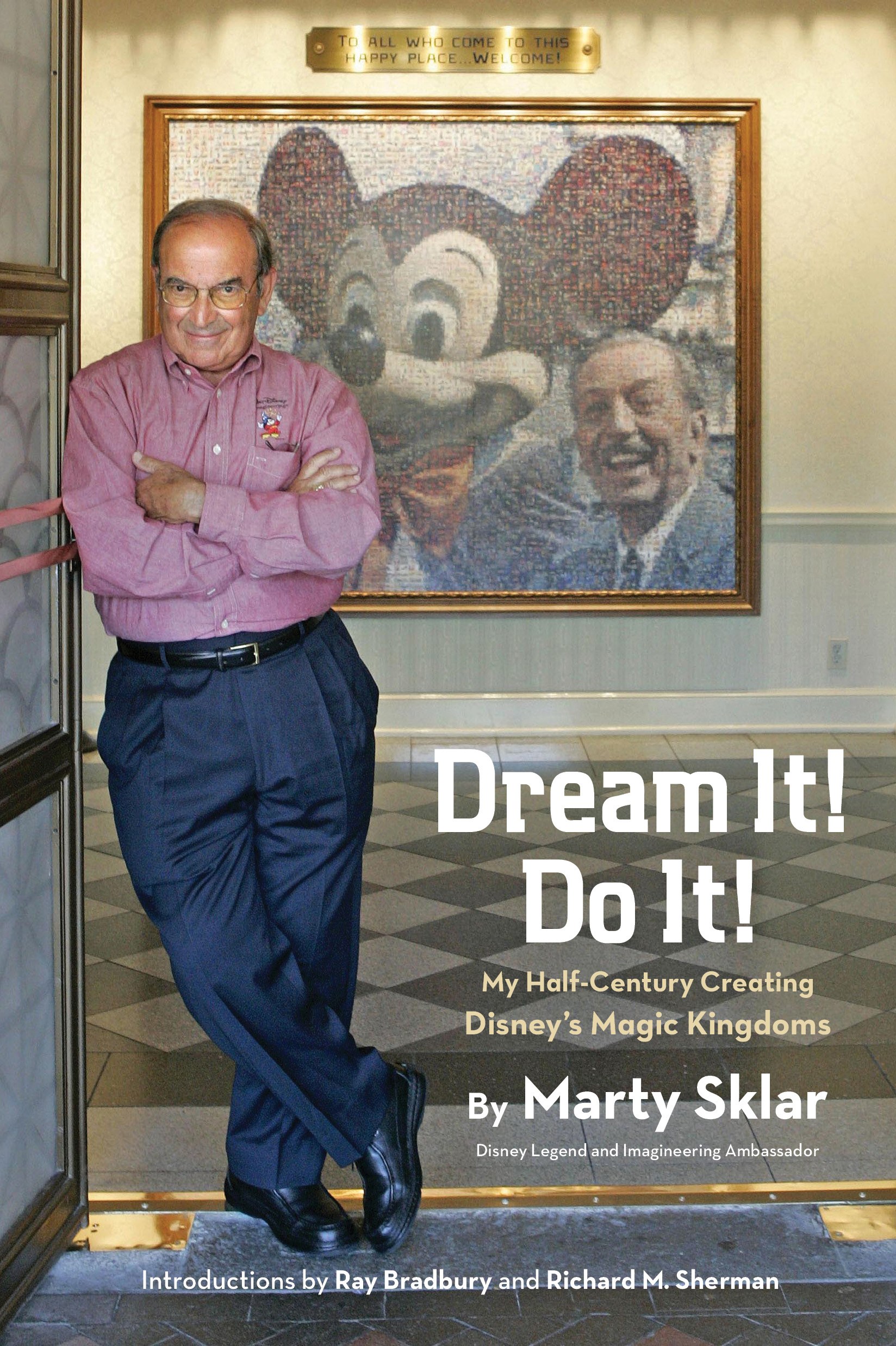 Book Cover Image Courtesy of Disney Editions
This is a must-read, especially if you are traveling to a Disney Park this summer. Marty has packed this 420-page book with fascinating stories that touch on some of the major events during his tenure with The Walt Disney Company. When he is discussing writing speeches for Walt Disney, traveling around to court sponsors for The 1964-65 World's Fair and Epcot Center, opening all of the 11 Disney Parks or describing conversations from a closed-door meeting you feel that you are right there with him.
If you are planning on heading out to Anaheim, California to attend Disney's D23 Expo, you will be able to see Marty Sklar when he will appear at this year's Expo on Friday, August 9, 2013 at 3:00PM PST. Marty will be giving a presentation about his new book and recounting his many Disney adventures and after he will be signing his new book.
When you work for a company and are charged to be one of the spokespeople, or in Marty's case an ambassador, you always talk positively about the company. In "Dream It! Do It!" Marty does have many positive and interesting stories, however, every now and then, comes a chapter or a passage that surprised me in its candor. At the end of the day, I realize that Walt Disney was a boss and like any boss and there were good workdays and bad workdays with him.
It's hard to highlight one story over another because each one gave me, and I am sure they will give many Disney fans, an insight into the behind-the scenes working of Disney animation, parks & resorts and the company in general that were not known before. The chapter entitled, "I'm Not Walt Disney Anymore!" has a couple of those "bad day" stories including one about Walt joining an exhibit installation team in Denver and another about a particularly "uncreative" Disney Studio television producer.
One of my favorite chapters was "Tell IBM To Go To Hell!" This chapter covers many of the stories surrounding the ups, the downs and evolution of Epcot Center.
I was amazed at the quickness and resourcefulness between Jack Lindquist and Marty during their trip to New York to meet with IBM and then eventually AT&T about sponsoring Spaceship Earth.
Epcot Center's The Living Seas / Opening Day 1987
Photo: The Walt Disney Company
In Chapter Two of the book Marty said that he wrote the script for the 1965 press conference announcing the coming of Walt Disney World to Florida and he almost got fired because Walt thought the presentation sounded like his obituary. Marty said, "Walt was just embarrassed, mostly I think because he had not seen the whole script in advance - only the part he recorded. That was a no-no in my world - and I have no clue why Card Walker decided to do it that way." When asked if he made any changes to the script after Marty says, "We made zero changes before it was presented at the Florida Press Conference in October 1965 when Walt and Roy O. Disney announced that Disney was coming to Florida."
There are two great stories that involve Harry Gray, the CEO of United Technologies. United Technologies were the sponsor of The Living Seas. One story familiar to Disney fans is when Harry Gray told Disney Imagineer John Hench that he wanted the walls of The Living Seas to be painted bright white. John told him that he doesn't use bright white because it's too harsh on the eyes in the Florida sun. Harry asked for a demonstration and John was more than happy to oblige. The other story that involves Harry Gray is when the Disney Team went to see him in New York about The Living Seas life-support system. I never heard this story before, but after reading it my reaction was, "That would never happen today!"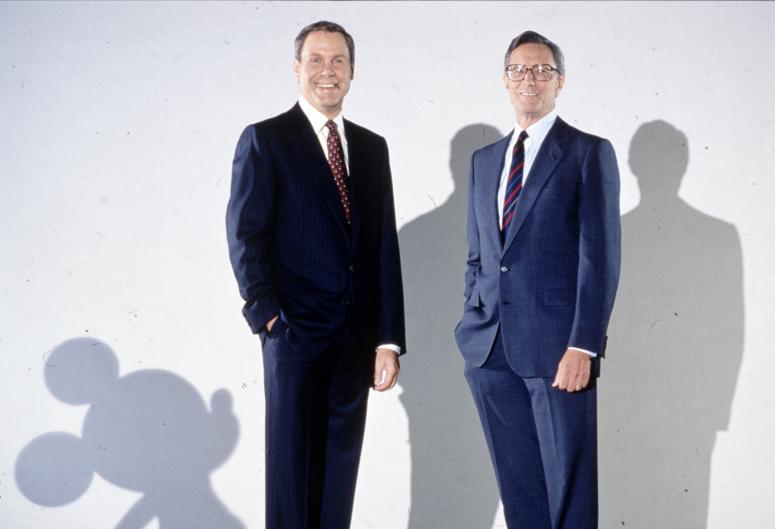 Michael Eisner and Frank Wells
Photo: The Walt Disney Company
Marty dedicates four chapters to the Michael Eisner-Frank Wells era. It never ceases to amaze me how someone like Michael Eisner can go from Golden Boy to coming under fire from investors, stockholders and "from one-time cheerleaders originally responsible for bringing Eisner and Frank Wells to the company in 1984..."
Marty's memoirs were a great read. His warm and friendly style of writing makes you feel as if he is in the room with you telling story after story. All fans of The Walt Disney Company, nerds and newcomers alike, will love "Dream It! Do It!" So sit back, relax and let Uncle Marty tell you a story!
Dream It! Do It! - My Half-Century Creating Disney's Magic Kingdoms (Hardback)
Author: Marty Sklar
Publisher: Disney Editions
In-Store Date: August 13, 2013
Price: $24.99
Note: For a sneak peek of "Dream It! Do It! My Half-Century Creating Disney's Magic Kingdoms," click Download file to read a sample passage selected by Marty Sklar.