Disney's D23 Expo, which is taking place August 9-11 at the Anaheim Convention Center in California, offers visitors an immersive weekend into every aspect of The Walt Disney Company. One of those great immersive experiences this year is happening on Saturday, August 10 at 6:30 pm PST - the "Richard M. Sherman and Alan Menken: The Disney Songbook" concert. If you are planning on attending this year's expo, this concert is a must-see.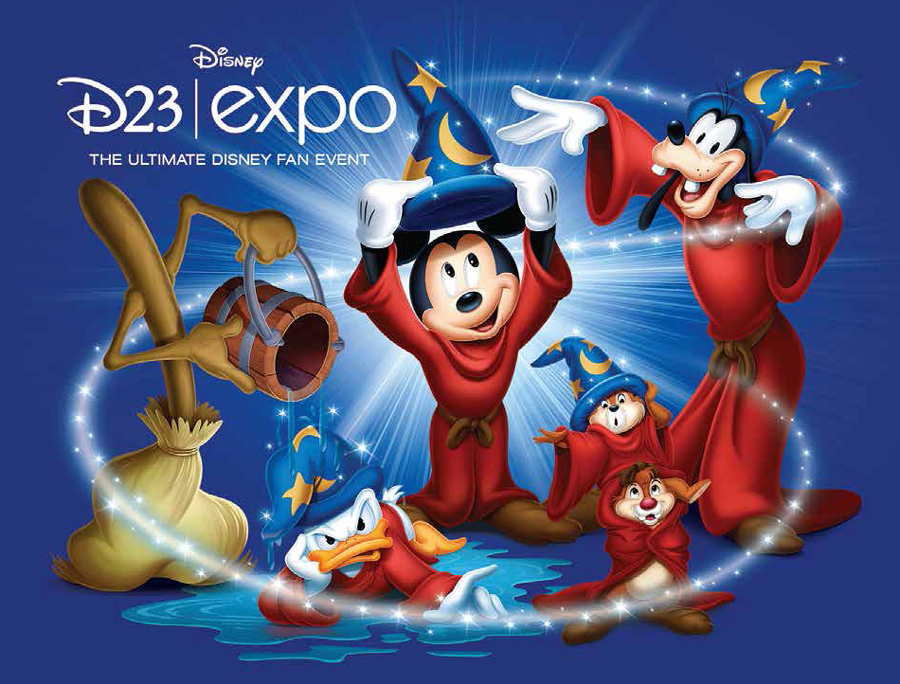 Image: The Walt Disney Company / D23
Together Sherman and Menken have won a combined 10 Academy Awards for their work with Disney, and have composed music and songs for more than three-dozen Disney feature films, over two-dozen Disney Park attractions and half-a-dozen Disney musicals on Broadway. As they have said being Disney composers is "a very exclusive club" and that they have "an admiring and supportive friendship."
Recently, these two Disney Legends sat down to discuss their upcoming concert and performing with each other for the first time.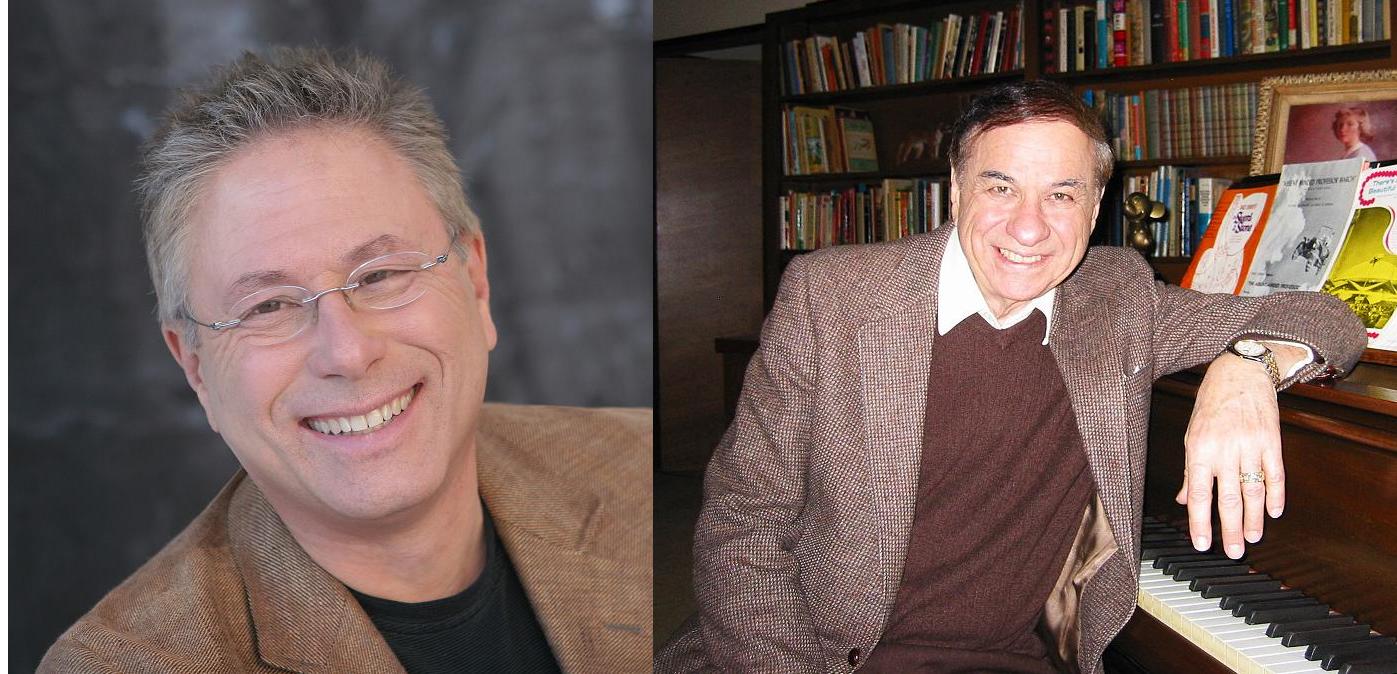 Alan Menken and Richard M. Sherman
Image: The Walt Disney Company
"I can't express how excited I am that my esteemed friend Alan Menken and I will be sharing the same bill for the very first time," said Sherman. "Alan is an incredible talent, and I know we're both thrilled to be performing for Disney's most ardent fans... I can't wait to be a part of what promises to be a very special night for all of us."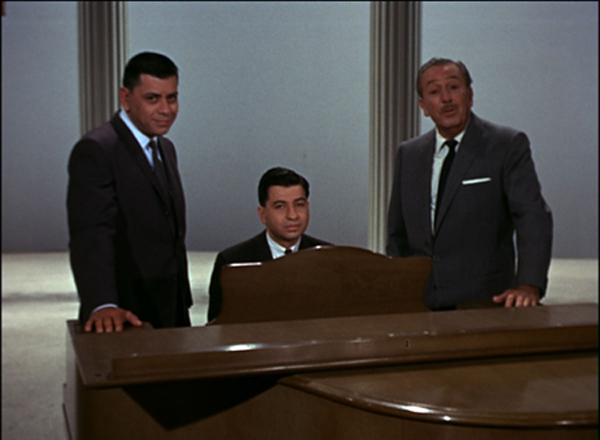 Robert Sherman, Richard Sherman and Walt Disney
Image: The Walt Disney Company
"Richard Sherman and I share so many things; our cherished association with The Walt Disney Company, the blessing of having the opportunity to share our musical talents with 'children of all ages' and a genuine mutual admiration--but one thing we've never gotten to share is a concert stage," said Menken. "I can't think of anyone I'd prefer to share that stage with. Richard, along with his [late] brother Robert, wrote songs that filled my formative years with joy and fantasy. And, all these years later, I can say with complete honesty that there is no one I've met in our business who is more warm and generous than my friend and fellow songwriter, Richard Sherman."
For this concert Alan said, "I am looking forward to sharing songs that people are familiar with and that they have so much investment in and songs that they never have heard of. These are songs that are so tied to the movies; they are not slotted in randomly. Each song encapsulates the movie's time, feel and characters. There is no cynicism to the Disney songbook."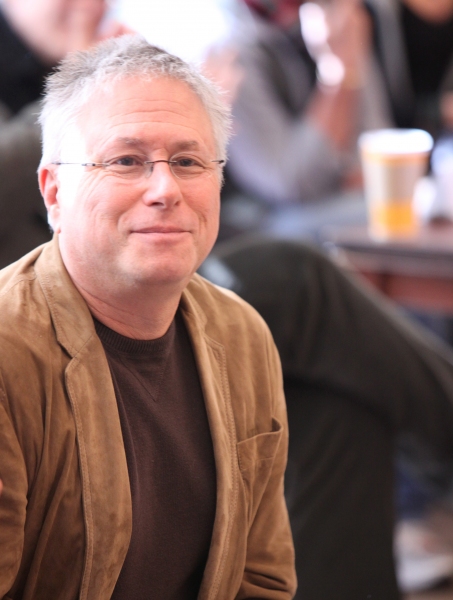 Alan Menken
Image: Broadwayworld.com
Alan talked a little about the whole creative process. He said that the story doesn't really get written without the composers. One of the rules of storytelling is to make sure the audience is clear on what function the song will have in the movie. Sometimes it's sincere; sometimes it's tongue and cheek. They [the audience] need to make sure that the attitude, style and genre is very clear.
Alan pointed out that one of the songs that he was very proud of was "Will The Sun Ever Shine Again." He said, "This song was written close the 9/11 event. It captured our emotions and the emotions of everyone at the studio. I loved "Gospel Truth," a song that opened up "Hercules" and "If I Never Knew You" from "Pocahontas" - we lost that song the first time around, but we got it back."
For this concert, as well as others, Alan said that it's always a challenge picking out just the right material for an audience. He said, "Disney did have some requests of their own, the biggest challenge was which unknown songs or cut songs do I want to put in and contextualize for the audience. " "The same thing for me," said Richard Sherman. "We have so many to choose from, but we try to do a sampling of various things over the years. It's like looking over my children deciding which ones to take on the outing."
How the "Richard M. Sherman and Alan Menken: The Disney Songbook" concert will unfold Alan said that they would just be at the piano, playing and turning and talking to the audience. Richard interjected, "I will take a turn and then Alan will take a turn and then we are going to do a very special thing and get together and compare a little bit about our histories, what our favorite pieces are - some of our most endearing pieces to us personally." Alan followed-up by saying, "That the concert will be a peek at some of our non-Disney things too."
Alan and Richard have been involved in more than their fair share of composing for Disney musicals, so when they if there were other Disney films of theirs they would be dying to see made into a theatrical production they both laughed and said, "Oh sure!"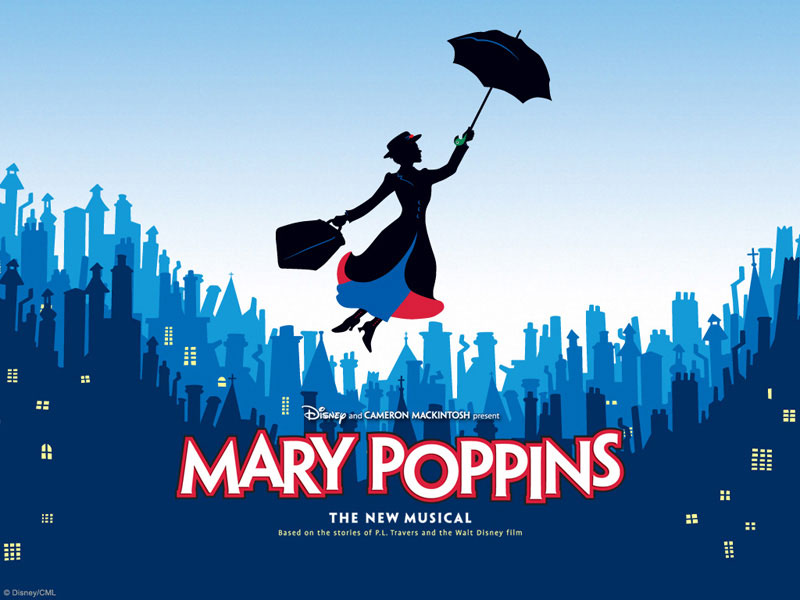 Image: Disney Theatricals
Just finishing up a run in Chicago and then heading to Boston, Richard has "The Jungle Book." Past stage productions of Sherman Brothers musicals included "Chitty Chitty Bang Bang," which many think is a Disney musical, but is not, as well as the beloved "Mary Poppins." Richard continues to say, "I have a couple of other things, but I don't want to talk about them until they become a reality."
"It would be neat to see 'Hercules' come [to the stage]," said Alan. "We are working on a cruise ship version of 'Tangled' - who knows if that will find its way to the stage. There is a limit to these things. You don't want to over do that." Richard followed up by saying, "So many factors have to happen before they become a reality. I have always felt nervous before talking about too many things unless they are really on the road to happening. It's a little dangerous because then they say, 'well what ever happen to...' when it doesn't happen it hurts a little. I am right Alan?" Alan responded by saying, Well, I tend to be a little bit of a blabber mouth."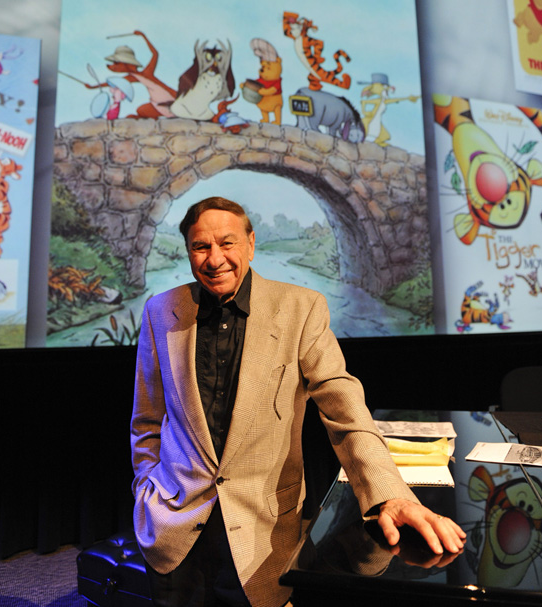 Richard M. Sherman
Image" The Walt Disney Company / Disney Parks Blog
Richard said that 90% of the songs that they wrote for Disney's animated features were written for the characters in the story and only 5-10% of the time they knew ahead of time which actor who was cast in that role. He said, "For example, if we knew Maurice Chevalier was singing a song we would write a song for that character but one that sounded like one that Maurice would also sing. We had no idea we'd get the glorious voice of Julie Andrews to sing Mary Poppins. We wrote songs for Mary Poppins to sing.
In Richard's words, "The message that Disney fans already know but I'll just say it - there is a wonderful thing called being positive in your life as opposed to being negative. Being on the upside of the coin. Both Alan and myself have been blessed with the chore of writing things for very upbeat ideas. They are not depressing. They are not cynical. They are positive. They have strong feelings of goodwill in them. People say they get joy out of our work and feel happy about it and that truly is my reward."