When you become a parent, you spend a lot of time filling your head with strange acronyms and code. VBAC, for instance, means delivering a baby vaginally after you've already had a C-section. The 6 S's is some B.S. that's allegedly guaranteed to make your kid sleep like an angel. DH (when used on message boards) means "dear husband" (I assume sarcastically). And a good one that's made the rounds recently is the CTFD method of parenting (as in, Calm the F Down, and that applies to parents, not kids).
I've been using one with my friends that I invented that is in a somewhat similar vein. I used it yesterday and someone said they wished it was Googleable, so here it is: JBBB. It stands for Just Babies Being Babies. Why does my son sleep for 20 minutes one nap and three hours the next? JBBB. Why does he love grapes one week and then scream and throw them on the floor the next week? JBBB. Why does he say the word "thank you" so cutely 3,000 times in a row and then stop when I take out my camera? JBBB. Why does he act like I'm trying to slowly torture him when I'm just trying to get him three blocks home in the car? JBBB. JBBMFGDB, man.
Some parenting books are useful, but the danger of too much information is giving parents the impression that there's very much that's in their control. Especially with sleeping! I think it's incredibly mean to give new, sleep-deprived parents the impression that "If you didn't do this your kid would sleep through the night," or "If you start doing this other thing, your kid will sleep through the night." This gives parents with "uncooperative" children the impression that they're doing something wrong, and, maybe even worse, gives parents who were lucky enough to have easygoing kids the impression that they had something to do with it.
It's probably just a matter of convenience, but it truly helps me to remember that babies and young children are, basically, tiny insane people who make absolutely no sense. This is where JBBB comes into play. It's both an explanation and a comfort. Your kid's a snot-nosed, screaming, destructive, uncooperative, unrestful piece of crap despite your best efforts to engage, encourage, comfort, nurture and guide him? Whatever, dude. Have a beer. JBBB. Say it out loud. J.B.B.B. What can you do? Not much. J to the B to the B to the final B. It will set you free.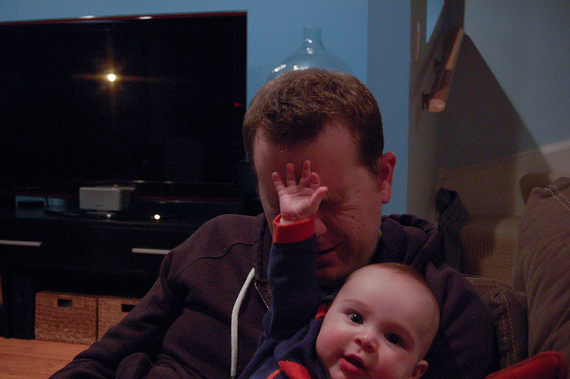 Also on HuffPost:
Seven Things You Didn't Know About Babies
A study published in the journal Infant Behavior & Development revealed that the standard "You Must Have Been a Beautiful Baby" has little to do with reality. When 253 college students were asked to rank photos of the same individuals as infants and young adults (without being told who was who), there was no relationship between how cute the students found the babies and how attractive they found the grown-ups.

No, really, it's true. It doesn't matter how many times you've heard the shout "Mine!" -- research shows babies can sense fairness at 15 months. During one study at the University of Washington, 47 babies observed videos of an experimenter distributing milk and crackers to two people. When one recipient received more food than the other, the babies paid more attention. That means they had expected a fair distribution. The researchers also found that babies who did notice unfairness were more likely to share their own toys.

OK, so they're not exactly psychic. But a recent study from the University of Missouri found that babies just 10 months old are starting to follow the thought processes of others. Yuyan Luo, an associate professor of developmental psychology who conducted the study, tells The Huffington Post, "Babies, like adults, when they see something for the first time -- when something is surprising -- they look for a long time. It shows [they recognize] something is inconsistent." It's called the "violation of expectation," she explained. When babies are surprised by something or notice something unexpected has happened, they tend to gaze at that thing longer. In Luo's research, babies watched actors consistently choose object A (such as a block or a cylinder) over object B. When an actor then switched to object B, the babies stared for about five to six seconds longer, meaning they recognized the change in preference.

Don't judge a book by its cover. Treat all people the same. We're all equals. These are sentiments parents strive to teach their kids from a very young age. And they should. Starting, like, immediately. Researchers at the University of Sheffield in the United Kingdom found that babies at three months begin showing a preference for the faces of people of their own race. But not all hope for equality is lost. The same study showed that babies who are exposed to people of all different races are less likely to develop bias at such an early age.

Researchers from Brigham Young University found that five-month-old babies can identify an upbeat song as being different from a series of sad, slow songs. In other words, they are happy. They know it. They will clap their hands. Or stare longer, as the case may be. The experimenters showed babies an emotionless face while music played. When they played a new sad song, the babies looked away. When the music pepped up, the babies stared for three to four seconds longer.

Babies have a sense of morality at six months old, say Yale researchers. During the Yale study, babies watched a puppet show in which a wooden shape with eyes tried to climb a hill over and over again. Sometimes a second puppet helped him up the hill, and other times a third puppet pushed him down. After watching the act several times, the babies were presented with both puppets. They showed a clear preference for the good characters over the bad ones by reaching to play with the good puppet.

Dr. Janet Werker of the University of British Columbia, who studies how babies perceive language, found that if a mother spoke two languages while pregnant, her infant could recognize the difference between the two. And they don't even have to be spoken out loud. Werker's research found that infants four to six months old can visually discriminate two languages when watching muted videos of someone speaking both.