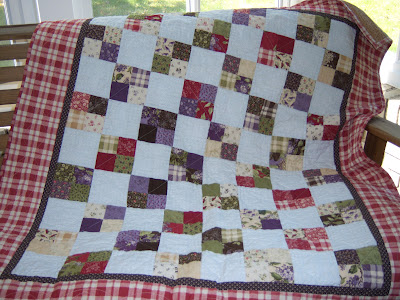 According to mythology, every 500 to 1000 years, the Phoenix dies in a fire in its nest and is reborn into a young bird from its ashes.
It is from this story that Julie Anderson chose the name and the motto for her blog, "Phoenix Quilts."
Anderson lives in Fairview, Utah, and when wildfires whipped through the area and destroyed homes in July 2012, she wanted to help. Being a quilter, Anderson felt that some of her friends could use one of the homemade blankets to comfort them during this difficult period.
"Obviously, a quilt can't replace all of the heartache they're going through," say Anderson. "But, the quilt represents warmth and love and concern and caring, and the people that receive these quilts feel that."
However, as the fires continued to burn down homes, the demand for quilts became too much a task for Anderson to take on alone. So, she put a message up on her quilting blog asking fellow quilters to please send her blankets that she could distribute to neighbors.
Anderson says that she only needed 52 quilts, but received 478.
"Honestly, I thought I would maybe get a handful of quilts," says Anderson. "And, hundreds started coming in. It was unbelievable how fast people responded. It just blew us away, the generosity of people from all over."
Anderson was able to distribute quilts to wildfire victims not only in her area, but in Colorado as well. At the end of the fire season, Anderson says she had 325 quilts left over.
"I was just going to keep them and save them for next year," says Anderson. "But then Hurricane Sandy hit."
With the help of Jet Blue, Anderson and her quilts were able to fly out to New York for free and meet with Mormon Helping Hands, a volunteer-based charity group, who would be distributing the quilts to hurricane victims.
"I can't have all these fabulous quilts sitting in my basement when there's people who need them," says Anderson.
Now, says Anderson, the people that need the quilts are the families in Newtown, Conn., the community that lost 20 children and six adults on Dec. 14 at Sandy Hook Elementary School, after a shooter entered the building and gunned down staff members and first grade students.
"I know, from my past experiences with the quilts, how much comfort a quilt can give," says Anderson. "I can't comprehend the depths of (the families') feelings, but if I can give them some comfort in some small way, I wanted to help."
Anderson plans to send 739 quilts to Newtown, one for each of the students and staff at the school. She says she has had many responses on her blog so far about sending quilts to Connecticut. People are ready to help, she says.
If a quilter wants to send a blanket to Anderson to distribute to victims of the Newtown shooting or any other national disasters and tragedies, they should visit her blog: phoenixquilts.blogspot.com, for her address and other shipping information.
Anderson adds that quilting is a very expensive hobby, with the materials and preparation needed for each blanket costing upwards of $150. If someone is not a quilter, but would still like to help, she has a PayPal account set up on her blog that anyone can donate funds to, with the money raised being used to buy batting and fabric for the quilts.
"A quilt just represents comfort and love," says Anderson. "There's a lot of time and love that goes into making a homemade quilt. We thought that that love and attention to detail would be passed on to the people who are going through such tragic experiences."
By Clarissa Burt with Ellen Kuni