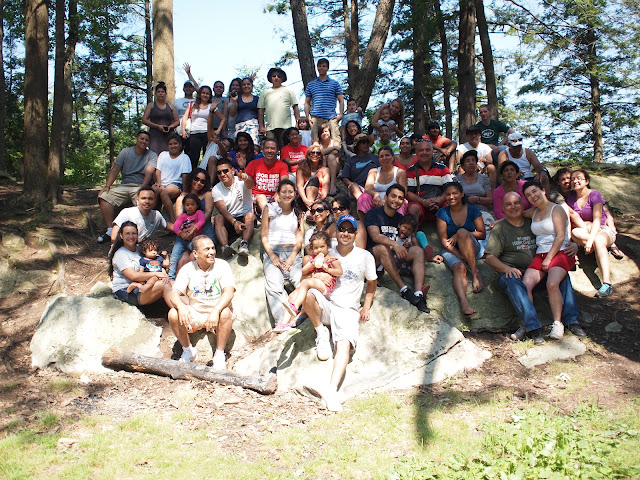 In celebration of Colombian Independence Day, I wanted to share with everyone a very special event that happens every summer, my family's annual camping reunion. I think we started these reunions about three years ago, when the matriarch of our family, my great aunt, mi Tia Lucia Viuda de Sanchez passed away. She was was one of the oldest of thirteen brothers and sisters, and we think she got to live to see 100. I say this because no one in the family ever seems to agree on the year she was born. All I know is that she died the same day her parents welcomed her into this world, on New Year's Eve. It was her passing that brought our family closer together, and it is her cooking legacy which we celebrate every summer. This week's Tofu con Sazón post is a tribute to her, to my family, and to my Colombian heritage and traditions.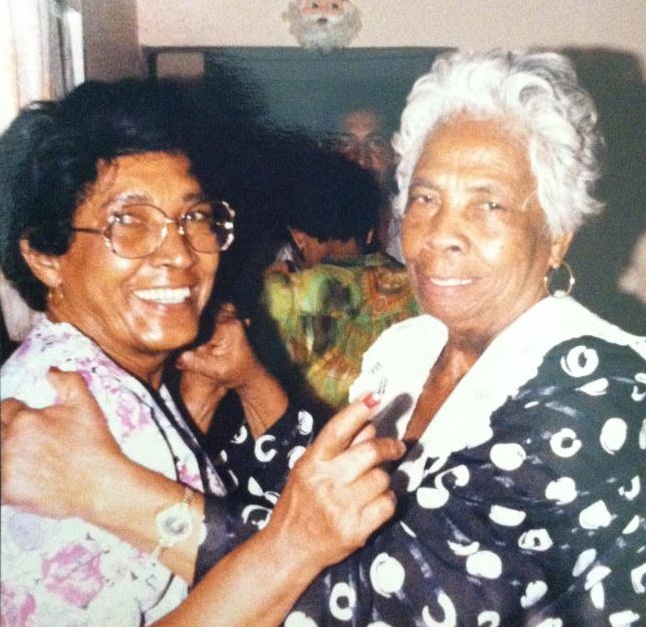 A picture of Tia Lola to the left and Tia Lucia to the right.
This summer's family reunion was by far the biggest ever. My cousins had been planning it since March and to see it finally come together and everyone having a great time was well worth the wait. We had about 60 people show up. Mostly cousins and a few close family friends. When my boyfriend, my mom, my aunt, and I arrived on Friday at Clarence Fahnestock Memorial State Park in Carmel, NY, it was already 11:30pm and my family had already taken up an entire section of the campsite. I called my sister, who arrived a little before we did, to figure out where exactly we were located. All she told me to do was to follow the road and the noise, and sure enough we arrived at our camping location.

By the time we unpacked and set up our tents it was probably close to 1am. Everyone had already started to settle around the biggest fire. Most of us hadn't seen each other in quite a few months, so it was nice to see everyone together. As I was making the rounds, giving everyone the customary hugs and kisses, I could hear my mom, aunt, and cousins off to the side clamoring for someone to make them some fresh coffee. (Yes, at 1am they were going crazy asking for fresh coffee). Now, I'm not talking about a cup of highly caffeinated coffee that makes you jittery. Colombian's are famous for making smooth and sweet tinto, which is served in small tea sized cups. I can drink this before going to sleep with no problem. Sure enough, one of our close family friends made them some coffee, while a few others enjoyed cold beers and the occasional aguardiente.
 


The conversations and camaraderie must have lasted until the wee hours of the morning. The morning certainly caught up to a few people, who went to sleep just as others were waking up in preparation for breakfast. I was tired and went to sleep at around 2:30 a.m. All I know is that by the time I got up I was ready to eat! I woke to the sound of my nieces asking for their tetero or bottle, the rattling of pots and grilling grates, and the smell of burning logs and coal. If there is one thing I love about camping with my family is that it's always a food fest. Breakfast isn't your typical peanut butter & jelly or ham and cheese sandwich. We are talking about a full out home cooked meal over an open fire. My great aunt was known for cooking outdoors. It's something I remember doing with the family ever since I was a little girl. I remember visiting the river Pance in Cali, Colombia and eating beans, rice, and everything in between, cooked over an open fire. These are some of the family cooking traditions that I am glad my mom, aunt, and older cousins brought with them when they came to the United States.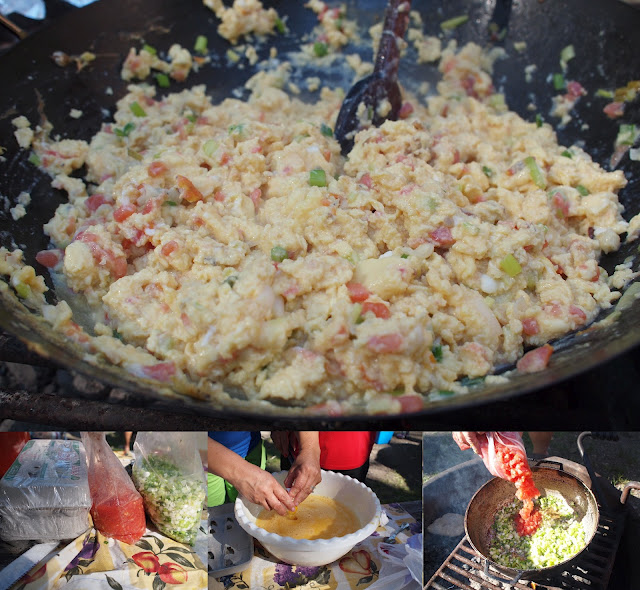 That morning, breakfast consisted of fresh Colombian coffee, agua panela con limón y canela or a whole cane sugar block with squeezed limes and cinnamon sticks, arepas con queso Colombiano or corn cakes with Colombian cheese, and huevos pericos or scrambled eggs with tomatoes and scallions, all made over burning logs and coal. That's what you call a typical Colombian desayuno campero or a camper's breakfast. When it came time to cook, no one really assigned tasks, everyone just volunteered to participate in preparing some aspect of the breakfast. While mom made fresh coffee using a reusable cloth filter or what we call a colador, my cousin boiled water in a giant pot and mixed the panelas with lime juice and cinnamon cloves. At the same time, another cousin and a family friend where busy cracking and beating the eggs in constant harmony. As the assembly line progressed more people joined in. They were tasked with keeping the flames from burning out, stirring the huevos pericos so they didn't dry out, and flipping the arepas so they didn't over burn. Let's not forget about our hungry bystanders, who huddled around the flames watching and waiting to get the freshest ration.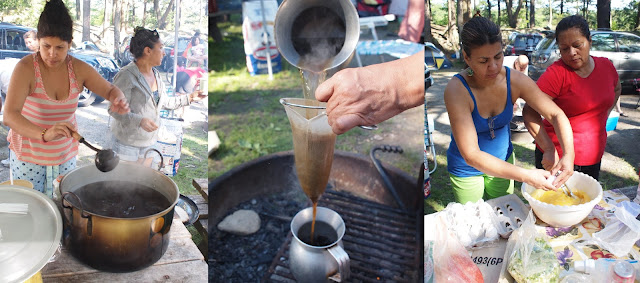 To make things simpler, the tomatoes and the scallions were cut ahead of time. Cutting anything while you camp can be arduous, so making some aspects of the meal ahead of time is simply a lot less messy and a time saver. As for the arepas, we bought them in bulk from the store and froze them. Though my mom did prepare some arepas from scratch, she was only able to make enough so that a few of us could enjoy them for lunch. It is possible to make them ahead of time and preserve them in the freezer. You just need to be realistic about the amount of time you want to spend preparing enough for everyone. My great aunt might have balked at our new found laziness, but in today's day and age sometimes there are not enough hours in the day to get everything done. I'm sure wherever she is she's proud that we are attempting to keep our cooking traditions alive.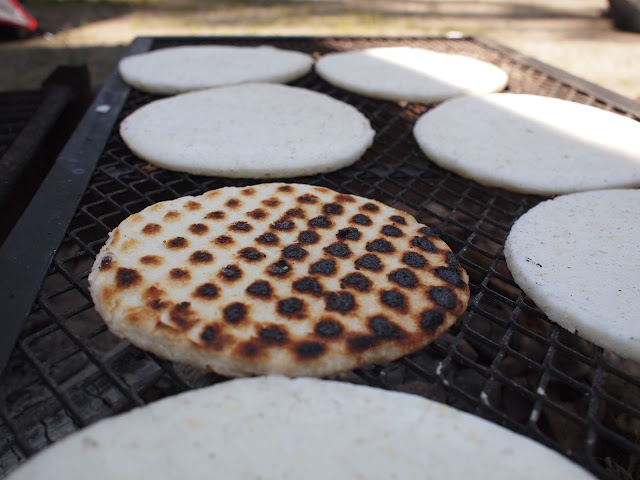 All in all, we had an amazing breakfast. The eggs turned out just the way we like them, nice and moist. (Tip - Don't ever serve dried out eggs to a Colombian.) The corn cakes burned just enough to leave a nice char mark, and the morning remained cool and breezy, perfect for a hot cup of coffee and some agua panela con limón. Most importantly we got the opportunity to eat as a family. There were no fights and no arguments, only great food, great friends, and great times!
I'm really glad that I got the opportunity to share this very small slice of my family's camping reunion with you. Breakfast with my family is one of my favorite meals of the day. I really hope you enjoyed learning a little bit about my Colombian family and our breakfast cooking traditions. To all of the Colombians out there, Feliz Dia de la Independencia!
Buen provecho! =)
SUBSCRIBE TO & FOLLOW LATINO VOICES