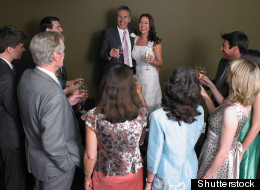 I've been in nine weddings, officiated at one and worked for a wedding caterer, so I really thought I'd seen it all -- shotgun weddings, Vegas weddings, destination weddings, Catholic weddings, Jewish weddings, lesbian weddings, Mexican weddings, non-traditional weddings, shoestring weddings, extravagant weddings... you name it. But this year marks the first year I'm actually planning my own wedding. And trust me, it's different.

From my experiences, I've learned to embrace a certain truth about weddings; no matter how carefully you plan, no matter what you do, certain "types" of people will be at your wedding. Maybe you can blame your new groom's family, but be honest, some are on your side. Either way these five types of people will be at your wedding. Relax, accept it, and enjoy the stories that your friends will tell for years after.
Stereotypical Wedding Guests
Last summer I was at the wedding of my fiancé's best friends. It was lovely, but as we were going into the cocktail hour, I spotted her; a woman walking into the reception area wearing an off-white, satin dress. It was only a few minutes before the other women I knew were standing around talking about her. What woman wears white to another woman's wedding? All the other female guests were standing around trying to figure out who she was, how she knew the bride, and if stoning her would be an overreaction. I was raised in the South, where wearing white is a bit of a landmine, but wearing white to someone else's wedding is a no-no across the country. I don't care if it is cream, ecru, eggshell or even a light champagne... you don't do it. Not only are you pulling focus from the bride by wearing anything remotely close to the shade of white, you will have every woman looking at you with daggers in her eyes. Nevertheless this woman didn't get the memo or worse, chose to ignore it. And if it's not the lady in white that will get up the other female guests' ire, it's the girl dressed for a Vegas bachelorette trip rather than a garden wedding. I recently went to a wedding that everybody remembers the girl with the gigantic breasts falling out of her dress. Did I know this girl? Yes, and I like her a lot. She's fun, flirty, and has breasts that would make Christina Hendricks proud. Though I'm a fan of working with what you've got, no one needs to see that much boob at a function with great-grandparents and four-year olds in attendance. Every wedding has an inappropriately dressed guest and unfortunately, that means yours will too. The good news is that the single male guests will be happy. Nay, thrilled.

Let's face it, there are relatives who are not afraid to say anything, to anybody, anywhere. Think of Sophia from "Golden Girls." This may be hilarious on an NBC sitcom, but it isn't what a bride likes to think about when figuring out the seating arrangement. I was once at a wedding in Las Vegas where the bride was six months pregnant. Though the bride was thrilled to be pregnant and really found the wedding to be a perfunctory event (hence the Vegas wedding), this didn't stop the older woman at my table spewing all sorts of mean-spirited, rude comments about her grand-niece being knocked up. Dinner conversation at a table where you know almost no one is difficult. Dinner conversation at a table with an inappropriate relative is beyond painful. Just know, every family has a few of these relatives. Think of them as some family flavor. Seat them next to their family members, so they know what to expect. Or if you have a few friends who love to party, throw the loudmouth on that table. Your party friends will be too busy getting drunk and will probably find your relative hilarious.

She's at every wedding. You may find her making out in a corner with a groomsman, or she may become enamored with the ring-bearer and dance inappropriately with a seven-year old. Hell, she may hit on your grandpa. Either way, she's entertaining up until the point where she falls over, passes out or starts crying. Trying to rein her in will only take from your night and your guests who understand how to handle an open bar. Just let it happen. It's no real reflection on you, and sometimes the best thing about weddings is recalling the funny moments the next morning. Like the inappropriately-dressed girl, your single guy friends will love her, and the married guys will be placing bets on who will go home with her. And well, it gives the older family members something to gossip about.

Family obligations and work relationships require every bride and groom to invite a few people they really don't want to attend. Unfortunately, that's how this guy ends up at your wedding. Count your blessings that your duties as bride and groom will keep your time talking with him to under a minute. Unfortunately, he will inflict his boring personality and awkward conversation on your dinner guests. You just have to hope for the best. Somewhere in your guests there may be someone else desperate to talk about Iceland's slow economic recovery or his visit to the latest Dark Shadows convention.

Most times, he is an old high school or fraternity buddy of the groom. I find the easiest way to recognize that guy is once the music really gets going. An AC/DC or Guns N' Roses song usually brings him out of hiding. Either way, he likes to dance. And dance he will -- usually while double-fisting Bud Light with his tie around his forehead. I'm from Texas, so maybe it's regional, but there always seems to be one guy having his own inner party. If he's not dancing, he'll be hitting on the drunk girl. So maybe they can cancel each other out. Good luck, happy planning, and let the fun begin!
Follow Claudia Maittlen-Harris on Twitter: www.twitter.com/ClaudiaTalking