This article originally appeared on minimumwageist.com
Each year, Dallas-based luxury retailer Neiman Marcus publishes its "Christmas Book" -- "a legendary source of alluring and mystical gifts" -- or a catalog of holiday gift ideas for the well-to-do. This year, it's entitled "The He(art) of Giving." In addition to expensive clothing and accessories, "The Book" (not be confused with the Bible) also features several really cool ludicrously expensive "fantasy gifts" (not to be confused with "adult gifts" -- we were disappointed, too).
This year's "fantasy gifts" include:
"Bespoke Global Falconry Companion"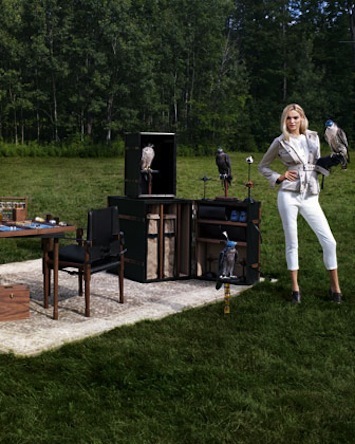 A must-have for any serious falconer who participates in this "ancient sport once reserved for nobles of Medieval Europe, the Middle East, and the Mongolian Empire" (and Texas?). This accessory kit includes a portable mew, a matching custom trunk, a 20-karat gold-plated perch for your falcon, a hand-sewn glove, and bespoke camping furniture. Sadly, it doesn't include the falcon. Price tag: $150,000...or 20,690 hours of work for a federal minimum wage worker.
"Neiman Marcus 2014 Aston Martin Vanquish Volante"
There are only 10 of these custom made cars, so you better act fast. The car has an exclusive Seychelles blue exterior. "Like a certain secret agent, you have a penchant for these beautiful British automobiles-and a taste for adventure." Price tag: $344,500...or 47,518 hours of work for a federal minimum wage worker.
"Ultimate Outdoor Entertainment System"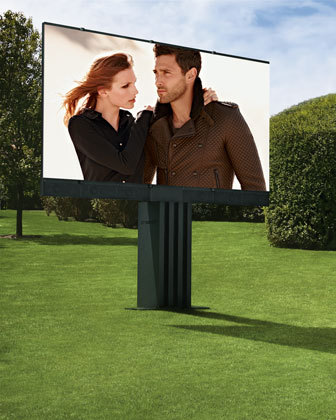 Tired of your outdoor entertainment creating an eye sore that detracts from the peace of your freshly-raked meditation garden? You're in luck! This outdoor entertainment system, including its 201-inch screen, seamlessly disappears into the ground when you're not using it. The system also includes speakers made of marine-grade components (originally developed for super yachts) and mini iPads as remotes. Price tag: $1,500,000...or 206,897 hours of work for a federal minimum wage worker.
"Forevermark Ultimate Diamond Experience"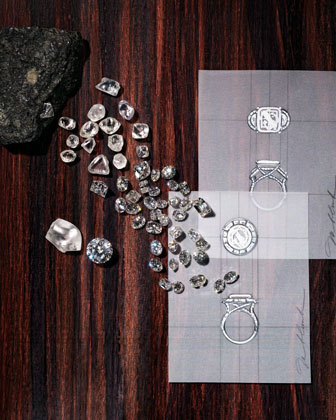 This is a trip where you purchase a 25-carat diamond and then trace it back to its origins "deep in the heart of Africa," just like in the movie Blood Diamond. First, you stop at the DeBeers headquarters in London to see your new diamond in the rough, give it a name, and meet the guy who will make it into a ring for you. After a tour of the Crown Jewels and a dinner in the Tower of London with some CEOs, you go to Namibia and tour diamond-sorting houses and a children's community project, "where the local population benefits from Forevermark's responsible sourcing of diamonds." Price tag: $1,850,000...or 255,173 hours of work for a federal minimum wage worker.
Each time one of these items is purchased, Neiman Marcus will donate a few thousand dollars to The Heart of Neiman Marcus Foundation, its own charity "that bring enriching art experiences to youth in communities nationwide."
This year is the 87th edition of The Book and it "carries on the tradition of presenting a refined selection of items across a broad range of categories for everyone on your holiday shopping list." Everyone might be stretch.
(Photos via neimanmarcus.com)