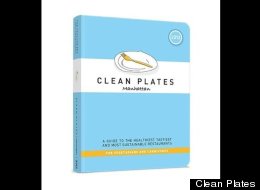 From acorn-fed, pastured ham to celeb chef-created vegan "fish," scores of new flavors vied for attention at NYC's restaurants this year. We at Clean Plates were especially impressed, adding several of the city's latest restaurants to the Clean Plates Manhattan 2013 restaurant guide.
The following seven made the cut as the year's best, Clean Plates-approved openings, with the tastiest and healthiest organic, local, and sustainable menus of 2012.
NYC%u2019s Top 9 %u201CCleanest%u201D New Restaurants of 2012 from Clean Plates
It's beyond our wildest meat-free dreams: raw vegan sushi that actually tastes great. Be awed by the divine construction of organic fruits and vegetables, wrapped in whole grains and seaweeds and topped with house-made sauces—all cleverly designed by Hell's Kitchen survivor Guy Vaknin. Beyond Sushi is winning fans among both carnivores and vegans; there's nothing fishy about that. Beyond Sushi 229 E. 14th St. (bet. 2nd Ave. & 3rd Ave.) 646 861-2889 Photo courtesy of Beyond Sushi

At its inception, this "Paleo" fast food mecca's owners boldly proclaimed, "We're here to start a food revolution." Mimicking the diets of our cavemen ancestors with hunter-gatherer-esque ingredients, Hu Kitchen's 100 percent organic and unprocessed menu encourages us to "get back to human" with a smorgasbord of nuts and seeds, grass-fed and organic meats, a high percentage of vegetables, and freshly pressed juices. And to that, we raise two very enthusiastic opposable thumbs up. Hu Kitchen 78 5th Ave. (bet. 13th & 14th Sts.) 212 510-8919 Photo courtesy of Hu Kitchen

Tertulia's ingredient-driven Spanish tapas are still on fire since the restaurant's summer 2012 Greenwich Village opening. Ask your server where any ingredient was sourced and she or he will most likely know the farm name offhand. The diverse Mediterranean menu of wood-fired, sustainably-raised meats and organic produce (think acorn-fed, pastured Iberico Ham from local pigs and seasonally-driven embutidos y tostas) promotes sharing, but you might want it all to yourself. Tertulia 359 6th Ave. (bet. W. 4th St. & Washington Pl.) 646 559-9909

Technically opening in autumn of 2011, Dig Inn Seasonal Market offered a very warm welcome to winter 2012. The farm-to-table, eco-friendly chain's astonishingly affordable (and amply-sized) dine-in and to-go meals continue to please lunch and casual dinner-goers across the city. Your choice of one meat, one grain, one veggie, and one salad blend results in a heaping mix of surprisingly delicious flavor combinations. Pair yours with a house-brewed concoction at the kombucha bar or a pressed juice, and you might become a regular after your first wide-mouthed bite. Dig Inn Seasonal Market Multiple Locations Photo courtesy of Dig Inn

Watch your back, Whole Foods. Yet another marketplace has emerged as a crowdpleaser right from the get-go. Find the ultimate selection of artisanal groceries from local New York (City and State) producers at All Good Things. Stay tuned for a full-scale restaurant set to open right inside, aptly named Le Restaurant. All Good Things 102 Franklin St. (bet. Avenue of the Americas & W. Broadway) 212 966-3663 Photo courtesy of All Good Things

Rosemary's shouts "farm to table" from the rooftops, almost literally. A rooftop garden sets the scene for the sought-after West Village trattoria. Prepare for at least a 45-minute wait to be seated on weeknights, but vino and seasonal antipasto make that wait a painless one. Rosemary's Enoteca & Trattoria 18 Greenwich Ave. (@ W. 10th St.) 212 647-1818 Photo courtesy of Rosemary's Enoteca & Trattoria

Savoy's long-awaited resurrection came in the form of the lovely Back Forty West (sister to Back Forty), where Peter Hoffman's pioneering locavore techniques show in every dish. Some customers claim that this west side version is better than the original, though it offers a nearly identical, healthful menu, with the addition of pasture-raised and grass-fed smoked meats and a dining room fireplace—surely a must-try this winter. Back Forty West 70 Prince St. (@ Crosby St.) 212 219-8570

The offspring of much-beloved Il Buco was delivered as Il Buco Alimentari & Vineria, a restaurant, wine bar, salumeria, bakery and market on the Bowery. The result: an Italiano respite for any occasion, whether it be a soirée with friends, an intimately-awkward first date, or a quick pit stop en route to a night on the town. Delight in hormone-free porchetta and salami and organic, local produce, all made with the love of a nonna. Il Buco Alimentari & Vineria 53 Great Jones St. (bet. Lafayette St. & Bowery) 212 837-2622 Photo by Noe Dewitt

Mas (farmhouse) Chef Galen Zamarra cares deeply about his ingredients, and delivers them beautifully and seasonally in the new fine dining landscape of Mas (la grillade). With every dish cooked over a fire of varying hardwoods, a sophisticated rotating New American menu is offered à la carte, or as hand-picked tastings from Chef Galen, himself. We can't decide which Mas is better—farmhouse or grillade—but we're certainly glad to have the choice. Mas (la grillade) 28 7th Ave. S. (bet. Leroy & Morton St.) Photo courtesy of Mas (la grillade)

Sign up for Clean Plates to stay in the loop about the cleanest restaurant openings in NYC. Want more great dishes? Check out Clean Plates' new cookbook here!
Eat well, feel great: get your copy of Clean Plates Manhattan 2013 right here, and sign up for Clean Plates' free email here.
Story by Laura Mordas-Schenkein
Follow Clean Plates on Twitter: www.twitter.com/cleanplates