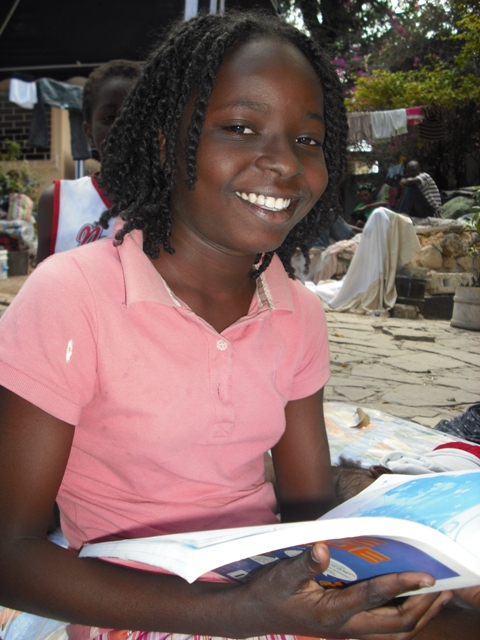 Katty Rebecca Matin, 13, spends several hours each day studying the school books she brought with her in a pillowcase. Photo: Coco McCabe / Oxfam America
For kids not affected by the devastating earthquake that rocked Haiti in January, schools re-opened the first of this month. But few students in the North-West and South departments have shown up -- not a promising sign for the government's intention to open the rest of the country's schools by March 1.
Around Port-au-Prince, the temblor reduced many of them to rubble, making it hard for kids to shake the nightmarish possibility of what that could have meant for them had the quake hit earlier in the afternoon when they were seated at their desks.
It struck just before 5 PM. Kids had left for the day. Thankfully.
I heard that whisper of relief voiced over and over again on the dusty streets of the capital as we drove past schools with pancaked floors and collapsed walls. Countless lives saved by chance. Thankfully.
But what's been interrupted now is the certainty, order and measure of opportunity that the school day brought to the lives of Haitian kids who had managed to secure themselves a place in a classroom -- even if that classroom lacked both amenities and rigor.
Many in Haiti don't get the chance to have much schooling. According to one report, only two-thirds of Haitian children complete primary school. And the education they get is hardly uniform, given that almost 80 percent of primary teachers are not certified. The report, compiled for the Partnership for Educational Revitalization in the Americas, pointed out that most students in Haiti -- about 80 percent of those enrolled -- attend private schools, but that three-quarters of those schools have neither certification nor license from the ministry of education.
The government wants to see all schools reopened in less than three weeks. But where? With what resources? A recent story in the New York Times described an orphanage that promised to educate the children within its walls, but a reporter who visited saw no signs of books, papers, or pencils anywhere.
Last week, three experts testified before a subcommittee of the US Senate Committee on Foreign Relations on how to help Haiti recover from the incredible destruction left by the quake, and each one of them emphasized the importance a sound educational system will play in rebuilding the country.
And perhaps, no one wants that as much as some of the kids who've lost every semblance of comfort and security they ever knew -- including their schools.
In a spontaneous camp of tarps and bed sheets at Delmas 62, Katty Rebecca Matin, 13, sat bouncing a neighbor's baby on her lap. She's good with kids, but where her heart really lies is with her books. And it was that love that prompted her to drag her school books -- a pillow case stuffed with them -- from her family's damaged home to the camp where they sit carefully stacked, and easily accessible with a few other salvaged household belongings.
"I love school," said Katty, digging into the pillow case and pulling out a workbook. Side by Side, it was called, a language book for those studying English. She flipped it open to chapter six -- a section on families -- and with hordes of them teeming around her, she ticked off the words for sister and brother, aunt and uncle, mother and father in near perfect English.
"I like doing homework," added Katty.
That's a challenge in a camp where there's not a quiet corner to be had or hardly a comfortable place to sit. But Katty has found a way to carve out some mental space for herself. Together with two friends, she has formed a study group and for two or three hours each day they focus on their school work. To give the sessions some structure, Katty's mother asked an older student in the camp to help tutor the younger ones as they plow through lessons in math, social science, English, and Spanish.
The informal sessions help pass the time at Delmas 62. But what Katty said she would really like is for school to start again -- so her dream of attending university and studying science can come true.

FOLLOW HUFFPOST