It's a sultry summer afternoon and you're looking to cool down with a refreshing cocktail. Whether you're by a pool, on a patio, boat or rooftop, these gin-based thirst quenchers will have you cooled down in no-time. Gin you say?, why yes, it is most refreshing and enjoying a bit of a renaissance in the cocktail world. With its' light herbal overtones, gin is the perfect choice to get us all in the summer state of mind. Speaking of states, go California like Katy Perry sings in her new song, California Gurls, sipping gin and juice layin' underneath the palm trees ...
Palm trees or not, get mixing with a dip and a sip!
This light and tangy concoction makes a great hot-weather antidote, and the zesty citrus seems to work magically to lower body temperatures in an instant.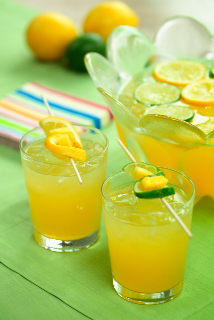 Gin Rummy (From Punch) serves 10
24 oz. gin
12 oz. orange juice
8 oz. apricot brandy
64 oz. chilled club soda
3 limes, sliced
3 lemons, sliced
2 oranges, sliced
ice
Combine all ingredients in drinks dispenser or large pitcher. Fill vessel with ice, add fruit slices and serve.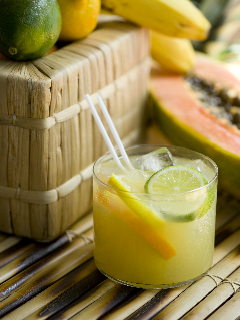 Oasis ( From It's 5 O'Clock Somewhere)
serves 4
8 oz. gin
8 oz. papaya nectar
2 oz. lemon juice
club soda to top
orange, lemon, and lime slices to garnish
In a cocktail shaker, mix the gin, nectar, and juice. Shake well. Pour into ice-filled glasses and top with club soda. Garnish with orange, lemon, and lime slices and serve.
SUBSCRIBE AND FOLLOW
Get top stories and blog posts emailed to me each day. Newsletters may offer personalized content or advertisements.
Learn more